Fertile Conversations in Delhi – A Infertility Awareness Campaign By Nova IVF Fertility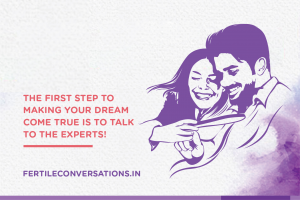 With "Fertile conversations" having kicked-off on July 13th, Nova IVF Fertility and TIMES OF INDIA (TOI) hosted the 1st of 4 seminars in Delhi at India Habitat Centre on July 15. The context behind the seminar was to spread awareness about infertility and helping many couples realise their dream of parenthood. The whole seminar was hosted as a live video on Facebook aside from the live activity. An esteemed panel of experts were present on the dais to bring light on an important issue that many couples are facing.
Ms. Gitanjali Banerjee of InfertilityDost.com, opened the discussion and conversations by talking about the problems faced by couples who are unable to conceive. "To learn from experience is always the best", Ms. Banerjee highlighted how infertility affects a family's life by showing excerpts of interviews with couples and their experiences.
Dr. Neena Malhotra, Professor at the ART Centre in AIIMS, followed up on the topic to emphasise on the importance of fertility care and the scale of rising infertility levels in India. She explained how a person should take care of their diet and lead a healthy life.
Dr. Neena was followed by Dr. Parul Sehgal who is a fertility specialist at NOVA IVF Fertility. She brought up the topic of lifestyle habits and their impact. Such as putting of pregnancy, nutrition, choice of food and many other factors play a huge role in taking care of one's self.
Dr Parul Katiyar, also a IVF specialist at Nova IVF Fertility. She broadened the focus of the conversation by bringing out facts about infertility and separating the right from the wrong. A unique segment of seminar was when Dr. Katiyar spoke about myths & facts regarding the fertility clock (deferring pregnancy). In a simple, yet effective way she was able to erase many misconceptions and highlight unspoken truths.
Ms. Saloni Egbert, counsellor at Nova IVF Fertility, sparked the audiences' minds, as she talked about the importance of having fertile conversations -infertility awareness, counselling and how it helps a couple who are undergoing stress. The amount of stress a couple goes through during this phase is enormous. Ms. Egbert beautifully portrayed how stress is a barrier that can always be overcome.
The last speaker for the day was Mr. Avinash Kumar who is a member of CARA. He had a clear cut point in his mind. He believed in adoption and proved its merits. Mr. Kumar made everyone understand how simple, natural and required adoption is.
The whole seminar was educational and truly an eye-opener for the audience, which was backed up by important data points. The experts on the panel did an outstanding job answering questions which many couples have no concrete answers for. Here are a couple of facts for your knowledge; 1 in 4 couples is infertile and, 22 to 33 million couples are infertile in India. Infertility is a huge issue in India and to tackle this problem, people should go out and seek answers to their questions.
The discussion granted a new sense of hope for the audience who wanted to break the infertility barrier and start a happy family. While there are still many misconceptions about infertility, the Fertile Conversations initiative by Times of India, in association with Nova IVF Fertility, is helping address the growing concern of infertility, one conversation at a time.