Couple In Their Mid 40s Achieve Healthy Pregnancy in their 1st Attempt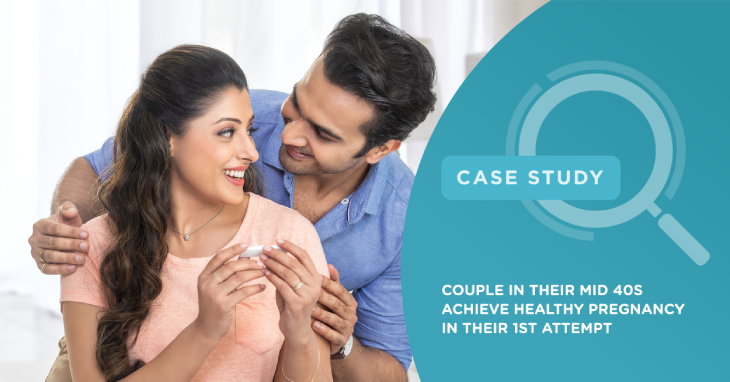 A lovely 42 year old couple married for 17 years walked in at Dr. Anchal Garg, a fertility expert based in Lucknow. After both being on antidepressants and the woman on antihypertensives, they wanted to put all this behind. They had an intense desire to have a baby. In addition, the woman had undergone curettage and further developed bilateral tubal block due to an 11-year-old miscarriage. The couple tried IVF multiple times using their gametes and donors but failed in completing a family they aspired to.
It might sound preachy, but every time the results will not meet your expectations, but actual failure will be in not trying at all. It was like making a dream come true for the beautiful couple who came with hope in their eyes.
What Do You Need To Know About Secondary Infertility?
It is a medical condition where you cannot conceive (become pregnant) or carry the baby to the final stages due to complications related to the previous pregnancy, impaired sperm development, or age. It is likely to be stressful, and coping up alone can be unimaginable. Try communicating with your partner, family members, friends, and healthcare provider. It is vital that you still hope, do not break apart, and challenge yourself to become stronger.
Medical Tests and Procedures Conducted
After tracking down their history and diagnosing the fertility tests, the results for ovarian reserve were extremely poor. A low AMH (anti-Müllerian hormone) values and low antral follicle count were indicative of such a result.
After a spermiogram or semen analysis, the husband was diagnosed with Teratozoospermia, an increased concentration of abnormal sperms. He was prescribed antioxidants for treating the issue.
The woman was treated for endometritis after hysteroscopy, which is a method of examining the uterus. It occurs when your innermost lining of the uterus, namely the endometrium, swells up. One should never let this untreated due to the fear of infertility and severe blood infection. In her case, Dr. Anchal Garg recommended hysteroscopic lateral metroplasty.
Fertility Advice and Procedures by Dr. Anchal Garg
Dr. Anchal discussed the treatment options with the couple and asked if they choose to undergo IVF (In-vitro fertilization) using donor eggs. It is considered to be the most suitable way to get pregnant with low ovarian reserves. The couple was open to this decision and followed the advice.
Once the wife was stable after lateral metroplasty and the husband's course was completed, a frozen embryo was successfully transplanted in the woman's uterus. After sheer efforts by both the doctor and the couple, the embryo implanted itself in the uterus naturally, and the wife conceived in her first attempt. Soon after this fortunate outcome, the mother was told to undergo a dosage of anticoagulants. A series of tests confirmed a healthy pregnancy.
Journey Towards Parenthood
It was a heartwarming moment when the couple finally realised their dream of parenthood. With a history of multiple IVF failures, two abortions, and miscarriages, healthy pregnancy in the first attempt was like a blessing.

Take your first step towards happiness
Subscribe to our Newsletter
More case Study