Dr. Kaushiki Dwividee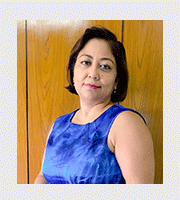 Dr. Kaushiki Dwividee
MBBS, MD, FRCOG (London) FRANZCOG (Australia) MSc (University of Valencia )
Dr. Kaushiki Dwivedee is one of the most high profile IVF specialist and qualified infertility specialist in Gurgaon with global presence . She has headed the OBG department at Max Hospital, Gurgaon and Artemis Hospital Gurgaon . Her patient base expands as far and wide as India, Australia and UK.
Her services are utilised by Australian Government at regular intervals. She has 24 years of rich clinical experience in the field of fertility treatment , Gynaecology treatment, Advanced Laparoscopy including complicated hysterectomy and ovarian surgeries.
She has been a DNB teacher with publications in peer reviewed journals. She is the only Gynaecologist in India with board certification from India, United Kingdom and Australia . Best known for her straight forward and evidence based treatment she is also known for her empathy and world class bed side manners .
Publications
Dwivedee K. 'Reproductive Tract Infection in Antenatal and Gynaecology out Patient Clinic Patients'. 1999. Thesis Dissertation, Saurashtra University
Khanna S B. Dwivedee Kaushiki. Review article on Modern concepts in pelvic anatomy and implications on prolapse surgery. Obstetrics and gynaecology today, VolXII , No7, 328-331
Dwivedee, Banfield P.J. Case report on Inadvertent Laparoscopy and Hysteroscopy in early pregnancy in a patient of uterus didelphys. J of Obstetrics and Gynaecology (Aug 2007; 27(6):638-9 )
Dwivedee K , Plemming A.W. .Case report on an unusual presentation of hetrotrophic corneal pregnancy. J of Obstetrics and Gynaecology ( Aug 2007:27(6):636-637)
Dwivedee K, Review article on 'Changing faces of preoperative consent', Max Medical Journal (Jan 2008 :Vol3.Issue1:11-12)
Dwivedee k, Review article on 'Communication skill, an integral part of effective clinical management', Max Medical Journal ( June 2008, VOl-4. Issue 2:7-10)
Dwivedee K, Maheshwari D, Sharma A 'Metformin:an alternative for Insulin in treatment of GDM' Max medical Journal (Vol-4, issue-2:11-12)
Dwivedee K,Asha sharma,deepa maheshwari; Calcium Channel blockers, safer alternative for Tocolysis.Max medical Journal (Vol-4, issue-3)
Under Publication: Dwivedee K, Prof S.B.Khanna . A Chapter on Genital prolapse for an undergraduate book by an Indian Author. (Prof.Sudha Salhan)
MBBS, A N Magadh Medical College, India
MD (Obstetrics And Gynaecology), Shri M P Shah Government Medical College, Gujarat, India
PLAB, GMC - London
MRCOG 1, Royal College of Obstetricians and Gynaecologists, London, England
MRCOG 2, Royal College of Obstetricians and Gynaecologists, England
FRANZCOG, The Royal Australian and New Zealand College of Obstetricians and Gynaecologists (RANZCOG), East Melbourne, VIC
Fellowship in IVF, University of New South Wales and IVF Australia
Master of Science: Assisted Reproductive Technology And Embryology 2019
IVI Valencia - Clínica de Fertilidad y Reproducción Asistida, València, Comunidad Valenciana
FRCOG, Royal College of Obstetricians and Gynaecologists, England
1998 - Best Paper in annual Gujarat Obstetrics and Gynaecology Conference society, Conference,Surat
2005 - Best paper in International Continence society Conference, Norwich, UK
2007 - Best Paper in early pregnancy society of UK annual conference at Manchester
2008 - Best Paper in geriatric Gynaecology at FOGSI ,India
2009 - Best Paper in geriatric gynaecology at FOGSI ,India
2009 - Talent Promotion award at Asia Pacific conference of contraception at Macau,China
2010 - Only Oral Presentation from Indian subcontinent at ESGE, Barcelona
2018 - one of the top 500 abstracts at annual RCOG conference at Singapore
Federation of Obstetric and Gynaecology Society of India
Member of European Society of Human Reproduction and Embryology (ESHRE)
American Society for Reproductive Medicine (ASRM)
Indian Fertility Society
Patient Testimonials
Great service and nicely maintained Hospital. Staff's behaviour is very good and polite and very helpful. Dr. Kaushiki is highly knowledgeable, experienced and polite. Thank you for the service.
Ruchir Jani
Excellent services,we got proper care ,guidance, and treatment here at Nova. Finally our hope convert into happiness thanks a lot Dr. Kaushiki Ma'am for this and entire Nova Team.
Aarav Bhardwaj 
Dr. Kaushiki is the best doctor for infertility. We have taken treatment from her and it turned positive. All staff is very supportive and helpful. Thank you nova team and especially Dr. Kaushiki.
Ashu
I am a past patient of Dr. Kaushiki Dwivedee... consulting her at her clinic. She's a brilliant doctor. With her presence I am sure this Fertility center will be world class..👍🏻
 
Pooja Mathur
Very caring, sensitive and patient doctors, especially Dr Kaushiki. Always there to help you out. One feels one is in safe hands when they are around. Great staff.
 
Neha Singh