Dr. Reena Gupta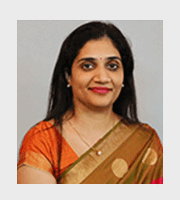 Dr. Reena Gupta
MS (OBG), FNB (Reproductive Medicine)
Dr. Reena Gupta is a Fertility Consultant at Nova IVF Fertility, Delhi. She has a wealth of 14+ years of experience as a medical practitioner. With a success rate of 67% in IVF cycles with the patient's own gametes and 75% with donor eggs, Dr. Gupta is one of the most sought-after IVF experts in Delhi.
Her interest areas include PCOS, recurrent implantation failure and male infertility treatment. She believes in providing patient-specific treatment based on Evidence Based Medicine (EBM) and globally accepted protocols.
Publications
Book chapters:
Gupta R, Banker M. Physiology and pharmacology of different gonadotropins. In: Banker M, Ed. Nova IVI textbook of infertility & assisted reproductive technology. 2019 New Delhi: Jaypee Brothers Medical Publishers Pvt Ltd
Shah S, Gupta R. Genital tuberculosis. In: Banker M, Ed. Nova IVI textbook of infertility & assisted reproductive technology. 2019 New Delhi: Jaypee Brothers Medical Publishers Pvt Ltd
Banker M, Gupta R. Assisted Reproductive technology in polycystic ovarian syndrome. In: Bansal K, Dimri PS, Reddy AP Eds. Decoding Polycystic Ovarian Syndrome (PCOS). 2017 New Delhi: Jaypee Brothers Medical Publishers Pvt Ltd
Banker M, Gupta R, Kotdawala A. Role of Aneuploidy Screening in Preimplantation Embryos. In: Rao K, Ed. Principles & Practice of Assisted Reproductive Technology 2/e. 2018 New Delhi: Jaypee Brothers Medical Publishers Pvt Ltd
Medical journals:
Gupta R, Sardana P, Arora P, Banker J, Shah S, Banker M. Maternal and Neonatal Complications in Twin Deliveries as Compared to Singleton Deliveries following In vitro Fertilization. J Hum Reprod Sci. 2020 Jan-Mar;13(1):56-64
Gupta H, Gupta R, Rai S, Kataria H, Jain V, Shankar V. Is empirical use of the antibiotic combination of cefuroxime and clavulanic acid rational? J Glob Antimicrob Resist. 2019 Mar;16:150-151.
Mehta VP, Patel JA, Gupta RH, Shah SI, Banker MR. One Plus One Is Better Than Two: Cumulative Reproductive Outcomes Are Better after Two Elective Single Blastocyst Embryo Transfers Compared to One Double Blastocyst Embryo Transfer. J Hum Reprod Sci. 2018 Apr-Jun;11(2):161-168.
Banker M, Kotdawala A, Gupta R. The impact of vitrification in artificial reproductive technology programmes. European Medical Journal. 2017 Nov;2(4):82-89.
Gupta R, Gupta H, Banker M. The impact of an inappropriate non-inferiority margin in a non-inferiority trial. Hum Reprod. 2016 Dec;31(12):2892-2893
Gupta R, Dewan R, Mittal P, Suri J, Bharti R. Role of Levonorgestrel releasing intrauterine system (LNG-IUS) in treating menorrhagia due to dysfunctional uterine bleeding and fibroid uterus. Int J Reprod Obstet Gynaec. 2014;3(3):671-7.
Mittal P, Prakash V, Gupta R, Dewan R, Singhal S, Suri J. Giant condyloma acuminatum of vulva treated by surgical excision and reconstruction of defect. Arch Gynecol Obstet. 2013 May;287(5):1047-8.
MBBS from Lady Hardinge Medical College, Delhi
MS (OBG) from VMMC & Safdarjung Hospital, Delhi – Gold Medalist
FNB Fellowship of National Board of examinations in Reproductive Medicine (2-year post-doctoral Fellowship degree recognized by MCI), Nova Pulse, Ahmedabad.
Certificate Course in Ultrasonography from Manav Bharti University
FOGSI Advanced Infertility Training course, Sir Ganga Ram Hospital
Short-term Training Operative Laparoscopy course, AIIMS, New Delhi
Awarded the "Gold medal" for best performance in the department during senior residency in 2011-12
Lifetime member, of Indian Society for Assisted Reproduction (ISAR)
Member, Indian Fertility Society (IFS)
Member, Federation of Obstetric and Gynaecological Societies of India (FOGSI)
Member, Association of Obstetricians and Gynaecologists of Delhi (AOGD)
Patient Testimonials
Everything is good. The staff at Nova is very caring and good. Dr. Reena Gupta guided us at every step and gave us a positive result. We are so grateful to her for giving us this happy moment of our life. Besides the expertise, she is also very compassionate and supportive. Everything is explained really well at Nova. We recommend Nova and Dr. Reena Gupta for infertility treatments.
Aarti Sharma
I am Arun Kumar(husband of Pt. Sushila). I am very satisfied after taking treatment at Nova. Dr. Reena Gupta and her staff is very caring. I wanted to say 'Thank you' to all of them.
Sushila
It was a beautiful experience with Nova. I thank Dr Reena and the staff for their support and care.
Monika
I had come for the 2nd time to Nova after getting pregnant with my first child from here. I am delighted to be a part of Nova again and would like to thank the amazing Dr. Reena Gupta who gave us happiness for our second baby this time. Nova has completed my family and I am thankful from bottom of my heart. Love you Nova Team.
Manpreet Kaur
I am feeling so happy and Nova has been lucky for me. The staff at Nova is very friendly and caring. Dr. Reena Gupta is very experienced and she guided us well.
Seema Manchanda
My experience here was very good. Dr. Reena Gupta is very nice and kind in nature. We came back after a long time and we are very happy that we did. The staff at Nova is very supportive and everybody is very helpful. Dr. Reena has given us a pregnancy and we are very thankful to her. God bless everyone.
Ragini