Dr. Ratnakar Ravsaheb Majalekar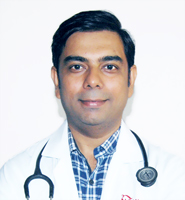 Dr. Ratnakar Ravsaheb Majalekar
Infertility Specialist in Kolhapur
MBBS, DNB (OBG), Fellowship in Reproductive Medicine
Dr. Ratnakar has 8+ years of experience in OBG and Reproductive Medicine. His passion and enthusiasm in the field of infertility made him pursue National Board Fellowship (FNB) in Reproductive Medicine after his post-graduate program. A passionate and trusted fertility specialist he has helped many couples achieve their dream of parenthood. Dr. Ratnakar also underwent training in Laparoscopy from Family Planning Association of India. and performs fertility enhancing laparoscopic surgeries for women and Micro TESE surgeries for men with male infertility. Post-fellowship he has worked in many renowned IVF centres in Bangalore, Cochin and Thrissur as infertility consultant.
Dr. Ratnakar is an academician and is actively involved in teaching. He has trained many gynaecologists in basic and advanced fertility training courses. He has many paper and poster presentations to his name in national and international conferences. He has also contributed to chapters in the book-The Infertility Manual -4th Edition and published papers in the International Journal Of Scientific Research.

Dr. Ratnakar is highly skilled in treating infertile couples with PCOS, Endometriosis, Recurrent IVF Failures, Advanced maternal age, Recurrent abortions and male infertility. He is a passionate, dedicated and reliable Gynaecologist and Infertility specialist with an admirable track record of successfully treating many infertile couples . He is updated with all the latest advancements in Reproductive Medicine.
MBBS from BJ Medical College, Pune
DNB (OBG) from Thrissur, Kerala
Fellowship in Reproductive Medicine from Bangalore