Dr. Santosh Kumar Jena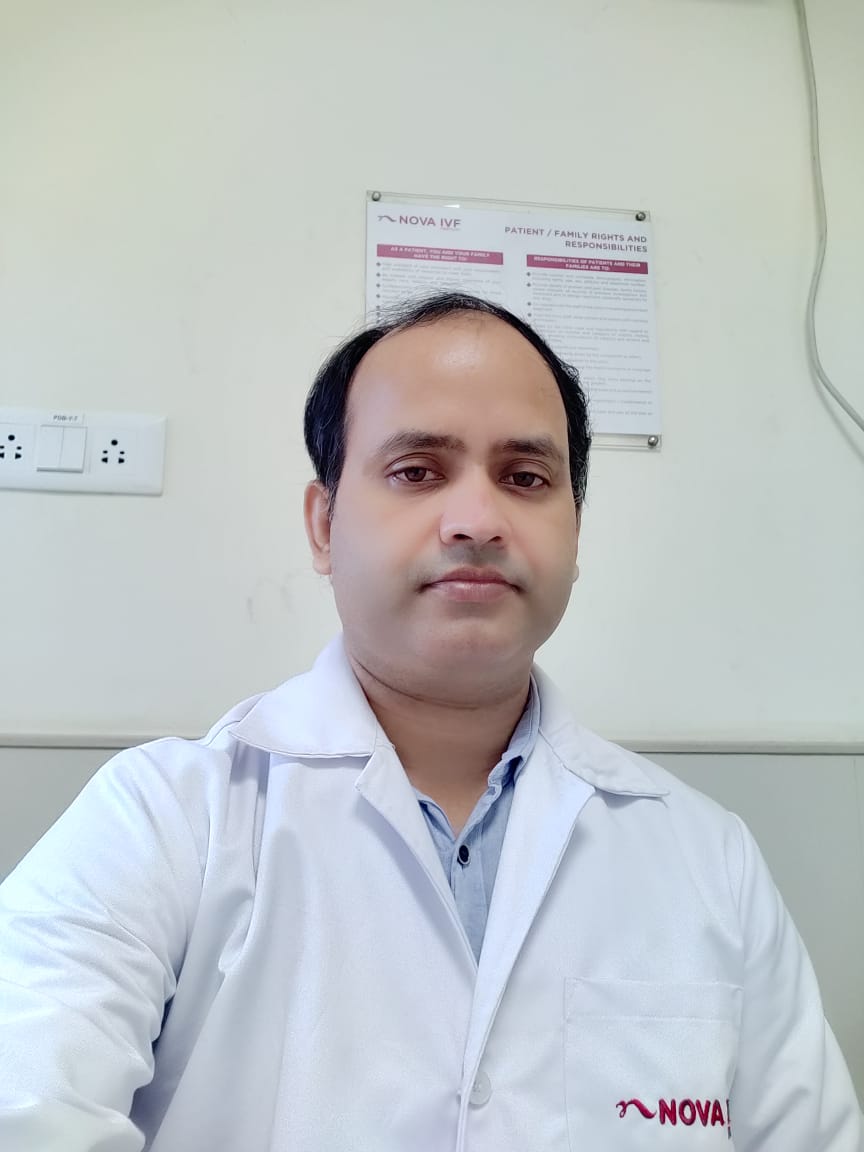 Dr. Santosh Kumar Jena
MBBS, MS (OBG), FNB in Reproductive Medicine
Dr. Santosh Kumar Jena is a Fertility Consultant at Nova IVF Fertility East, Uttam Kumar Sarani, Kolkata. He has over 8 years of experience in Obstetrics & Gynaecology and Infertility. He firmly believes in empowering patients in decision making. He offers each couple an individual treatment plan to choose from a range of available options. His areas of interest include reproductive endocrinology, infertility related ultrasonography and male infertility.
Publications
Presented a poster on "Reproductive outcome following endometriotic cystectomy using Vasopressin Infiltration technique" at the Life Conference 2015

Presented a paper on "Pregnancy outcome following use of recombinant LH vs HMG as a source of LH in controlled ovarian stimulation in steady and poor responders" in ISAR Conference 2015

Written a chapter on "Congenital uterine malformations and Reproduction" for the book "The Infertility Manual (4th edition)

Reviewer of Journal "International Journal of Infertility & Fetal Medicine"
MBBS from SCB Medical College, Odisha (2008)
MS (OBG) from MKCG Medical College, Odisha (2013)
FNB (Reproductive Medicine) from Bangalore Assisted Conception Centre (2016)
Winner of quiz competition in East Zone Yuva FOGSI, 2012 at Kolkata

Second runner up in FOGSI- DR USHA KRISHNA QUIZ, 2013 at AICOG, Mumbai

Conducted training sessions and workshop for Gynecologists in infertility
Patient Testimonials
Thank you so much for all the support and being like an family member and providing us the awesome experience. THANKS A BILLION FOR FULFILLING OUR DREAM CUM. Dr Santosh mam thank you so much. You and your team is doing a great job. Thank you for being so kind and such a wonderful person you are. Which makes us comfortable to start our journey with NOVA. Best wishes.
Utkarsh
We are happy to share our experience that I got conformed twin pregnancy. In 12yrs of our marriage life now we hear that good news and Dr.Santosh is good person and patient friendly. Thanks to Dr.Santosh and nova staff for supporting us through out our jounery.
Seema Chaudhary
My experience with Dr Santosh Jena  has been wonderful. She patiently listens to each and every details of patients, she is very friendly. On the whole it was a very pleasant experience to take treatment from dr Santosh. Thank u.
Paul
We are really thankful of Dr Santosh and her team, for all there support and positivity. We are very happy today and it is all because of Dr. Santosh & team. Thank-you from bottom of our hearts. Blessed with twins.
 
Abhijeet Narwal
So far my experience has been very good. All the supportive staffs are ver cooperative and well behaved. we are under going the treatment of Dr. Santosh Kumar Jena. He is very patient and has very well experienced in infertility treatment. I personally highly recommend NOVA IVF centre specifically to Dr Santosh Kumar Jena.
Amit Das