Dr. Suparna Bhattacharya
Dr. Suparna Bhattacharya
IVF Specialist in Uttam Kumar Sarani
MBBS, DGO
Dr. Suparna Bhattacharya is a Fertility Consultant at Nova IVF Fertility East, Uttam Kumar Sarani, Kolkata. A sought-after Gynaecologist and IVF Specialist, she has been prominent in the field of Reproductive Medicine for more than 20 years. She also has a decade of hands-on experience in assisted Laparoscopic surgeries.
Her areas of focus includes all Infertility Evaluation/Treatments , Diseases in Pregnancy, Gynae Problems, Women's Healthcare, Hysteroscopy, and High-Risk Pregnancy Care.
Publications
Organized a panel discussion on male infertility at ISAR, Bengal in 2020
Organized IUI workshop at Nova IVF Fertility -2019
Presented a paper at ESHRE (2016) –"Factors predicting improved success with use of G-CSF in thin endometrium."
Presented a paper at the 22nd IFFS World Congress (2016) –Effect of elective freeze for all patients with normal P4 levels on the day of trigger in Indian scenario"
Organized workshops in Ultrasound at ISAR, Bengal (2016) and IUI workshop at ISAR (2018)
Has been Chairperson, faculty, panelist and speaker in various CME'S/Conferences/Webinars
MBBS from Calcutta National Medical College, Kolkata (1996)
DGO from Calcutta National Medical College, Kolkata
Trained under Prof B. N. Chakroborty at IRM, Kolkata
Member, Federation of Obstetric and Gynecological Societies of India (FOGSI), Bengal chapter
Member, Indian Society for Assisted Reproduction (ISAR)
Patient Testimonials
Ami Dr. Suparna Bhattacharya Katherine chikitsa kre khub khusi are Akhtar phrasebook khub vlo legche ami jeta pawar Jenna akhane as hi seta ami peyechi
Patient of Dr. Suparna Bhattacharya
Well equipped with all the amenities and all the support staff are very friendly and helpfull. A special mention for Dr. Suparna Bhattacharya who helped me get my pregnancy. She was more of a friend and a guide to us than our doctor. Really recommend her.
Divya Agarwal
We have been trying since last 7 years to conceive without any success , even from the renowned clinic at Lansdowne, Kolkata we faced failure which is just opposite Pulse Diagnostics. After spending more than six lakhs and two years there we found Nova IVF on Facebook. We got in touch with Dr.Suparna Bhattacharya who we believe has been sent by Jesus Christ and Mother Mary as our "Guardian Angel"to help my wife conceive on the first shot. Dr. Suparna Bhattacharya and her team has made our dream come alive, she's given us the happiness we deserve. Every woman has a right to become a mother and I believe Nova IVF is the best place where one can make her dreams come true because we believe " Nova never fails....."
Palash John
ami amar wife Nova ivf Dr suparna medam ke dekhi.and ivf korai .13.12.2021.date be-scg korai report positive ase. Thank you Nova Ivf.mem o amader onek help korese .Nova all staff is very good and careful.Thank you Nova infertility centre and Thank you Dr suparna Bhattacharya mem.
Priyabrata Dey
Myself Dipanjana Gupta sharing my great experience with Nova here. I consulted Dr. Suparna Bhattacharya Madam for my IVF treatment. She is too caring, just like a Mother. She is the Goddess to me. Whenever I required her, she stood besides me and supported me a lot. I have no language to explain my gratefulness to her. I got success in my first embryo transfer only, now I am carrying twins which was a dream of mine. As well to say thank you to all the sisters, all the staffs of Nova since everyone in Nova is too much caring and helpful and also I must say that the success rate of IVF in Nova is really surprisingly high. Me and my family, we are very much happy that we could connect with Nova and lastly got success. Thank you Dr. Suparna Madam and the whole team of Nova.
Dipanajan
I visited Dr. Suparna Bhattacharya in November 2019. We started out treatment and got result in IUI for the second time. In this institute all staff members are very cooperative, the service provided is very systematic and we felt very comfortable during the treatment period. The nurses were very caring and we faced no difficulty anytime. I thank our doctor and the entire team of Nova IVF Fertility Kolkata Centre.
Mr. Abhik Raj and Mrs Sumita Raj
We got our treatment from Dr. Suparna Bhattacharya. Here every staff member is very cooperative and helpful. Dr. Suparna is very compassionate and guided us throughout the treatment period. We got a positive result after the treatment and heartily thank the entire clinical team for their support.
Mr. Basab Narayan Mukherjee and Nabanita Mukherjee
It was two months that we started our treatment with Dr. Suparna in Uluberia. Then she advised us to come to Kolkata for the treatment. After coming here we realized how wonderful the clinical team is who supported us so well. The environment was very soothing and we were successful in our treatment. We got the best gift of life from Dr. Suparna Bhattacharya.
Mr. Monirul Islam
We were trying to conceive and went to several doctors but did not get result anywhere. We were feeling helpless and depressed. During this time we came to know about Dr. Suparna Bhattacharjee from one of our relatives and immediately contacted her. During the treatment period we experienced support and cooperation from the entire team and the advanced technology and excellent facility of the organization is worth appreciation. We were blessed with a baby boy and thank heartily our doctor and her team.
Mr. Subrata Das and Mrs. Rama Das
We thank Dr. Suparna Bhattacharya for her continuous support and encouragement to both of us. Her treatment and care for us is unparalleled and unconditional. It really meant a lot. Now we are blessed with a baby boy and a baby girl. All credit goes to Dr. Suparna and God. With all her support encouragement and care, now we are extremely happy and everything seems so brightened all around. We need Dr. Sparna's blessings and support forever and thank her for fulfilling all our dreams.
Dr. Atanu and Dr. Archita
We were eager to start a family and were looking out for a good fertility consultant to help us out. During this time we came across Dr. Suparna Bhattacharya who was very kind and dedicated in her work. She guided us in every step throughout our journey towards parenthood. We are blessed to meet a doctor like her and she will remain in our heart forever. She is the best doctor in our life and would always recommend her to others. We have no words to express our gratitude to her for helping us complete our family with a baby boy who brought so much love and joy in our lives.
Mr. Tarak Biswas & Mrs. Manasi Biswas
Article Reviewed & Case Studies
by Dr. Suparna Bhattacharya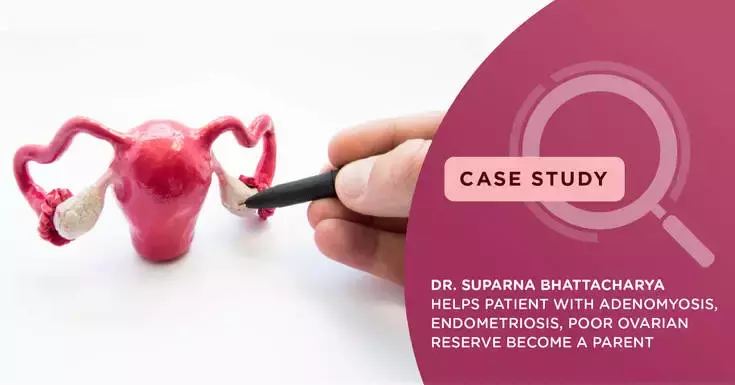 Dr. Suparna Bhattacharya helps Patient with Adenomyosis, Endometriosis, Poor Ovarian Reserve become a Parent
Assisted Reproductive Treatment at Nova IVF Fertility, Kolkata helps Patient wit...
Know More >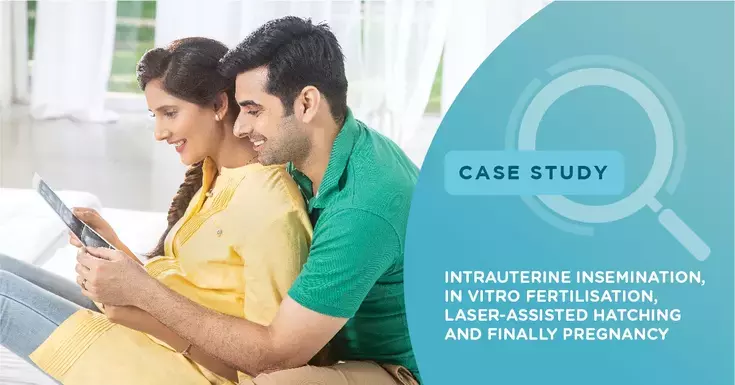 Intrauterine Insemination, In Vitro Fertilisation, Laser-Assisted Hatching and finally pregnancy
Mrs. SB, who was 35, and her partner lived a happy and lovely life for 6 years. ...
Know More >