Dr. Aanchal Garg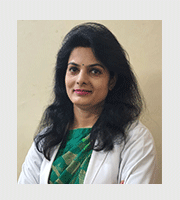 Dr. Aanchal Garg
MBBS, DGO, DNB, Fellowship training in Infertility Advanced certificate in Reproductive Medicine & IVF, Homerton University Hospital London UK.
Dr. Aanchal Garg is a Fertility Consultant at Nova IVF Fertility, Lucknow. She has been active in the field of Reproductive Medicine for 16+ years and has had the privilege of getting trained and working with the pioneers of IVF in India.
She strongly believes in ethical and transparent practices and ensures that her patients are involved in the decision-making process of determining the treatment methods best suited for them. Her areas of interest include recurrent miscarriages, low ovarian reserve, PCOS and repeated IVF failures.
MBBS from King George's Medical College (KGMC), Lucknow (2002)
DNB in Obstetrics and Gynecology from Command Hospital Central Command, Lucknow
Basic and Advanced training in Reproductive Medicine and IVF from Homerton University hospital, London, UK
Patient Testimonials
I had a very good experience in NOVA. Through IVF treatment, which was performed by Dr. Aanchal Garg, I got positive results and I am very happy and thankful for that.
Rekha
Firstly when I entered, I was bit scared but when I met all the staff members of Nova IVF fertility, Lucknow and Dr. Aanchal Garg, I was satisfied. She is very polite and caring. Centre Head Dr. Romsha Vashisth is also very caring and gives positive thoughts. Everything is quite well and I am very happy and satisfied at Nova IVF fertility centre.
For Nova our gynaecologist had referred us. It is my first experience in any infertility clinic which is very good.
Mrs. Vrinda Singh
The Nova IVF fertility clinic in Lucknow provides state of art services for the patients and we are blessed to have come here. You are serving as an agent to bring smiles on the faces of family and bringing happiness to the hopeless.
Manisha Masih
Well, it was a good experience with nova. Our experience with every staff member was nice. Their behavior and the way they talk is so well that we cannot explain in our own words. Dr. Aanchal Garg treated us like, as an elder sister treats her younger sister. We can't explain how well the counselor Anvi treated us. Overall our experience with nova team was too good.
As I described in above statement, there is no center similar to Nova IVF fertility Lucknow. They give 24* 7 services. Nova IVF Lucknow maintains a clean and hygienic surrounding in the center. We can talk to the Consultant doctor directly any time we need. Nova provides better facilities than any other center over here.
Mrs. Asha singh
Nova has a well-mannered team! We had a great experience with Nova till date. No one can beat Nova IVF in cleanliness and well behaved staff. Nova IVF made our dreams come true. Good luck for the future. Thank you Nova IVF Lucknow.
We are very happy to visit Nova centre. We must say that the behavior of doctor as well as staff is very good. Nova provides the best facilities that no other hospitals provide. In house testing is available in Nova IVF advanced Labs. One doesn't need to go to any other centre. And also it is less time consuming at Nova IVF Lucknow.
Mrs. Sashi
We are very satisfied from the overall experience of visiting NOVA IVF Fertility. Dr. Aanchal is very supportive and cleared all our doubts. Staff was very caring and friendly during our overall visits.
Nova IVF fertility is transparent and disciplined. Overall environment was very peaceful and calm.
Patient from Lucknow Centre