Dr. Akash Surana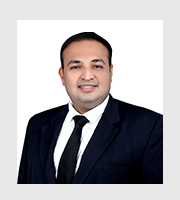 Dr. Akash Surana
MS, Fellowship in Reproductive Medicine
Dr. Akash Surana completed his M.S from PDVVPF's Medical College, MUHS university, Nasik, was the topper in that. After completing M.S, he completed his FNB in Reproductive Medicine for which he had secured an All India rank of 10 in the entrance exam for same. After which he got trained in Laparoscopy by doing a fellowship program. He has worked as an Independent Infertility Consultant in various cities which includes Pune, Bangalore and in Mumbai. He has won many awards for his paper and poster presentation in national and international conferences and also has articles published in renowned journals. He is extremely passionate about his work. He is a member of IAGE and ISAR. His dedication to patient care & health and his passion for work has earned immense popularity among his patients.
Patient Testimonials
The management of the Nova and all facilities is excellent. The doctors especially Dr. Richa and Dr Avantika are very helpful and approachable. The nursing staff is very helpful and kind, they explain the medicine chart very well. The front desk staff is also polite and co-operative. "
The center is well managed and organized. The treatment is much directed and very exact. The cost is very transparent and no hidden charges. Highly recommend by me for others who need help.
Mrs. A. S
I feel very happy to write about NOVA IVF. Nova has given me the boon of my life and I am very thankful for that. My doctor, Dr. Meenakshi Priya with outmost care resolved and clarified all the doubts I had during my treatment. Dr. Renu pleasingly handled my queries. All the employees at Nova will take care of all the patients with warmth and I owe for that. Once again I am thankful for Nova for giving me a boon of my life.
Mrs. S. Parimala
I was suffering from infertility problem for which I visited NOVA and started taking treatment from Dr Mahesh Koregol. I became pregnant with his treatment and our family is very happy.
I am very happy.
Mrs. Asha K
First of all we are highly grateful to Dr. Mahesh Koregol sir and Nova IVF Fertility Koramangala. During consultation, doctors and all staff took care of everything, while handling our case. Finally we appreciate the service which is the best. We had success with ICSI procedure at Nova IVF fertility clinic in Koramangala. From the beginning to end of the procedure, the services of Nova IVF fertility hospital is very much satisfying.
Mrs. Shilpanjali