Dr. Bharati Dhorepatil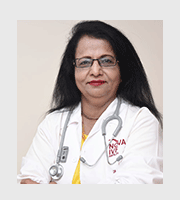 Dr. Bharati Dhorepatil
MBBS, DNB (OBG), DGO, FICS, FICOG
Dr. Bharati Dhorepatil is a Gold Medalist from Government College Miraj-1982 , Pioneering & Formation of an independent maternity hospital & IVF center in Pune. Has helped more than 10,000 couples conceive. She completed her fellowship and is also a Post-graduate Fellow guide to train many young gynaecologists in the field. She has a lot of innovations on her name like the IGD Score (Individualize Gonadotropin Dose) to individualize ART treatment, Green IVF (Natural Cycle IVF), Labour Program designed to optimize C-Section to a great mark. She has done pioneering work in Microlaparoscopy in India.
She has been the front runner in prestigious medical organisations like IMA, FOGSI, IFS, POGS . She was involved in many patient education programs like Health talks & Blogs about Women's Health, Infertility, Cancer prevention Education, Breast Cancer awareness, Menstrual Hygiene. Promoted by IMA and POGS through the tag line "CARE for Her " which is still being used by the Association. Has conducted 17 campaigns, first of which was 'Save Girl Child' campaign. She has also actively worked against 'cervical cancer'. During the tenure of IMA, she has worked in several parts of Rural India spreading awareness about polio in schools. She has taken the responsibility of women of rural India and has helped more than 10,000 women prevent cervical cancer. For this noble cause, many institutions extended their support and she was also recognized on international platforms.
Dr. Bharati Dhorepatil has been awarded and recognized on a lot of platforms . She has been the vice president of FOGSI, 2016. She has been the National Co-ordinator of FOGSI - FIGO conference. She has been awarded with FOGSI star awards in 2016 , Pune Women ICON in 2015, Punya Bhushan in 2014, Gaurav Puraskar in 2010. Dr Bharati Dhorepatil is spiritually inclined doctor, who believes in treating patients combing "Body & Soul". Dr Bharati Dhorepatil is Vice-President of Indian Fertility Society.