Dr. Bharati Dhorepatil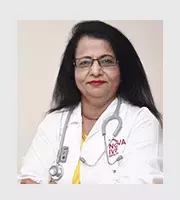 Dr. Bharati Dhorepatil
IVF Specialist in Kharadi
MBBS, DNB (OBG), DGO, FICS, FICOG
Dr. Bharati Dhorepatil is a Gold Medalist from Government College Miraj-1982 , Pioneering & Formation of an independent maternity hospital & IVF center in Pune. Has helped more than 10,000 couples conceive. She completed her fellowship and is also a Post-graduate Fellow guide to train many young gynaecologists in the field. She has a lot of innovations on her name like the IGD Score (Individualize Gonadotropin Dose) to individualize ART treatment, Green IVF (Natural Cycle IVF), Labour Program designed to optimize C-Section to a great mark. She has done pioneering work in Microlaparoscopy in India.
She has been the front runner in prestigious medical organisations like IMA, FOGSI, IFS, POGS . She was involved in many patient education programs like Health talks & Blogs about Women's Health, Infertility, Cancer prevention Education, Breast Cancer awareness, Menstrual Hygiene. Promoted by IMA and POGS through the tag line "CARE for Her " which is still being used by the Association. Has conducted 17 campaigns, first of which was 'Save Girl Child' campaign. She has also actively worked against 'cervical cancer'. During the tenure of IMA, she has worked in several parts of Rural India spreading awareness about polio in schools. She has taken the responsibility of women of rural India and has helped more than 10,000 women prevent cervical cancer. For this noble cause, many institutions extended their support and she was also recognized on international platforms.
Dr. Bharati Dhorepatil has been awarded and recognized on a lot of platforms . She has been the vice president of FOGSI, 2016. She has been the National Co-ordinator of FOGSI - FIGO conference. She has been awarded with FOGSI star awards in 2016 , Pune Women ICON in 2015, Punya Bhushan in 2014, Gaurav Puraskar in 2010. Dr Bharati Dhorepatil is spiritually inclined doctor, who believes in treating patients combing "Body & Soul". Dr Bharati Dhorepatil is Vice-President of Indian Fertility Society.
Patient Testimonials
I would like to say thanks to NOVA, especially Dr. Bharti mam. She is very experienced and friendly. Her positive attitude given us new confidence and hope during treatment. Finally we got the bundle of joy… I am also thankful to Dr. Jyoti for the continuous follow-up and help. She is always approachable. Nova staff is very polite and supportive. I wish NOVA for all the success.
Subhash Tripathi
I'm so happy and excited that I can't even express in short words. NOVA has helped me to achieve my dream and now I'm blessed with a child. I have been trying from last 6 years to concive but due to low AMH was not getting conceived. I'm thankful to Dr. Bharti Dhore Patil who help me and gave me right advice. Even I would like to thank front office, counselor, nurses and full NOVA staff for been so generous and kind.
Subhash Kindre
Conceived two healthy babies just because of Dr. Bharti. I'm very thankful to her. I would recommend each and everyone you are have fertility issue to take consultation from Dr. Bharti. She is so knowlagable and kind. Thank you to full NOVA staff and Dr. Bharti
Chaitali Bhairavkar
Dr. Bharati Dhorepatil Mam is very supportive and encouraging throughout the treatment. She will guide her patients accurately without any false commitments. Her positive nature helps patients to be positive and hopeful.
Avani Lakde
M very happy to share my experience with you all. Dr.Bharati has guided me so well. She is very positive and calm by her nature. She has helped me to get my happiness. Blessed with one baby boy. Thank you Dr.Bharati n all nova staff
 
Anuradha Sawant
We are so happy that we don't have words to describe are feeling. We visited so many doctors but didn't get any result. Only after coming to novawe got results. Thank you Dr. Bharti and full staff of nova for blessings our with children
Vijaykumar
We are very happy with the service we got here. We are very happy with the Dr Bharti mam as she is very friendly n supportive..Thank u Nova
Shree Gouree
Words just can't express how happy myself and my husband are with the care and treatment we received by Dr. Bharti Dhorepatil at Nova center for Fertility. To make a long story short, by the grace of God along with the help of Dr. Bharti Dhorepatil and her team, today We have a baby boy 1.9 months old and it couldn't be more grateful for her in helping us. I had been trying to get pregnant for past 6 years at different top fertility centers. Dr Bharti Mam at Nova center gave me hope that it would happen. Her staff communicate very well their patients and they have been closely monitored me every step of the way. I couldn't be more thankful for everything they have done for me. I would highly recommend Dr. Bharti Dhorepatil for any Infertility issues. Thank You so much once again!!
Savita Dhorje
Thank you NOVA and Dr. Bharti for everything. I was trying to conceive from last 7 years. Finally after coming to nova at first attempt I concived . I would also like to thank full staff of nova as they have been very helpful and soft spoken. They were always available whenever I needed help. Thank you for blessing me with beautiful child.
Sunita
Conceived two healthy babies just because of Dr. Bharti. I'm very thankful to her. I would recommend each and everyone you are have fertility issue to take consultation from Dr. Bharti. She is so knowlagable and kind. Thank you to full NOVA staff and Dr. Bharti
Chaitali