Dr. Sreelakshmi Atluri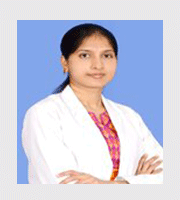 Dr. Sreelakshmi Atluri
MS ( OBG), Fellowship in Reproductive Medicine
Dr. Sreelakshmi Atluri is a Fertility Consultant at Nova IVF Fertility, Vijayawada. She has been specialising in the field of Obstetrics and Gynaecology, Reproductive medicine for the last 8 years and has many successful IVF pregnancies credited to her name. She also underwent training in laparoscopic surgeries to treat couples who require surgical intervention.
Dr. Sreelakshmi is adept at IVF/ICSI procedures (IUI, TESA, Ultrasound guided Oocytes Retrieval, Cyst aspirations and Embryo transfers). She is an expert in treating infertile women with PCOS, endometriosis, recurrent IVF failures, recurrent pregnancy losses, and also male infertility cases. She believes in evidence based ethical treatment strategies with empathy and individualized personal care. She has a clinical success rate of 72.6% when it comes to IVF.
MBBS from Siddhartha Medical College, Dr.NTR.University of Health Sciences, Vijayawada, Andhra Pradesh (2006)
Internship at Siddhartha Medical College, Vijayawada, Andhra Pradesh, (July 2006-07)
MS (OBG) N.R.I Medical College, Chinakakani, Mangalagiri, Guntur , Andhra Pradesh (2013)
Fellowship in Reproductive Medicine and Endocrinology from CRAFT Hospital and Research centre, Kerala (2017)
Obtained both MBBS and PG seats on the basis of merit through entrance examinations.

As an undergraduate achieved gold medal in Forensic Medicine & passed in distinction in some subjects.

As an undergraduate presented working model of treatment for Neonatal Jaundice in MEDHA, held at Siddhartha Medical College,2006, and was selected as one of the best models.

As a postgraduate, has been awarded Best paper for the scientific paper titled "VP Shunt Induced Peritoneal Cyst Mimicking as Ovarian Cyst" presented during the clinical meetings held at NRI Medical College.
Member, Medical Council of India (MCI)