Why Your Daily Diet Matters To Fertility Health
The type and quantity of food you ingest on a daily basis can have a significant impact on your health. When diagnosed with a medical condition, one of the first changes you will be expected to make is to your diet. Numerous studies have been conducted to find out if there is any possible link between an individual's eating habits and its effects on his/her fertility. These studies indicate that your diet has the ability to either boost your performance or substantially reduce your fertility levels.
Lifestyle and dietary changes can help prevent up to 70 percent of hormonal imbalances
Hormones are special chemical messengers in our body. They are made by the endocrine glands and travel through the bloodstream to all organs and tissues telling them what to do. Our environment and lifestyle has a huge effect on our hormonal balance.
"Endocrine disruptors alter the normal functioning of hormones by mimicking the action of hormones. In doing so, they can affect your reproductive, immune and neurological systems," said Dr Sneha Sathe, fertility consultant at Nova IVF Fertility clinic in Mumbai.
Unhealthy Lifestyles Will Have Impact On Fertility
India is a country that has seen drastic lifestyle changes in the recent years especially among the young population. From smoking cigarettes to excessive use of contraceptives there is a steady increase in the poor lifestyle choices which have adverse effects on all aspects of health. The effects on fertility however are often overlooked. The increase in lifestyle risk factors is found to be one of the key drivers for the high occurrence of infertility among Indian men and women.
Are Stress and Infertility Co-related?
The co-relation between stress and infertility has been long debated. Although stress does not directly affect fertility, it might affect certain bodily functions, which in turn can affect fertility. Let us consider what stress really is and what some of its physiological effects include.
How do I cope with not being able to get pregnant?
Parenthood is one of the major transitions in adult life for both men and women. The inability to conceive a baby after multiple attempts over time can have serious repercussions on the mental health of men and women. Moreover, the psychological stress may cause hormonal imbalance in the body, leading to a further impaired reproductive performance.
The Healthy Diet to Improve Fertility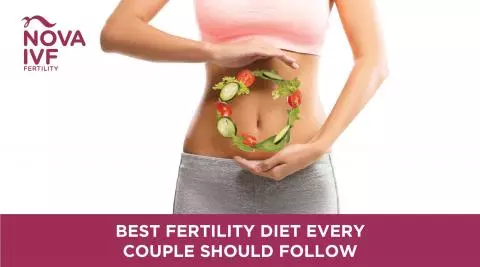 Globally, one in every 10 couples suffers from some form of infertility. When it comes to infertility rate in India, approximately 40% of infertility can be attributed to female factors, 40% to male factors, and 20% to unknown causes.