What is the IVF success rate in India?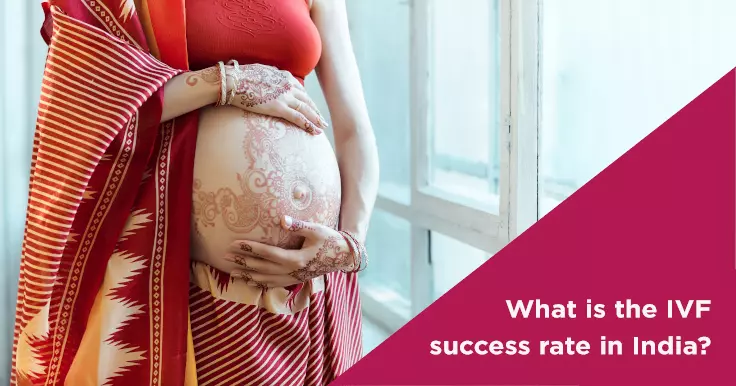 IVF or In-vitro fertilization has been a boon to those infertile couples dreaming to start a family. IVF is a process where an egg from a female body is combined with her partner's sperm outside their body. The outcome of an IVF procedure varies from one couple to another and one clinic to another.
The success rate of IVF procedure depends upon varies factors as given below:
Age of the female partner
Duration of infertility
Type of infertility (primary or secondary)
Cause of infertility
Quality of the sperm, egg, and embryo
The endometrial development
Luteal phase post transfer
With respect to the above-given factors, in India, the success rate of IVF ranges from 30% to 35%. Globally, the average IVF success rate is around 40% in young women. The chance of success rates also increases in women younger than 35 years of age. The success rate of this most commonly used assisted reproductive technology or ART is usually measured on the basis of live birth per embryo transfer. Live birth per embryo transfer is known as Live birth rate.
Nowadays, most of the clinics have adopted a "freeze all" technique, where the embryos generated after ICSI or conventional IVF are frozen and not eggs. With the use of new age reproductive techniques, the IVF success rates in India have increased considerably. Endometrial receptivity analysis (ERA) is one such technique that can be helpful in patients with recurrent implantation failure by studying the endometrium at a molecular level.
In case of advanced maternal age, most of the implantation failures happen due to the chromosomal abnormalities of the embryos, a Pre implantation Genetic Screening (PGS) is highly recommended to increase the chance of implantation.
In certain couples, the conventional IVF treatments may not be of much help. For them, the Intra Cytoplasmic Sperm Injection (ICSI) which is a further classification of IVF could be a ray of hope. It is a laboratory procedure where a single sperm is picked up and injected directly into an egg with a fine glass needle.
A lot of challenges are faced during an IVF treatment; one must undergo these procedures and screening to ensure a greater chance of success.
Take your first step towards happiness
More Case Study