1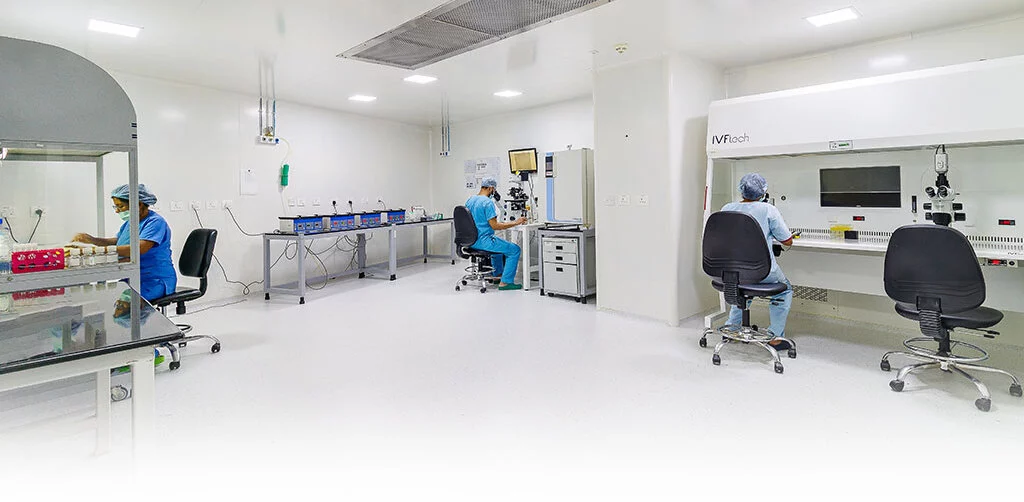 IVF Clinic in Kankurgachi
Kolkata has developed into an important healthcare centre. The city's medical landscape is built on advanced healthcare, state-of-the-art technology and retaining highly skilled doctors and surgeons. Moreover, compared to many western nations, medical services in Kolkata are more cost-effective, making it a viable option for those seeking quality healthcare. Over the past few years, the city has been making tireless efforts to expand its resources to meet the increasing demands from local and visiting patients. Kolkata is thus emerging as one of the major participants in the medical tourism industry worldwide.
As one of India's leading fertility service providers, Nova IVF offers a complete range of fertility treatments all under one roof. Our team includes fertility experts, embryologists, nurses, and support staff who are at the forefront of reproductive science. To enhance the likelihood of a successful pregnancy, we use top-of-the-line laboratory equipment and the latest technology. We adhere to the highest standards of care, following stringent protocols and guidelines for our patient's safety. We are helping couples realise their dream of starting a family and have achieved a landmark record of assisting over 70,000 healthy IVF pregnancies and counting. Moreover, we are also committed to elevating the quality of fertility care across the region through the 68 centres across 44 cities in India. The clinic has established three centres in Kolkata, namely Uttam Kumar Sarani, Howrah, and an IVF centre in Kankurgachi. Our core values always guide our focus on patient care, scientific excellence, and making a meaningful difference in people's lives.
OUR IVF SPECIALIST
Services offered at Nova IVF Hospital in Kankurgachi
We help you find answers. The IVF centre in Kankurgachi offers an array of cutting-edge treatments and is committed to enhancing your chances of success through the use of the best technology. The IVF Fertility clinic in Kankurgachi offers a comprehensive array of state-of-the-art technology-based services and tests, which include:
Why Choose Nova IVF centre in Kankurgachi?
While its essential for a fertility clinic to offer an array of services and house the latest diagnostic and medical equipment under one roof, it is crucial for the inhouse fertility specialists have astute investigative skills. At the IVF clinic in Kankuragachi, the inhouse experts are adept at designing treatment plans based on a comprehensive understanding of each patient's specific needs. This balance between technological capabilities and clinical expertise forms the backbone of our fertility clinic.
Efficiency in Medical Diagnosis:
Diagnostic efficiency rests on "the ways clinicians gather and process information." A doctor's diagnostic skills are only as good as the reports and scans, along with the medical history and physical examination. In diagnosing infertility, it is not enough to simply note textbook symptoms like "irregular periods" or "poor semen quality". At the centre, the specialists give due weightage to accurate gathering and interpretation of clinical facts, which in turn depends on skill, patience, and judgment of each member of the team working closely together. Dr. Rohit Gutgutia, Medical Director of Nova IVF East, and his team have consistently demonstrated exceptional judgment. They have successfully helped patients conceive naturally through non-invasive remedies over several months. The centre has also published notable case studies of patients who have become parents in fewer cycles.
At The Forefront Of Reproductive Care:
We have been looking after women's wellbeing for over a decade. With the support of the IVF centre in Kankuragachi, Howrah and Uttam Kumar Sarani in Kolkata, Nova IVF Fertility has grown from strength to strength, starting from a few centres to 68 centres in India and growing, in less than two decades. The city centres have been conferred with the 'IVF Chain of the Year', Best Healthcare Brand of 2023 (East)- Kolkata in 2023. These facilities are overseen by a distinguished team of highly credentialed physicians and offer a variety of best-in-class yet affordable fertility treatments. Every specialist is motivated and made dedicated efforts to fulfil the expectations of their patients.
Integrated Team:
Our team is here to help you achieve your dream of having a family. Our experts have years of experience and are always ready to solve your health and fertility problems. Our team includes doctors who specialise in embryology and nurses specially trained in assisted reproductive technology and fertility counselling. Each expert on our team aims to provide personalised and compassionate service. We adopt a comprehensive approach, treating you as a unique individual with specific needs and aspirations, rather than merely focusing on isolated symptoms. Our overarching goal is to provide you with the most advanced, compassionate, and comprehensive care available in the field of reproductive medicine.
Take your first step towards
parenthood with India's
Award winning fertility chain.
Need help? Talk to our fertility experts.
08049388781
Maximise your chances of pregnancy
Find an IVF Specialist
Nova IVF Fertility, P-30 & 30, 1, CIT Road Scheme 6M, Kadapara, Phool Bagan, Kankurgachi, Kolkata, West Bengal 700054