Andheri
IVF Centre and Fertility Clinic in Andheri
Nova IVF Fertility, Unit No. 101, 1st Floor, Sharayan Audeus Building, Above Hard Rock Café, Near Fun Republic Lane, Veera Desai Road, Andheri West, Mumbai - 400 058
If you are in search of the best IVF centre, then Nova IVF Fertility is the answer you seek. Over the last 8 years Nova IVF Fertility has established over 62 centres across India and Bangladesh. We have also seen 55,000+ successful IVF pregnancies.
Nova IVF Fertility in Andheri is positioned right at the centre of the city and is certified by ISAR (Indian Society for Assisted Reproduction). This centre offers a patient-centric treatment program that has helped us to address the best male infertility treatment as well as female infertility treatments.
At Nova IVF Fertility in Andheri, our team of proficient medical team, in-house gynaecologists, IVF doctors, and infertility specialists ensure that you undergo treatment procedures so that your entire parenthood journey becomes smooth. To ensure that, we offer the most budget-friendly treatment plans that come with some easy payment alternatives like 0% EMI.
We at Nova IVF fertility perceive that infertility is not just about the incapability to conceive a baby, but that may also be associated with some psychological culmination. So we provide some counselling sessions to our patients to empower them with the choice of the correct decision that will help them with their entire journey of parenthood.
Services Offered:
Infertility assessment
Blood Tests
Semen Analysis
Hysterosalpingogram (HSG)
Intrauterine Insemination (IUI)
In Vitro Fertilisation (IVF)
Intracytoplasmic Sperm Injection (ICSI)
Magnetic Activated Cell Screening (MACS)
Pre-genetic Testing (PGT)
TESA
PESA
Cryopreservation
Our fertility doctors & IVF specialists
Our doctors are backed ably by world-class infrastructure and highly skilled embryologists who follow guidelines prescribed internationally such as ESHRE and also adhere to ICMR guidelines. Our treatment plans are personalised for each patient to maximise their chances of a positive pregnancy. In-house counselors offer personalised and continuous support throughout the treatment process.
MD, DNB (OBG), Fellowship in Basic & Advanced Assisted Reproductive Techniques (Israel)
IVF Specialist In Andheri, Mumbai
Book an Appointment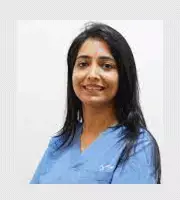 MD, MRM (UK), DRM (Germany), Fellowship in Reproductive Medicine (India, Spain, Israel)
IVF Specialist In Andheri, Mumbai
Book an Appointment
Nova IVF Fertility, Unit No. 101, 1st Floor, Sharayan Audeus Building, Above Hard Rock Café, Near Fun Republic Lane, Veera Desai Road, Andheri West, Mumbai - 400 058
After arrival at Mumbai International Airport, you can avail transport facilities like private taxis/cabs. Time taken from Airport: 1hrs. For more information on the Mumbai airport visit: www.csia.in/
Nearest Railway Station: Andheri/Jogeshwari Bus Route: BEST Bus 254. Time taken: 20min; Andheri – Veera Desai Bus Stop. For more information on Indian railways: wr.indianrailways.gov.in/
Taxi: Meru Cabs (022-44224422), OLA and Uber. Bus: No direct bus services are available Auto: Auto-rickshaws (autos) can be availed from any part of the city.
Patient Testimonials
It was incredibly overwhelming. I truly feel "Nova" cared for, words cannot begin to thank you for all that you did for us. Staff is amazing. I am lucky to have Dr. Sulbha Arora as my doctor and Nova as my clinic.
I am blessed with twin babies and it is miracle for me it wouldn't have been possible without your efforts, knowledge and care.
Overall wonderful experience we had in Nova, we appreciate the efforts taken by all staff and doctors.
Mrs. A. T
From the start till the end of my procedure my overall experience at Nova has been joyous, memorable and smooth. The overall ambience at the clinic gives you a very reassuring feeling, mainly because the staff always conducts themselves in a very professional yet friendly and approachable manner at all times which helps put any patient at ease. They always answer all your queries leaving no room for any doubt pertaining to your course of treatment. I successfully conceived after my 1st attempt under the guidance and expertise of Dr. Ritu Hinduja at Nova IVF Fertility, Andheri. This is because she gives you the courage to believe in yourself.
Nova exceeds expectionations in many aspects. After visiting 2 well known fertility clinics in the city, Nova was my last place of visit. I kept an open mind to see if what they had to offer was any different. For starters, they took me by surprise with their 'No Compromise' SOPs giving me a sense of the seriousness with which they take each and every patient, also making my case also of utmost priority. It was followed by a pre-screening with a junior doctor after which I was transferred for meeting with the main senior doctor, Dr.Ritu Hinduja. She conducted an examination and explained my current status and how she intended to take my case forward based on my history and current reports. Most of all what was striking was her calm mannerism, reassuring nature & her belief in her patients and her own abilities in attaining success in my case. After which, I was explained in detail about the time frame of the procedure and the overall package cost, which to my experience was completely transparent as compared to other clinics I visited. I was even given a reference copy to share and explain to my family & friends if needed.
My overall experience at Nova was made very special, which was one of the main reasons for choosing Nova for my fertility treatment. It was an experience which I did not feel at other clinics. They made me feel like my individual case mattered to them and there is always an ambience of positivity at Nova which gives you reassurance.
All the staff is polite, approachable and well informed. They also offer you pre and post counselling sessions and are easily available over message or call in case of any queries. They also do a thorough follow up post your visit which no other clinic did in my case. All these reasons convinced me that I was investing in the right fertility clinic for my future.
To sum up, I succeeded in the 1st attempt under the guidance of Dr. Ritu Hinduja and her team of experts. I highly recommend a visit to Nova clinic if facing any issues with fertility as one can be assured of transparency, professionalism, in house experts, latest technology and most importantly a caring and respectful environment.
Special Thanks to: Dr. Ritu Hinduja, Dr. Sushma, Shreya, Apoorva, Anjana, Priya, Kirti and all the staff nurses.
W.J.
Had a lovely and wonderful experience in all stages throughout the procedure. Well experienced doctors and staff with helpful nature, had been a great support.
Well maintained and tidy clinic with well experienced doctors and staff who were very helpful all times. It's having healthy and cheerful atmosphere which makes patient more comfortable.
Mrs. P. C
The doctors are very helpful and very understanding. They were available whenever we needed them and guided us throughout our treatments. The nurses and support staff were equally cooperative and always positive, we always felt a positive vibe around the staff and doctor. Dr. Ritu and Dr. Sushma were very helpful and showed a positive attitude.
Experience was very good compared to other fertility clinics.
DM
Had a wonderful experience with Nova center, excellent staff and supportive nature makes it a well-organized and helpful place for a couple. Excellent world class facility for patients makes it supportive for procedure.
Patient at NIF, Mumbai Andheri
It was my first visit to Nova IVF Center, very energetic staff right from reception to OPD. It would not be possible without the help of the staff members. I am very thankful to the whole staff of Nova hospital in Andheri, Mumbai and especially two members Dr. Sulbha Arora and Dr. Nilambari.
Mrs. Anvi
Take your first step towards
happiness with India's
Trusted Fertility Chain