Page Component
Our Fertility Clinics In Mumbai
Services offered at Nova IVF Hospital in Mumbai
We are a fertility clinic, but Nova IVF offers more than just IVF. We provide a vast array of inclusive services such as:
Consultation with a specialist:
You may have questions about your fertility or prefer to consider the alternatives available–our intensive consultation session is a good starting point. At a convenient time, you can connect with our fertility specialist who will speak with you at one of our IVF centers in Mumbai.
Fertility assessments:
Fertility assessments are frequently the first step for individuals wanting to conceive. All our fertility diagnostic procedures will also include a consultation with a specialist who will ensure that you comprehend the results and have the chance to discuss the next step.
Nova IVF centre in Mumbai offers a broad spectrum of services and technology that include:
Assisted Reproductive Technology (ART)
Core procedures such as IUI, IVF and andrology services
Vitrification for preserving sperms, eggs and embryos
PGT, DFI and ERA (Endometrial Receptor Array) test
Advanced techniques such as IVF -ICSI (intracytoplasmic sperm injection)
Technology such as Embryoscope, AI based embryo grading, RI witness Technology and Automatic Sperm Analysers
About Nova IVF Fertility Mumbai
At each IVF hospital in Mumbai, you have access to state-of-the-art technologies to enable families to fulfil their dreams of having a child. NIF provides patients with the highest quality and the safest medical and surgical care. We have been helping couples achieve their family goals successfully. A holistic range of technologies forms the backbone of any successful IVF centre.
Aspiring parents across India have been choosing Nova IVF centre for decades, making it one of the most reputable reproductive clinics in the country. We have been a part of over 51,000 + happy, healthy births, forming families, and making dreams come true all over the world. Our success rates are among the highest, and we have been ranked among the best in the nation.
At Nova IVF, we are committed to turning your hopes into a reality, and one of the ways in which we accomplish this goal is through our philosophy of individualised care for each patient. The strategy ensures that everyone who comes to us for guidance not only receives complete counsel, evaluation, and a treatment programme of world-class calibre, but also that they are supported at every point by our committed team to produce the very best results.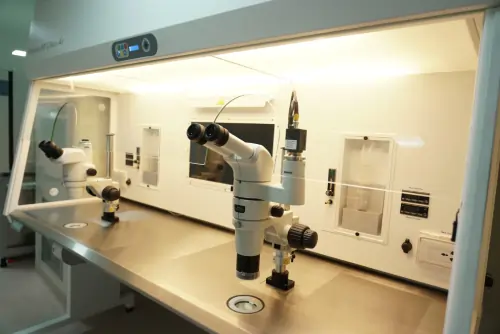 Why Choose Nova IVF Centre in Mumbai?
The journey to becoming a parent can be emotionally turbulent, hopeful, and ultimately joyful. Nova IVF strives to provide world-class medical care, compassion, and support.
Personalised Care: NIF is proud to help each patient become a parent. Your doctor-patient connection begins on your first visit. Our professional physicians will handle all treatments, from early diagnoses and interim monitoring to In Vitro Fertilization (IVF) and ultrasounds. They will customise a fertility treatment plan, monitor your progress, and answer your questions.
Dedicated to excellence: We are a group of passionate fertility specialists and staff who have successfully treated couples for over decades. Our state-of-the-art equipment at each centre allows us to give our patients the best.
Frequently Asked Questions
1. Can you work while undergoing IVF ?
Most patients using fertility treatments like IVF can work full-time jobs. Do consider speaking with your manager if they are encouraging. Initially, sharing your reproductive journey might be intimidating, but your management can be very supportive and flexible. If necessary, they can assist you in finding coverage or rearranging your schedule.
2. Can I go on holiday during IVF ?
You can fly without worrying if you're anxious about it right after your embryo transfer. The likelihood of conception after an IVF cycle is unaffected by air travel. But Nova IVF doctors may want to see you before, during, and after your cycle, so you might want to postpone your trip plans if you have an upcoming IVF cycle. During your travels, stay in touch with your fertility specialist at any of our top IVF centers in Mumbai. Additional advice is available from our experienced fertility doctors. Enjoy your time out, and safe travels!
3. How successful is IVF on first try ?
IVF has an average success rate of 65% in women under 35 years old. Age reduces the probability of obtaining success. Couples must be aware that the success rate of IVF depends on a many factors, including age, the quality of the man's sperm, the state of the woman's uterus and ovarian reserve, and other biological and hormonal factors. The global average success rate per IVF cycle is approximately 35%. It is essential to discover the underlying cause of infertility from a specialist. The greater your knowledge, the greater your comprehension of what IVF success implies.