RA Puram
IVF Centre and Fertility Clinic in R.A. Puram
Nova IVF Fertility, Plot no. 41/42, 53/54, Sathyadev Avenue, M R C Nagar, R A Puram, Landmark: Near Chettinad School, Chennai - 600 028
With 62 fertility centres, 42 cities and approximately 55,000+ successful IVF pregnancies, Nova IVF Fertility offers result-oriented fertility procedures in India and Bangladesh. Its IVF clinic in R.A Puram is the first stand-alone fertility centre in Chennai and ensures the highest standards and ethical practices.
Nova IVF Fertility in Chennai services patients from nearby localities like Mylapore and Mandaveli as well. The R.A Puram centre has state-of-the-art equipment to provide comprehensive male and female fertility treatments giving hopeful couples a chance at parenthood.
Our team at Nova IVF Fertility in Chennai consists of experienced infertility specialists, andrologists, embryologists, gynaecologists, reproductive healthcare counsellors and nurses assist the clients to the best of their knowledge, abilities and experience to guide them towards successful fertility.
At Nova, each patient is given an individualised treatment plan. Patients are walked through the plan and each step is carefully explained. We also provide 0% EMI options for our patients. Due to our untiring efforts, Nova IVF Fertility is now the pioneer of infertility treatments and reproductive healthcare in India.
Services Offered:
Infertility assessment
Blood Tests
Semen Analysis
Intrauterine Insemination (IUI)
In Vitro Fertilisation (IVF)
Endometrial Receptivity Array (ERA)
Intracytoplasmic Sperm Injection (ICSI)
Magnetic Activated Sperm Sorting (MACS)
Cryopreservation: Egg, Sperm and Oocyte
Donor Program : Sperm / Egg / Embryo
Hysterosalpingogram (HSG)
Our fertility doctors & IVF specialists
Our doctors are backed ably by world-class infrastructure and highly skilled embryologists who follow guidelines prescribed internationally such as ESHRE and also adhere to ICMR guidelines. Our treatment plans are personalised for each patient to maximise their chances of a positive pregnancy. In-house counselors offer personalised and continuous support throughout the treatment process.
MBBS, MD (OBG) JIPMER, Fellowship in Andrology & Reproductive Medicine
IVF Specialist In R. A. Puram, Chennai
Book an Appointment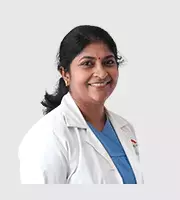 DNB (OBG), DAL (Ger), FRM
IVF Specialist In R. A. Puram, Chennai
Book an Appointment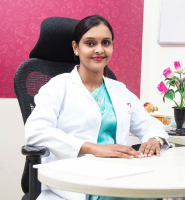 MS (OBG), Fellowship in Reproductive Medicine
IVF Specialist In R. A. Puram, Chennai
Book an Appointment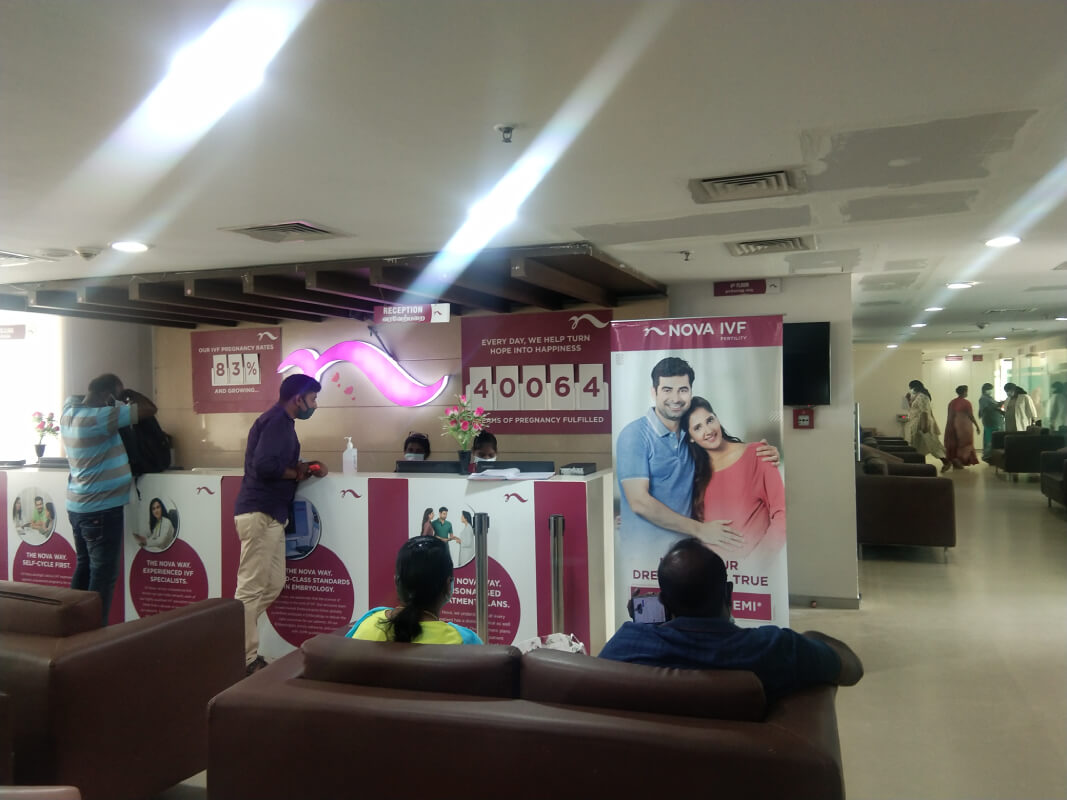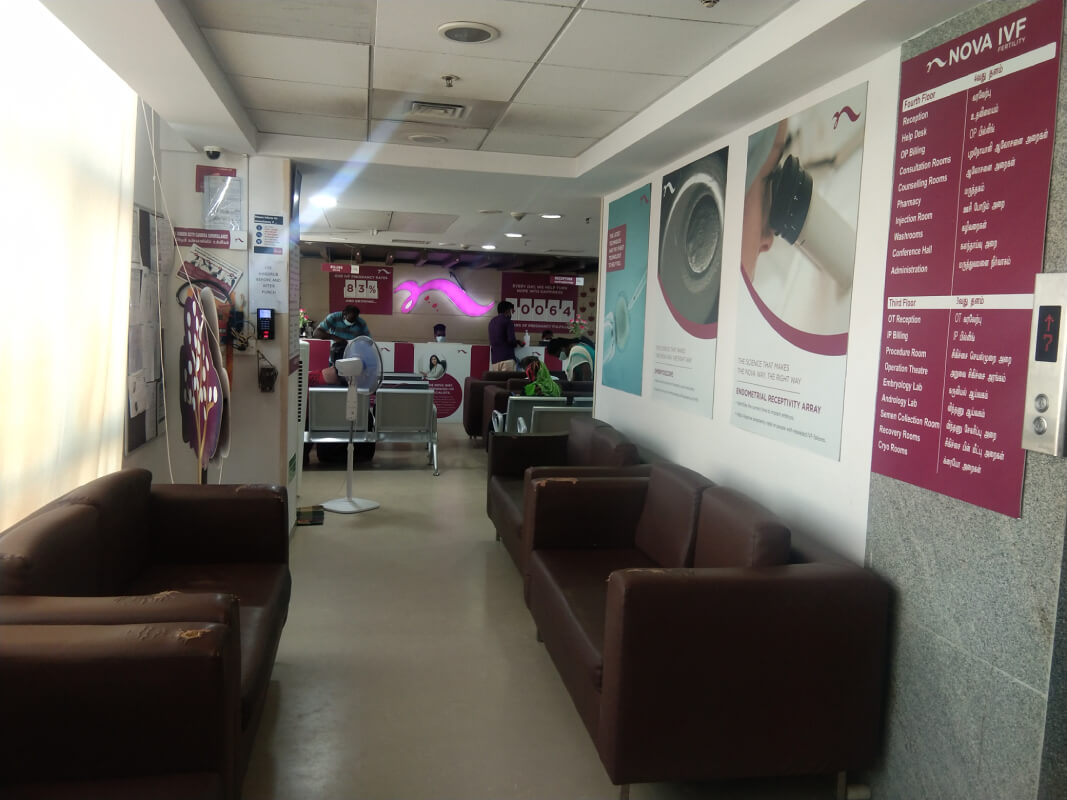 Nova IVF Fertility, Plot no. 41/42, 53/54, Sathyadev Avenue, M R C Nagar, R A Puram, Landmark: Near Chettinad School, Chennai - 600 028
After arrival at Chennai International Airport, you can avail transport facilities like private taxis/cabs. Time taken from Airport: 40 mins. For more information on the chennai airport visit http://www.chennaiairport.com
Nearest Railway Station: Puratchi Thalaivar Dr. M.G. Ramachandran Central Railway Station. Bus Route: Chennai central to Broadway: 7M, 7C, 15G: Broadway to MRC Nagar : 102C, 102K, 21L, 21E. Time taken: 45 mins No direct bus facility is available from railway station to MRC Nagar. For more information on Indian railways: https://www.sr.indianrailways.gov.in
Taxi: NTL (044-30003000), Fast Track City Taxi (044-28889999) Bus: From CMBT to Foreshore estate - Route No.- 12B, Time taken: 1.5 hr. No direct bus facility is available from CMBT. From Tambaram to Adyar: Route No - C51: Adyar to MRC Nagar: 102C, 102K, 21L, 21E Auto: Auto-rickshaws (autos) can be availed from any part of the city. For more information on public transports: www.tn.gov.in /www.mtcbus.org
Patient Testimonials
It's a long time dream came true with the help of NOVA infertility centre and our physician Dr. Madhu Priya. The confidence built in us with their patience and professionalism blessed us with a baby girl. Thank you Nova & the whole team for your relentless support extended.
Mr. Narasimhan T
After 7 years of waiting, finally my wife has been pregnant for 2 months. Thanks to Nova and the team. Special thanks to Dr.Krithigadevi mam for her kind approach and motivation which resulted in good result at our first attempt.
Arun Vadivelu
My first Thanks to God ?, who showed Dr. Rini Ezhil Madam. she is an amazing doctor and personally care about patient and also very friendly nature. Thanks to Nova team for supporting with us and best wishes for your success rating
Mohanapriya Sivakumar
Dr Krithika Devi is so friendly to us. Every visit she always boost us to think positive.... Finally our result is also positive. Environment was also good there. The way they there patients was really really good .Thank u so much Dr Krithika Devi ma'am and Nova
Deepa Mani
Tq nova..and Tq soo much Madhu mam. 2day am enjoying parenthood..u r the main reason once again tq mam..to continue ur services on nova..to enter on nova..to return ur kid..in sure...am saying truly..this is the best hospital..one small request..to give many adds on nova hospital.
Lavanya Suresh
Thank you so much to Dr. Rini Ezhil and Nova team. Mam, you have made my dreams to become true. Myself and my hubby are so glad that now we are enjoying the joy of parenthood. All this happiness are the fruit and outcome for all your efforts and care taken to us. Thank you very much mam.
MBR & APB
Take your first step towards
happiness with India's
Trusted Fertility Chain