Get the Best Embryology Experts
Embryology is the study of the formation, growth, and development of an embryo This branch of science deals with the primary prenatal stage, right from the formation of gametes (reproductive cells), fertilization, formation of the zygote (fertilized egg cell) to the development of embryo until blastocyst stage. Nova IVF Fertility is among the major service providers for fertility treatment. We cater to all your embryology-related queries and requirements.
Infrastructure at Nova IVF
The efficiency of the embryology laboratory is directly related to IVF success. It is the lab that mimics a woman's womb in this artificial reproductive technology. Therefore, we safeguard the egg and sperm and fertilize them in the lab by creating the best artificial environment. Since embryos are around 200 to 300 microns in size and invisible to the naked eye, they need special care. If not handled with the utmost care, embryos will lose their viability and will not result in pregnancy. Keeping all of these factors in mind, we stringently monitor the conditions required for the growth of embryos, such as air quality, CO2 level in the incubator, temperature, humidity, liquid nitrogen levels, freezing and thawing conditions to ensure embryos are not damaged. Hence a well-equipped lab makes a lot of difference. Below are a few highlights of infrastructure available at Nova IVF: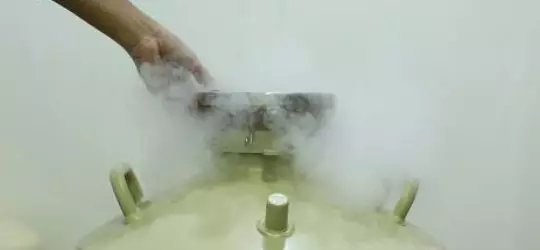 1. Efficient cryopreservation system
A high concentration of cryoprotectants along with rapid cooling rates is vital to cryopreserve embryos. At NOVA IVF, the cryoprotecting media used for freezing are of high quality that ensures better cryopreservation. Any dip or a fall in temperature in cryo units (below 196 degrees) are alerted with warning systems placed in the lab, ensuring better quality control.
2. Innovative Incubators
Nova IVF labs are equipped with innovative K-SYSTEMS IVF Incubators which have IR sensors. The incubators come with optional environmental conditions for the embryos and even measure the slightest changes in CO2 levels. With the unique space-saving and stacking system, our labs have incubators that feature 10 chambers. The embryos of couples are safely stored in different chambers to avoid any unnecessary exposure to air and any probable mixups.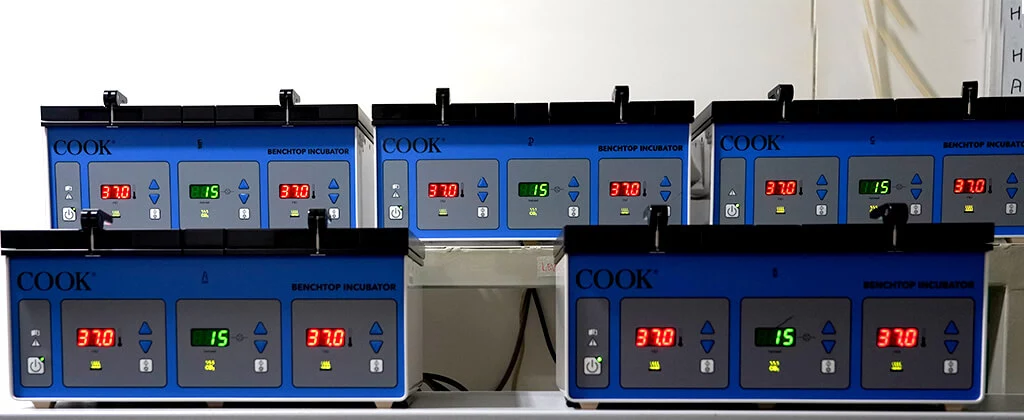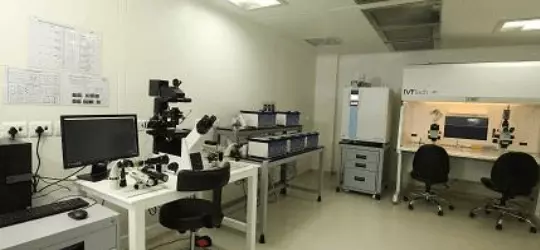 3. Advanced Air Handling Units (AHUs)
As embryos are extremely sensitive, we maintain a careful eye while they are within our lab environment. We are wary of the fact that hazardous components can be airborne and can enter from many sources. Therefore, our lab is equipped with HEPA filters (which can trap 99.97 percent of particles with a diameter equal to 0.3 microns) and carbon filters to preserve high-quality air. Not only this, air-purifiers are extensively used to maintain the best air quality outside the lab.
4. AI-based embryo selection
Thanks to artificial intelligence, the software enables embryologists to analyze the right embryo with a better propensity to be implanted. This improves the success rate for couples as the most appropriate embryo is transferred into the uterus.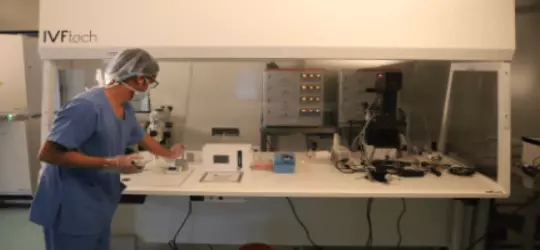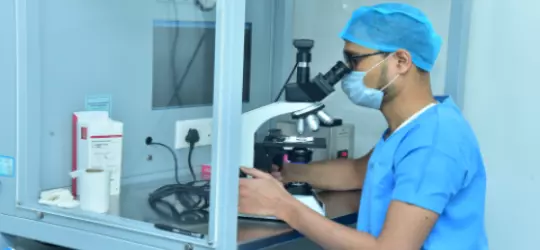 5. Skills of the doctors and other staff
It is challenging to find a doctor who understands your needs. We at Nova IVF Fertility ensure that your doctor and staff members are dependable and a team with whom you should continue your treatment, regardless of any doubt.
Many of our senior embryologists are well-trained in the most complex of Pre-Implantation Genetic Testing (PGT) cases. They perform a biopsy to identify genetic issues in couples who either have had miscarriages or have genetically affected kids and are looking forward to having children free of genetic issues through IVF.
Embryologists with Nova IVF are qualified with training in clinical embryology. They come from reputed universities in Australia, UK, and India.
Embryologists are trained at Nova's center of excellence for 6 months. They are duly assessed and evaluated before they start handling the lab duties.
Embryologists are trained in various jobs like media preparation, IVF/ICSI for fertilisation of gametes, grading of gametes/embryos, monitoring growth in the lab, changing media if required, and preparing for transfer or cryopreservation for future use. All these steps play a key role as they directly influence the implantation and later the growth once it is transferred into a woman's uterus.
All the staff with Nova IVF Fertility are employed full-time. They are efficient on the floor as well as active 24/7 while monitoring for changes remotely. They keep a close tab on incubator temperature, N2 and CO2 levels. Any change in the same sends them an alert through sensors, and the staff members are readily available for any emergency pick-up or transfer.
6. Medical protocol followed by Nova IVF for great results
Offering a world-class infrastructure, Nova IVF Fertility is amongst the best in the fertility segment. The entire team including, fertility specialists, embryologists, andrologists, and fertility nurses, work together to ensure a hassle-free procedure for every couple. In addition to this, we ascertain that each couple has a smooth fertility journey. The IVF specialists start with guiding women in producing healthy and a good number of eggs. Once the eggs are retrieved these specialists transfer them to the lab. The embryologist hereafter plays a crucial role in monitoring the creation and formation of an embryo until it becomes a Blastocyst. While the procedure's success depends upon a majority of factors, we guarantee a 65% to 70% success rate.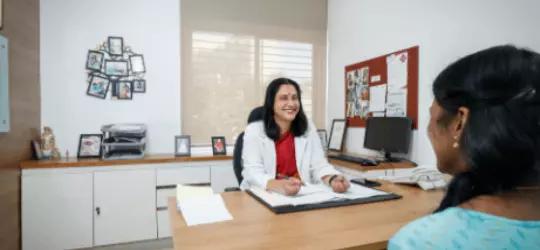 7. Why you must choose NOVA IVF Fertility?
We focus on self-cycle first! To get a highest pregnancy success rate, we don't push patients for a donor cycle unless the situation calls for the same.
To avoid complications in women while she is pregnant, we never implant more than 2 embryos in a single transfer.
Leftover couples' embryos are not given to other couples seeking donor programs, even with consent.
Lab Maintenance and Standard operating procedure (SOPs) are based on the international standards
Best in class specialists.
We have the top doctors across departments, and we offer all possible fertility solutions and even more. Consult with the best specialist practicing with NOVA IVF Fertility near you.