Dr. Keya Parashar Jain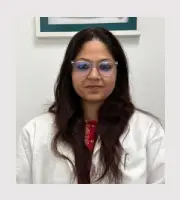 Dr. Keya Parashar Jain
IVF Specialist in Agra
MBBS, MS (OBG), Trained in Reproductive Medicine & ART
Dr. Keya has over 8+ years of experience in OBG and Fertility Medicine. Her areas of interests are ultrasound, female factor.
Paper/ Poster Presentations
Reducing maternal mortality: Reporting near miss cases, a proxy indicator of Health Care System, in 57th AICOG, Patna 2014.
Correlation of PAP smear & Colposcopy in Women with Chronic Cervicitis, AMPOGS Jabalpur, 2013.
Paper presentation on Pre implantation Genetic Testing- boon or bane in AICOG Bangalore 2019
Author of paper publication primary posterior Colporrhexis during cesarean section published in Indian Journal of Obstetrics and Gynaecology.
Case presentation of Cervical tuberculosis presenting as growth in RCOG WORLD CONGRESS 2023 London UK
Guest lecturer and active participant in various webinars and CME.
MBBS from Shree Aurobindo Institute of Medical Sciences, Indore
MS (OBG) from Vikram university, R.D.Gardi Medical College. Ujjain
Ultrasound training in Abdominal and Obstetric and Gynecological Ultrasounds, New Delhi.
Fellowship in Reproductive Medicine from Bangalore
Member of the FOGSI
ISOPARB Agra founding committee executive member
Member of IMS Agra