Dr. Rupali Khaparde Khurana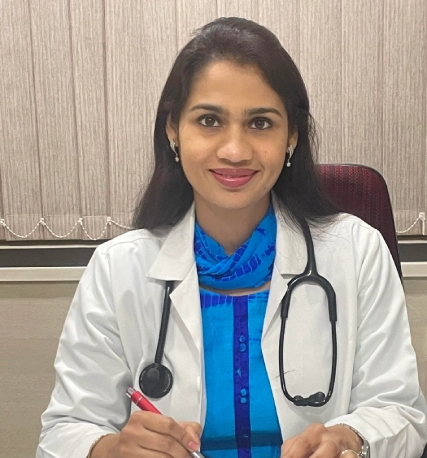 Dr. Rupali Khaparde Khurana
IVF Specialist in Agra
MBBS, MS (OBG), Fellowship in Gynaec Endoscopy Surgery, FNB in Reproductive Medicine, Diploma in Advanced ART and Reproductive Medicine from Kiehls University, Germany
Dr. Rupali Khurana has over 7+ years of experience in treating couples with OBG and fertility issues. She has completed her fellowship in Gynaec Endoscopic Surgery and Fellowship in Reproductive Medicine. She was awarded Diploma in Advanced ART and Reproductive Medicine from Kiel, Germany. She has academic interests too and has published and co-authored chapters. She has been actively participating in various conferences and presented papers too. Her areas of Interests include PCOS, Endometriosis, Advanced Maternal Age and Male Factor Infertility.
Publications
Co-authored a chapter on "Contained morcellation: Current technique and future directions" in book; Evidence based practices in the management of uterine fibroids" 1st edition 2021
Case report with the title - "One Size does not Fit All" during Ovarian Stimulation for IVF, published in International journal of infertility and fetal medicine, Issue: May-August 2021 Volume: 12, Number: 2;Citation- Khurana R, Rao V, Rao K. "One Size does not Fit All" during Ovarian Stimulation for IVF. Int J Infertil Fetal Med 2021; 12 (2):37-39.
"Comparing PPOS vs antagonist protocol in donor cycles" Abstract published in BJOG vol 128, issue 2, pg 230-242.
Presentation in conference & Courses
Actively Participated in VII Annual conference of AMPOGS – 2013 held on 30-31st March 2013 at NSCB Government Medical College Jabalpur (M.P) and won the Ratna Kaul Award for the best paper presentation.
Participated in 1st Post Graduate Skill Course in Obgy from 23-25 Aug 2013 at LASER, Sri Aurbindo Medical College and Post Graduate Institute, Indore (M.P).
Attended & completed CME "OG Quest 2015" affiliated to Tamil Nadu medical council, from 9-14 Feb, 2015 which was conducted by the Department of Obstetrics & Gynaecology, Sri Ramchandra Medical College & R.I, Chennai.
Actively participated in Hands on training of hysteroscopy held on 14th and 15th Feb 2016 at International Fertility Centre, Delhi.
Completed a FOGSI affiliated training course in Basic gynecological endoscopy at Dr. Kamlesh Tandon Memorial hospital Agra from 1st -7th March 2016
Presented a paper at AIIMS Endofert 2016 with title "Wandering IUCD in one of the fallopian tube" Delhi from 5th to 7th august 2016.
Participated in 3D Endogynae and Urogynae Workshop cum Conference under the aegis of FOGSI, IAGE and AOGS on 23rd and 24th December 2017 at Agra. Won 1st prize in National Championship of Laparoscopic Suturing in junior group.
Presented a video on "Hysteroscopic resection of a complete vagino-cervico-uterine septum" in annual conference of IAGE 2018 at Lucknow from 11th -13th, May 2018
Participated in annual e conference on "Decisions and clinical dictums in sub fertility, obstetrics and gynecology" held from 26 to 28 march 2021 by institute of reproductive medicine and women health by Madras medical mission, Chennai, india.
Attended RCOG virtual world congress from 9 to 12, June 2021.
Presented an oral paper on "Comparing PPOS vs antagonist protocol in donor cycles" and received best paper in reproductive medicine category.
MBBS, MGM Medical College, Indore
MS (Obstetrics and Gynecology) from RDGMC, Ujjain
Fellowship in basic Gynae Endoscopic Surgery, Delhi
FNB - Fellowship in Reproductive Medicine, Bangalore
Diploma in Advanced ART and Reproductive Medicine by University of Schleswig Holstein- Kiel Germany