Dr. Jayesh Amin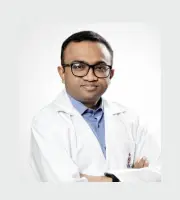 Dr. Jayesh Amin
IVF & Infertility Specialist Ahmedabad
MBBS, MD (Gynaecology), Fellowship for IVF & Embryology by LARS Johnson, Sweden
Dr. Jayesh Amin has more than 18 years of experience in IVF and has delivered 15,000 live births through IVF. He is a pioneer of PGT & ERA advanced genetic treatments with more than 5000 patients successfully treated with PGT. Dr. Jayesh Amin heads the Oncofertility division at Nova IVF | Wings IVF Hospital. As a HOD of the Wings IVF Training Academy he has trained over 100 OBGs to become IVF specialist. An academician he has published research papers on artificial intelligence in embryo selection and comparison of fresh vs frozen embryo transfers.
MBBS
MD (Obs & Gynaec)
Fellowship in IVF & Embryology by LARS JOHNSON, Sweden
Awarded for "Excellence in IVF treatments" by the then Union Health Minister of India in 2016
Awarded European Quality Award
Times Health Icon for 2021 & 22
Jointly published paper on Comparison between Fresh and Frozen Embryo transfers
Published paper on role of Artificial intelligence in the selection of embryo for reduced time to pregnancy period in Human Reproductive general.
Current Additional Joint Secretary, Indian Fertility Society
Past National Convenor - Fertility Preservation