Dr. Aviva Pinto Rodrigues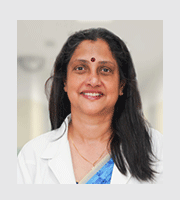 Dr. Aviva Pinto Rodrigues
IVF Specialist in Basaveshwaranagar
MD (OBG), Diploma in Reproductive Medicine (Germany)
Dr. Aviva Pinto Rodrigues is a Fertility Consultant at Nova IVF Fertility, Basveshwaranagar. She has a wealth of over 25 years' experience in the field of Reproductive Medicine.
Her areas of interest include Mild Stimulation Protocols especially in patients with diminished ovarian reserve and treating patients with Recurrent Implantation Failure using the Endometrial Receptivity Assays. She has successfully achieved pregnancies in many complicated and long-standing cases of infertility involving endometriosis, repeated implantation failure and recurrent pregnancy loss. She has also helped a patient with Swyer Syndrome conceive successfully (one out of the 50 cases reported worldwide).
She is also an Author of Nova IVI Textbook of Infertility and Assisted Reproductive Technology: Prevalence and symptomatology of Polycystic Ovarian Syndrome.
MSc in Sexual and Reproductive Medicine: from the University of South Wales, UK
MBBS from Kasturba Medical College, Mangalore-Received the Best out going
Student award from the Manipal Academy of Higher Education
MD (OBG) from Kasturba Medical College
Diploma in Reproductive Medicine from the University of Kiel, Germany
Preceptorship Advanced Reproductive Care Certificate Course in Reproductive
Endocrinology and Infertility at the Assuta Hospital in Tel Aviv, Israel
Honored at the Economic Times Health Care Fertility Conclave 2019 as One of the top 100 Gynecologists' in Karnataka.
Received the Times Healthcare Achiever Award for ART 2019.
Speaker at various State and National Conferences
Have conducted various seminars and workshops to train Gynaecologists in IUI and Ovarian Stimulation Protocols
Life member ISAR
Life member KISAR
Member FOGSI
Member ASRM
Member ESHRE
Patient Testimonials

I would like to express my greetings and congratulations to the great Nova fertility ivf for their distinct and unique care and services. I am grateful to Dr.Aviva pinto and her medical team who processed my case successfully with the constant care n support... Asking almighty to protect and support you all and to Grant good health for all Amen...
Monica Shinde
I am writing this to express my gratitude to Dr. Aviva Pinto. They gave all the positive vibes to us during the course and we as a couple (Mahalakshmi & Nagasundaram) had really found of and had developed hope and were sure of success. Dr. Aviva is so committed and helpful during my journey. I conceived in less than 3 months :-). I strictly followed the instructions given by Dr. Aviva . It helped me a lot. Having said that, I strongly recommended Dr. Aviva to most of my friends and Relatives who were in search of positive results. It is always been a smiling and satisfied sign with great relief. Many thanks in tons Dr. Aviva/Dr. Sunita/Dr. Uma. Its a absolute delight to have you. I strongly recommend Dr. Aviva to all the readers and who are planning to visit Nova and take recommendations. Thank you again to Dr. Aviva.
Naga Sundaram
A very heartfelt thanks to Dr.Aviva we are very happy after a long struggle we have successfully got positive results from the treatment doctor has given us. All staff in nova has been good to us & helped us in the process we are very happy
Jyothi 
I am really blessed to have been to Nova ivf center,my dr.had informed me to meet Dr Aviva Pinto,I felt homely,the way they spoke to me, approach me,all give good hope and felt postive thought,by God's grace,I am conceived,all these credit goes to Dr Aviva and Dr Sunitha,After 8year,I have success,Guys don't loose hope,where there is a will,there is away,don't miss the chance in your life to come and visit Nova ivf center.
Natarajachari Girija
I am grateful to Dr.Aviva pinto and her team. Doctor is very caring and attentive, very humble. By her right guidance and treatment, today my wife is pregnant. We are very very happy. We definitely refer doctor aviva pinto.
Goudru Raaju
Well, I would say it was a wonderful experience with Nova especially with Dr Aviva Pinto. All the staff members in Nova are really helpful and motivated us to get our pregnancy. Am really thankful to each and everyone here at Nova for their support, assistance and the success of me getting pregnant. The positive result has definitely made us Happy. Thank you Nova!
Ranjita Parande
Dr Aviva has been a blessing to us. We are very thankful
Suma M S
Would like to appreciate the staff at NOVA IVF, Basaveshwar Nagar for being very prompt and helpful with appointments and queries. They have gone out of their way to help me when I reached out. Special thanks to my Doctor, Dr. Aviva Pinto for her timely advice, treatment, compassion and assurance, that has always put me at ease.
Esta Claudine Louis
Dr.Aviva mam, so nice human being & also superb doctor. Treatment is excellent and good atmosphere friendly nature of staff never seen this environment anywhere else
Lavanya
The centre is good Dr Aviva pinto madam help us a lot. She talk really well with us, her treatment help us to become pregnant. Very happy thank you madam
Gopinath KR Gopi
I am Soo much glad I got Dr Aviva pinto maddam at right time ... Bcoz of her I got pregnant I'm thankful to her d her time.. I wish ua hospital grow day by day ...tnxx alottt Aviva mam.
Haleema s Roohulla
We had a very good experience at Nova IVF Fertility. The staff is very good and we got good care from them. The counselling done by Radhika was very good and she took good care of us. I thank Dr Aviva Pinto and Sunitha mam for their good care and support.
It was a very good experience. The centre is well maintained and clean. I would like to thank the management, sisters and housekeepers too.
R. N.
Instead sharing experience we'd like to thank for the entire Hospitality provided by all staff especially Dr. Aviva Pinto for her honest and kind way of treating and giving success. Happy and Pleasure if our good experience helps others get pregnant. Surely we are most comfortable, since Doctors personally take care and scanning are done by themselves. It is very comfortable and neatly maintained environment with all needed facilities. Doctor availability made us so happy in all our visits.
Radhika A
First I need to say a big thanks to Nova IVF Fertility for their great support, care and treatment, where I have got success in 1st cycle of IVF treatment. Here definitely I should say about Dr. Aviva Pinto. She is such a great doctor, the way she speaks, addresses patient's problem, the treatment and procedure she does, is excellent. She is dedicated to her profession and gives 100% treatment and importance to each patient, and I am one of them. My heart full thanks to Pinto Ma'am, Sunitha Ma'am and counsellor Radhika. To be true, I have visited one fertility centre in the 1st day itself and I was not satisfied with the Faculty and Doctor, so I stopped going there 2nd day itself. So when my gynae suggested Nova, I came here on the first day itself. I was impressed with the centre in all the means, by clinic atmosphere i.e., cleanliness, the way receptionist handle each patient, the doctors words and also during OT, the way nurses care and treat us, I was left with no words. So finally, I suggest all the people who want to get IVF treatment, to visit Nova first and get success in Pregnancy.
Mrs. Saritha Chethankumar
It was very good. Dr Aviva is very good, co-operative, well experienced and gave a ray of hope to us.
Shashikala S R
They did the procedure very well, there was no issue at any stage. Dr Aviva mam was verycaring. We are very happy that we came to Nova.
Leelavathi
Good experience. Good treatment in centre. I am happy for the treatment in your hospital treatment. Good response from all staff and doctor and also treatment was good. I am so happy thank you so much Nova. Thanks a lots.
Veena BK
We had a good experience with Nova. Counselling was done in our regional language, Telugu. The staff members are very supportive. The doctors explained the history and further procedures very patiently. Finally we got success in a single procedure. We were very happy with this.
Overall Very good centre.
Patient of Nova IVF Fertility, Bangalore
This was our first experience to the fertility treatment. I liked the doctors and treatment here. The doctors were very approachable and helped with all the difficulties I had. Treatment was good and we were never made to feel like we were going through a complex procedure.
I would like to thank Dr. Aviva , Dr. Sunitha, Kusuma and Radhika.
Patient of Nova IVF Fertility, Bangalore
I want to thank Dr. Aviva for fulfilling my dream. My life has now changed and I feel like I can now face people. Everything was handled carefully and smoothly. Also want to thank Kusuma, Varsha and the staff for guiding us for a year.
IVF is the best treatment with a safe and quick result. In the beginning I struggled a lot with the injections and many tablets. But everything happens for good and our happiness was doubled after hearing we were having twins. I heartily thank everyone.
Patient of Nova IVF Fertility, Bangalore
All the doctors and staff at Nova IVF Fertility are very good. Got great responses from everyone and mainly Aviva mam and Sunitha mam. I am very happy because of Nova IVF Fertility.
Very good hospital compared to other hospitals. I would also like to thank the management team and managing directors.
Manjula
The doctor is very good. The kind of response provide by both front desk staff, duty doctor is also very excellent. The doctor provides a helping hand in every step. The hospitality is very good. During emergency, the response obtained over the phone is very good and helpful than other fertility centres.
Patient of Dr. Aviva Pinto
We were made comfortable and informed well almost the whole process by Dr Aviva Pinto & Dr Sunita. Nova assigned us a clinical counsellor Mrs Radhika. She is very approachable and became our go to person for all the quires and concerns. Staff at Reception, Nurses and rest of the staff are very helpful and kind, Doctors were available even at odd hours to resolve our quires.
Staff at Nova are very professional and deal with people with greater sensitivity. Doctors are approachable and no nonsense. Nova is always clean and quieter than most of the hospitals we visited. Wait period for the doctor's visit is lesser.
Mrs.Deepti Shukla
We had a wonderful experience at Nova. We are very happy to get success in first time of the treatment. All the procedures were explained properly before doing. There is no confusion anywhere. Counselling team is also very supportive.
Hema G
Feeling very happy finally I become a mother because of all Nova IVF Dr's and staff of co-operating and encouraging me lot while treatment. I wish every body take treatment in this center.
Geetha H
Thank God for such a lovely Hospital. Dr Aviva Pinto and Dr. Sunitha both are excellent doctors and very good with the treatment. Dr. Aviva guided us in every step. Her positive approach built hope and gave confidence in us. Duty doctors were always available when we were in need of medical emergencies. Team on a whole was supportive. We thank Nova for bringing happiness into our lives and I want to convey my gratitude for the excellent treatment.
This is my first fertility hospital. It is filled with Positivity. Staff is helpful, co-operative, efficient and polite. Counsellors helped us from day 1 of the consultation. They had regular calls and helped me to get prepared for the treatment. I would like to thank them for their excellent support and making me full comfortable during the entire treatment duration.
Medasani
It was good and pleasant stay at the hospital every time I visited. All the supporting staff, specially the supporting staff during the procedure were very co-operative. Thanks to the Counsellors for their advice. Last but not the least thanks to Dr Aviva mam and Dr Sunitha mam.
Usha Pratap
We came with a hopeless feel but, when we came here positive sign with us was build.
divya kr
Good hospital. Kind & down to earth behaviour of the staff. We were childless for 10yrs. After getting treated here we got twin babies & we are very thankful to all the Doctors & Staff round here in the hospital.
Excellent treatment.
B. M. S.
I must say one of the best IVF centre is Nova, the doctors, staff etc., very professional. They will guide you for every single query also always happy to help. I am very happy with their service & feeling lucky as now I have conceived in first attempt.
I like to thank each and every staff of Nova IVF specially Dr Aviva Pinto to she so generous & helpful. Thank you
Meenakshi Thapa
So far it has been good and positive experience. My wife became pregnant in her first go here.
PREETI
Dr. Aviva was kind and polite and she is an intelligent expert. We were successful in the first IVF cycle itself. Thank You, Dr Aviva Pinto and team.
Very Good treatment.
Patient at Sadashivnagar Centre
Our experience while undergoing IVF was very good. Dr Aviva is very good, co-operative, well experienced and gave a ray of hope to us.
SSR, Hoskote
Very professional staff and amazing Dr.Aviva always clarified all my queries and gave confidence to undergo procedure. Doctor was always on time and very less waiting period. All together a very good experience at NOVA IVF and thank you for making us parents we couldn't be proud parents of a beautiful healthy girl.
M.Rashmishree
We had a late marriage at the age of 36 & 38, hence, we started fertility treatment from the 1st year of our marriage itself. We visited many doctors and finally got success in NOVA.
Firstly, we want to thank Dr Aviva Pinto for her kind support throughout the treatment, she is one of the best Doctors we have met. Encouragement from the Doctor is the secret of success. The first day we met Shaziya, she educated us about the treatment, the way she guided us was excellent. The OT theatre staffs are very kind and supportive. IPD- Jyothi Suresh supported us a lot. Pharmacist and front desk executives are also supportive. Special thanks to clinical counsellors Kusuma & Radhika.
Bhuvaneswari S
My experience in Nova is very nice and because of Aviva mam I am very happy today by getting pregnant. Even by the grace of Allah. Even the management are cooperative,loving and the biggest thanks for Aviva mam. I wish you the good luck.
I got checked in one of the hospital there I didn't got pregnant. I can say a right time with right hand of Aviva mam I got pregnant. I wish her good luck, health may you live a long Life and help for infertile women.
Patient of Dr Aviva Pinto
Right from day 1 of our visit, we felt encouraged & comfortable. We get right advice at all times to make sure we get the best treatment with our condition. Thanks to Dr.Ariva,Dr Sunita and all the nurses.
Diksha sahni
It was good from day one itself. Dr. Aviva Pinto supported us very well throughout our journey. All other staff were also very helpful and supportive.
Reena Gautam
You should trust god and come here for treatment. Dr Aviva madam, Dr Uma madam and all the staff very helpful, nurses are co-operative. I cannot express my emotions. They explained very well. We wish the same for everyone. Thank you to everyone.
This centre is good comparing to others. Staff is very helpful.
Mangala
Firstly I would like to say a ton of thanks to Nova and Dr Aviva Pinto & Dr Sunitha who were very friendly & Supportive throughout our journey in Nova. We were able to succeed with our first IUI attempt which made us very proud about Nova & the Doctors who attended us. This is our first fertility center & we can proudly say it is Patient friendly.
Last but not the least, I would thank Ms.Kusuma (Clinical Counsellor). Her words were very encouraging and there was a followup call after 7-8 days of procedure. "NOVA" is always available to attend patients at any point of time.
Patient at Nova, Sadashivnagar, Bangalore
Article Reviewed & Case Studies
by Dr. Aviva Pinto Rodrigues