Dr. Aviva Pinto Rodrigues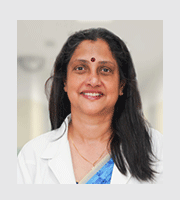 Dr. Aviva Pinto Rodrigues
MD (OBG), Diploma in Reproductive Medicine (Germany)
Dr. Aviva Pinto Rodrigues is a Fertility Consultant at Nova IVF Fertility, Basveshwaranagar. She has a wealth of over 25 years' experience in the field of Reproductive Medicine.
Her areas of interest include Mild Stimulation Protocols especially in patients with diminished ovarian reserve and treating patients with Recurrent Implantation Failure using the Endometrial Receptivity Assays. She has successfully achieved pregnancies in many complicated and long-standing cases of infertility involving endometriosis, repeated implantation failure and recurrent pregnancy loss. She has also helped a patient with Swyer Syndrome conceive successfully (one out of the 50 cases reported worldwide).
She is also an Author of Nova IVI Textbook of Infertility and Assisted Reproductive Technology: Prevalence and symptomatology of Polycystic Ovarian Syndrome.
MSc in Sexual and Reproductive Medicine: from the University of South Wales, UK
MBBS from Kasturba Medical College, Mangalore-Received the Best out going
Student award from the Manipal Academy of Higher Education
MD (OBG) from Kasturba Medical College
Diploma in Reproductive Medicine from the University of Kiel, Germany
Preceptorship Advanced Reproductive Care Certificate Course in Reproductive
Endocrinology and Infertility at the Assuta Hospital in Tel Aviv, Israel
Honored at the Economic Times Health Care Fertility Conclave 2019 as One of the top 100 Gynecologists' in Karnataka.
Received the Times Healthcare Achiever Award for ART 2019.
Speaker at various State and National Conferences
Have conducted various seminars and workshops to train Gynaecologists in IUI and Ovarian Stimulation Protocols
Life member ISAR
Life member KISAR
Member FOGSI
Member ASRM
Member ESHRE
Patient Testimonials
Everything is good. I felt like there was no risk and everything was done easily. I really liked Dr Aviva madam she is very caring and co-operative. We are very happy.
Asha
Dr Aviva madam is a good doctor.
Jamuna K
We were very scared initially but after meeting Dr Aviva we got confidence to start our cycle. She helped us and gave us courage to continue with the cycle. Even after the pregnancy confirmed she always continued to help us and guide us.
Patient of Dr. Aviva Pinto
It was very good. Dr Aviva is very good, co-operative, well experienced and gave a ray of hope to us.
Shashikala S R
You should trust god and come here for treatment. Dr Aviva madam, Dr Uma madam and all the staff very helpful, nurses are co-operative. I cannot express my emotions. They explained very well. We wish the same for everyone. Thank you to everyone.
This centre is good comparing to others. Staff is very helpful.
Mangala
Dr Aviva is very good, good treatment, nurses are very good. Very happy with the treatment.
Thank you Dr Aviva madam. Injections other centres are painful, doctor is also very soft and understanding.
Manjula
I had good experience, doctors, nurses and other staff members are very co-operative.
My hope turned into happiness.
Shruthi G N
We are very happy to take treatment with Dr Aviva Pinto. She is a great doctor. She supported a lot.
Patient of Dr. Aviva Pinto
Our experience while undergoing IVF was very good. Dr Aviva is very good, co-operative, well experienced and gave a ray of hope to us.
SSR, Hoskote
It was good and pleasant stay at the hospital every time I visited. All the supporting staff, specially the supporting staff during the procedure were very co-operative. Thanks to the Counsellors for their advice. Last but not the least thanks to Dr Aviva mam and Dr Sunitha mam.
Usha Pratap
The management of the Nova and all facilities is excellent. The doctors especially Dr. Richa and Dr Avantika are very helpful and approachable. The nursing staff is very helpful and kind, they explain the medicine chart very well. The front desk staff is also polite and co-operative. "
The center is well managed and organized. The treatment is much directed and very exact. The cost is very transparent and no hidden charges. Highly recommend by me for others who need help.
Mrs. A. S
Right from day 1 of our visit, we felt encouraged & comfortable. We get right advice at all times to make sure we get the best treatment with our condition. Thanks to Dr.Ariva,Dr Sunita and all the nurses.
Diksha sahni
Very professional staff and amazing Dr.Aviva always clarified all my queries and gave confidence to undergo procedure. Doctor was always on time and very less waiting period. All together a very good experience at NOVA IVF and thank you for making us parents we couldn't be proud parents of a beautiful healthy girl.
M.Rashmishree
We came with a hopeless feel but, when we came here positive sign with us was build.
divya kr
Feeling very happy finally I become a mother because of all Nova IVF Dr's and staff of co-operating and encouraging me lot while treatment. I wish every body take treatment in this center.
Geetha H
Very good supportive doctors with all staffs for encouraging us. When we depressed, Dr Umavathi madam has given very good suggestions, ideas.
Thanks for all once again, need your support for all patients continuously.
D Rukmini Bai
Its very nice, all the treatments are good here. We are very happy, after coming here I have gotten a good result. Its been a success the first time. I am very happy.
Suguna
My overall experience has been very pleasing with Nova IVF fertility and Dr. Hima. She has been extremely patient in explaining all the probabilities and finally helped us choose the best possible way. The Staff is very communicative and gave timely updates and we are very happy to have been associated with Nova and would definitely recommend Nova IVF to all my near ones.
Mrs. Sri Lakshmi G
They did the procedure very well, there was no issue at any stage. Dr Aviva mam was verycaring. We are very happy that we came to Nova.
Leelavathi
Article Reviewed & Case Studies
by Dr. Aviva Pinto Rodrigues