Dr. Rajitha Yarlagadda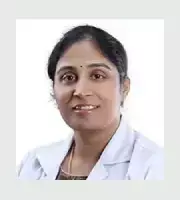 Dr. Rajitha Yarlagadda
IVF Specialist in RR Nagar
MBBS, MS(OBG), Fellowship in Infertility
Dr Rajitha has a cumulative experience of over 10+ years of in O&G and 7+ years in Infertility and Laparoscopy. Dr Rajitha has a Fellowship in Reproductive Medicine from BACC University.
Dr Rajitha performs minimally invasive surgeries like hysteroscopy, fertility surgeries. Her areas of interest include poor ovarian reserve, recurrent implantation failure , PCOS and thin endometrium.
Dr Rajitha is an active member in attending conferences and seminars and practices evidence based medicine with high success rate.
MBBS from Sri Siddhartha Medical College, Tumkur
MS (OBS & Gynae) from Kempegowda Institute of Medical Sciences and Research Institute, Bangalore
Fellowship in Reproductive Medicine, Bangalore
Patient Testimonials
Good facilities and best staff and doctor, especially Dr Rajitha. Thank you?
Arun Gurjar
Good service and nice staff. Satisfied with treatment by Dr Rajitha.
Neelesh
Humble and helping staff. Great service. Highly recommended. Good Dr-Dr Rajitha, happy to consult with her.
Shailesh Pachar
Here dr Rajitha is best gynaecologist in India very helpful doctor and understanding.
Visha
A decent clinic with highly qualified doctors, especially Dr Rajitha and staff!!
Param Chopra
After roaming for months in search of a good fertility centre, I ended up visiting Nova IVF. I'm thankful to the entire staff and Dr Rajitha here, I'm delighted to say we have got the best possible results. 
Chethan Ram
Really good staff, Dr Rajitha and hospitality. Well taken care of in professional and ethical manner.
Anurag
I had been to many famous fertility clinics in town, but I was very disappointed with the doctors. They never saw me except the first day & the hospital waiting time for scan and consultation was very long. Being very disappointed I stopped visiting fertility clinics for few years till the time one of my friend suggested Nova IVF Fertility. Nova is one of the best places I have visited for infertility treatment so far. Doctor at NOVA IVF advised me at every step of IVF, guided me through every stage & today I am a mother of a beautiful baby girl.
Mrs. Preethi
My experience is very good from the beginning to the completion of the treatment. All sisters and doctors are very good, they always take care of their patient. I am very happy that I found this Nova IVF Fertility. Thank you.
Mrs. Khan
Thank you Nova IVF fertility. Your reassurance and confidence brought us joy. This is to express our happiness and thankfulness to the doctors, Staffs, nurses and clinical assistants of Nova IVF fertility. We appreciate the facility, infrastructure, advanced labs and the experience of the staff members. At Nova IVF fertility it is very nice and co-operative environment.
Mrs. Shobha
When I started my treatment I was very much scared about how it is going to be, but later I realized that you guys are amazing. The way that you support mentally is just amazing. My special thanks to Doctors at NOVA IVF Fertility. Thank you all for everything.I have never been to any other fertility hospital. But I can tell you one thing that everything is best in NOVA IVF. All staffs are very sweet and positive. Thank you so much.
Mrs. Nirupama
When we done our IVF treatment for the first time, the result was positive but after five months it gets miscarriage. Then we have done IVF treatment second time, that time we had our bad luck and we didn't get success. Then we got to know about NOVA IVF again we decided to go for IVF third time and finally we got success. We are very thankful to NOVA IVF the whole team of Nova IVF center. NOVA IVF is very good as comparing others.
P. S