Dr. Rubina Pandit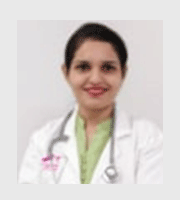 Dr. Rubina Pandit
MD (OBG) – PGIMER, Chandigarh, Fellowship in Reproductive Medicine (RGUHS)
Dr. Rubina Pandit completed her MD training from the prestigious PGIMER, Chandigarh and was among the best outgoing PG student. She finished her fellowship in Reproductive Medicine under RGUHS where she secured highest marks in the final assessment. She has several publications in various national and international Journals and has authored chapters in Gynaecology books. She has won many awards for her paper and poster presentations at both state and national level conferences. She is extremely passionate about enabling couples to start their beautiful journey of parenthood and has helped many to achieve the same. Her areas of interest are Mild stimulation protocols for poor responders, Recurrent Implantation Failure and Polycystic Ovarian Syndrome.
Patient Testimonials
The management of the Nova and all facilities is excellent. The doctors especially Dr. Richa and Dr Avantika are very helpful and approachable. The nursing staff is very helpful and kind, they explain the medicine chart very well. The front desk staff is also polite and co-operative. "
The center is well managed and organized. The treatment is much directed and very exact. The cost is very transparent and no hidden charges. Highly recommend by me for others who need help.
Mrs. A. S
I was suffering from infertility problem for which I visited NOVA and started taking treatment from Dr Mahesh Koregol. I became pregnant with his treatment and our family is very happy.
I am very happy.
Mrs. Asha K
I had a great experience at Nova IVF and Dr. Aswati Nair is very good doctor. She is very friendly. We have visited so many hospital, but Nova is different from others. I am very glad after coming to Nova IVF fertility, Rajouri Gardens Delhi got positive result here big thanks to Dr. Aswati Nair & whole team.
Mrs. Ritu
It's a nice place. I was hopeless about my pregnancy but when I went to nova I wasn't sure at all and was very sceptical about the whole thing because of my previous failed cycles. It turned out to be one of the best decisions of my life as after repeated attempts to conceive it had finally happened. I'm very thankful to the doctor and the whole staff of nova. It wouldn't have been possible without them.
Swathi.J
I am glad I took treatment at Nova. It was a great experience and we are happily pregnant now.
Patient of Nova IVF Fertility, Bangalore