Dr. Madhupriya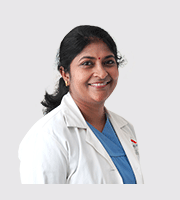 Dr. Madhupriya
DNB (OBG), DAL (Ger), FRM
An infertility specialist with 11 years of proven experience in the field of reproductive medicine/ART. Dr. Madhupriya has presented various OBGY & infertility/advanced laparoscopy papers in OGSSI, FOGSI, AICOG, IOG. She is the recipient of Dr. Jagadeeswari Mishra award for the best paper presentation, 2007 OGSSI. She is the co-author of infertility manual 'Insights into Infertility Management'. Her other publications are 'Pain Relief in Labour', paper on 'Reproduction' in IJCP journal and 'Total Laparoscopic Hysterectomy' in BJOG supplement. Her major areas of interest include Biological Heir for patients with poor ovarian reserve patients, Oncofertility and Androfertility.Her major areas of interest include Biological Heir for patients with poor ovarian reserve patients, Oncofertility and Androfertility.
MBBS from Thanjavur Medical college
DNB (OBG) from Apollo Hospitals, Chennai
Fellowship- Fellowship in Reproductive Medicine from Madras Medical Mission, Chennai
Advanced Gynaec Laparoscopy from Apollo Hospitals, Chennai
Advanced Gynaec Laparoscopy, Kiel, Germany
Gold medalist
Recipient of the JAGADEESWARI MISRA award
Patient Testimonials
Nova fertility centre helped us in bringing our dream into reality, madhu mam and team thank you so much for your timely help, advice and guidance.we are blessed with baby boy on 11th July 2020
Mercy Matilda
It's a long time dream came true with the help of NOVA infertility centre and our physician Dr. Madhu Priya. The confidence built in us with their patience and professionalism blessed us with a baby girl. Thank you Nova & the whole team for your relentless support extended.
Mr. Narasimhan T
Tq nova..and Tq soo much Madhu mam. 2day am enjoying parenthood..u r the main reason once again tq mam..to continue ur services on nova..to enter on nova..to return ur kid..in sure...am saying truly..this is the best hospital..one small request..to give many adds on nova hospital.
Lavanya Suresh
Doctors are good. Staff and pharmacy cleanliness everything is good, excellent I thank doctor and all staffs for their support. Especially I thank Dr.Madhupriya for her guidance and smile face.
Mrs Priyadharshini
Excellent work by each and every staffs here. Doctors are very patient and helpful every time. Would definitely recommend Nova IVF to the needful.
Mrs Vaishnavi
We are very much happy after visiting Nova. Dr.Madhupriya Mam helped us a lot .thanks for Nova Team (staff), who assisted us very gently and with care.
Thanks to each and every one.
"We are very happy"
Mrs. Sai Prasanna
First thank you so much for Nova Fertility Chennai people and staff for good support and treatment. Special thanks to Dr.Madhupriya ma. She is taking care of patients so much good way.
Patient at Nova IVF, Chennai
I would thank to Dr Madhupriya mam for guiding us during tough times by giving us hope and best advice. She is friendly and caring throughout the treatment. Patience and confidence are key to success. Hospital environment is good and we will feel comfortable. and i special thanks Nova IVF.
Devi Kishore
Very confident approached to us. Dr Madhupriya mam handled with very much experienced. Thanks to mam and team.we are happy to sharing me and my wife.thank you.
Mr. Senthil Kumar
I would like to thank Nova IVF for all the support. Dr. Madhupriya was very supportive and responsive, assuaging our concerns and giving us hope and advice throughout. Hospital ambience is friendly and at the same time professional.
Mary Anita
I was very much impressed with the "Nova IVF Fertility Center", all the basic amenities were available and the extra care from the nursing staff. The best of the lot was Dr. Madhu Priya; She was very humble cheerful and supportive by nature and was extremely caring. I would recommend anyone for "Nova IVF Fertility Center."
Ms. Suma
Good Experience. Very Hygienic level of Treatment. Success rate also High. Our consultant Dr. Madhupriya.
Mr. Balan K
Article Reviewed & Case Studies
by Dr. Madhupriya