Dr. Pallavi Chennamaraju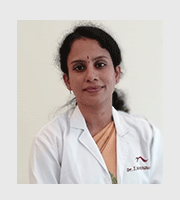 Dr. Pallavi Chennamaraju
IVF Specialist in Tambaram
DNB, Fellowship in Reproductive Medicine
Dr. Pallavi is a Fertility Consultant at Nova IVF Fertility, Tambaram, Chennai. Her areas of interest include male infertility, recurrent IVF failure, laparoscopic surgeries for fertility treatment and enabling women with poor ovarian reserve to conceive using their own eggs when possible.
MBBS from Government Medical college, Kurnool, Andhra Pradesh. NTR University of Health Sciences DNB (OBG) from C.S.I. Kalyani Multi-speciality Hospital, Chennai.
Fellowship in Reproductive Medicine and Gynaecological Laproscopic surgery at Indigo Women's Centre, Chennai
Patient Testimonials
When I started my treatment I was very much scared about how it is going to be, but later I realized that you guys are amazing. The way that you support mentally is just amazing. My special thanks to Doctors at NOVA IVF Fertility. Thank you all for everything.I have never been to any other fertility hospital. But I can tell you one thing that everything is best in NOVA IVF. All staffs are very sweet and positive. Thank you so much.
Mrs. Nirupama
My experience is very good from the beginning to the completion of the treatment. All sisters and doctors are very good, they always take care of their patient. I am very happy that I found this Nova IVF Fertility. Thank you.
Mrs. Khan
I had been to many famous fertility clinics in town, but I was very disappointed with the doctors. They never saw me except the first day & the hospital waiting time for scan and consultation was very long. Being very disappointed I stopped visiting fertility clinics for few years till the time one of my friend suggested Nova IVF Fertility. Nova is one of the best places I have visited for infertility treatment so far. Doctor at NOVA IVF advised me at every step of IVF, guided me through every stage & today I am a mother of a beautiful baby girl.
Mrs. Preethi
When we done our IVF treatment for the first time, the result was positive but after five months it gets miscarriage. Then we have done IVF treatment second time, that time we had our bad luck and we didn't get success. Then we got to know about NOVA IVF again we decided to go for IVF third time and finally we got success. We are very thankful to NOVA IVF the whole team of Nova IVF center. NOVA IVF is very good as comparing others.
P. S.
It's been very nice experience with Nova IVF. Doctor had gave all details about procedure and made it easy to understand also they cure their patients very nice. If all report are ok then only doctors proceed for next step. All staff is good and they had given all good suggestion also they told everything like how we can get benefit, what should we do and what we should not do. And with the help of all that I got my positive result in 6 months.
Ms. KR
Our experience in other hospitals has been very bad, but in NOVA IVF we had a very good experience. Everyone here is open minded & professional and we didn't face any problem regarding appointments
Mrs. Phonsiri