Dr. Rini Ezhil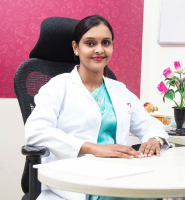 Dr. Rini Ezhil
IVF Doctor in R.A. Puram
MS (OBG), Fellowship in Reproductive Medicine
Dr. Rini Ezhil is an IVF and Fertility Consultant at Nova IVF Fertility, Chennai. She is a budding gynaecologist and an empathetic fertility specialist with 6+ years of experience in Obstetrics and Gynaecology and Fertility Management. She is an expert at ovulation induction and follicular monitoring, IUI, ICSI, TESA and TESE procedures.
Her areas of interest include male infertility, using PGT to treat patients with genetic disorders and helping couples who are poor ovarian responders or have faced multiple IVF failures.
Publications
Thyroid Disorders in Women With Abnormal Uterine Bleeding: A Tertiary Hospital-Based Study from Puducherry, India published in the International Journal of Reproduction, Contraception, Obstetrics and Gynecology
MBBS from Rajah Muthiah Medical College, Annamalai University, Chidambaram, Tamil Nadu (2009-2016)
MS (OBG) from Manakula Vinayagar Medical College and Hospital, Puducherry (2015-2018)
Fellowship in Reproductive Medicine from Nova IVI Fertility, Chennai (2018-2019)
Awarded gold medals in general Medicine, Community Medicine, Ophthalmology and Microbiology
Was the Pondicherry University Topper of the MS (OBG) batch and received Gold Medal from the President of India (2018)
Patient Testimonials
Dear Beloved couple Sharing our experience in this most awaited moment with almost 9 years of restless journey.. And guess what?? outcome is TWO lovely babies that we had this Jun. Thanks to Nova fertility center without which we wont think that we would  become parent in our life. There top notch expertise and best in class technology in embryo transplant helped us becoming parent. My sincere thanks to entire staff of nova fertility centers. SPECIAL THANKS TO DR. RINI who became a life savior for us. She came to rescue us when we lost our all hope of becoming parent in our life and many senior most doctors had left us abandoned . Her expertise in this field is beyond comparable. We wish that she would get umpteen success in this noble field and would become saviour  to all such desperate parent who had lost their hope to become parent. I would strongly recommend to make use of Dr Rini's expertise and nova center for making your parenthood dreams a reality. Lots of love from our cute babies to Nova family. ???
Riti Agarwal
My first Thanks to God ?, who showed Dr. Rini Ezhil Madam. she is an amazing doctor and personally care about patient and also very friendly nature. Thanks to Nova team for supporting with us and best wishes for your success ratting??....
Mohanapriya Sivakumar
It is the best fertility center in chennai. The way treating the patients is very appreciated. Staffs and nurses are very polite and approachable. Finally great great great thanks to Dr Rini ezhil. She is one of the best doctor and very friendly in nature. Very very luckiest Doctor in the center.
Prabhu S
It is one of the best hospital and I ranked no1 in Ivf fertility...people can choose it without any doubt.....
San Cherry
Very good service......we become a parent's now no words to say......our feelings....thanks to nova thank you so much.....
Rama Moorthi
Very good service.....I surely recommend nova thanks to all the staffs and doctors.
Ramki
Thank you so much to Dr. Rini Ezhil and Nova team. Mam, you have made my dreams to become true. Myself and my hubby are so glad that now we are enjoying the joy of parenthood. All this happiness are the fruit and outcome for all your efforts and care taken to us. Thank you very much mam.
MBR & APB
My first Thanks to God ?, who showed Dr. Rini Ezhil Madam. she is an amazing doctor and personally care about patient and also very friendly nature. Thanks to Nova team for supporting with us and best wishes for your success rating
Mohanapriya Sivakumar