Dr. Meenakshi Priya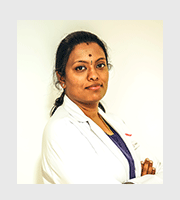 Dr. Meenakshi Priya
MS (OBG), DNB, MNAMS, FRM, Dip Reproductive Medicine (Germany)
Dr. Meenakshi Priya is a Fertility Consultant at Nova IVF Fertility, Coimbatore. She has 7+years of experience as an Obstetrician and Gynaecologist and is specialised in Reproductive Medicine.
Her areas of interest include oncofertility, recurrent IVF failure and enabling women with poor ovarian reserve to conceive using their own eggs when possible.
Publications
Effectiveness of Laser assisted hatching in Frozen Embryo Transfer- International Federation of Fertility Societies, Delhi (2016)

Prostatic Massage: A Non-Invasive, less expensive alternative method for Sperm Retrieval in patients with an Ejaculation- ACE, Cochin, Kerala (2015)

E- journal: Partial Androgen Insensitivity Syndrome (2013)

A Curious Case of Heterotopic Pregnancy -YUVA FOGSI (South Zone), Trichy, Tamil Nadu (2013)

A Case of Transitional Papillary CA of Cervix -ISCCP, National Conference-PSG, Coimbatore, Tamil Nadu (2012)
MBBS

from

PSG Institute of Medical Sciences, Coimbatore, Tamil Nadu (2004)

MS

(

OBG

)

from

PSG Institute of Medical Sciences, Coimbatore, Tamil Nadu (2014)

DNB (

OBG

)

National Board of Education

(2015)

Fellowship

in Reproductive Medicine from CIMAR, Cochin, Kerala (2015)

Diploma

in Reproductive Medicine, University of Kiel, Germany (2016)
Member, National Academy of Medical Science (MNAMS)

Member, Indian Society of Assisted Reproduction (ISAR)

Member, Indian Fertility Society (IFS)

Member, Federation of Obstetric & Gynaecological Societies of India (FOGSI)

Member, National Association of Reproduction and Child Health

Member, Association of Clinical Embryologist (ACE)

Member, International Society for Mild Approaches in Assisted Reproduction

Life Member, Indian Medical Association (IMA)
Patient Testimonials
I feel very happy to write about NOVA IVF. Nova has given me the boon of my life and I am very thankful for that. My doctor, Dr. Meenakshi Priya with outmost care resolved and clarified all the doubts I had during my treatment. Dr. Renu pleasingly handled my queries. All the employees at Nova will take care of all the patients with warmth and I owe for that. Once again I am thankful for Nova for giving me a boon of my life.
Mrs. S. Parimala
Thank you for giving me positive results and thank you NOVA FERTILITY for making my IVF treatment a success one. Once again I thank Dr. Meenakshi Priya, Dr. Rajeswari mam and Clinical Counselor Jeevitha mam for being very supportive.
Thank You Nova.
Mrs.Poornima
We dedicate our wishes and love to our beloved Nova IVF Fertility, Dr. Meenakshi Priya and for the staffs who took care us with love and affection. Our heartfelt wishes for NOVA to grow higher and higher and spread happiness.
Mrs Dhanalakshmi
Our heartfelt thanks to Nova. We came to Nova asking a child. Because of the entire team's love and compassion, my dream for wanting a child has become true now. I have no words to explain my gratitude for Dr. Meenakshi Priya. We are very happy and have no words to explain it.
Lot of thanks!
Mrs Kanchana
I was longing for a child for past three years. I was taking treatment at KMCH for many years, but it was of no use. After coming to Nova, I got pregnant in exactly 2 months. We are very happy and thankful to Nova. We are very thankful to Dr. Meenakshi Priya, Dr. Manonmani and all Nova staffs.
Mrs Karthiga Saravanan