Dr. Sonalika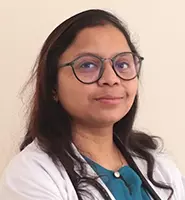 Dr. Sonalika
Infertility Specialist in Dehradun
MBBS, MD (OBG) Fellowship in Reproductive Medicine
Dr. Sonalika has over 7+Yrs of experience in OBG and Fertility Medicine. Her interest includes areas such as PCOS / fibroids associated fertility, advanced maternal age, male infertility issues.
MBBS, King George Medical University, Lucknow,2013
MD (Obstetrics and Gynaecology), King George Medical University, Lucknow, 2016
Fellowship In Reproductive Medicine, 2017
Dr R.M.L Mehrotra Gold Medal In M.B.B.S
Life Member of The Federation of Obstetric and Gynaecological Societies of India (FOGSI)
Life Member of Obstetrics & Gynaecology Society of Dehradun
Patient Testimonials
I have to say this place is great impeccable infrastructure...... I felt so positive entering that place and lovely staff.. Always there to help you…
Mayanak
Nova IVF Dehradun came as a blessing in our life. Definitely 5 stars from our side. Dr. Sonalika is highly skilled and knowledgeable doctor and knows his work well. Decent, polite and listens to every query with full attention and replies satisfactorily. Located in the heart of Dehradun city.. Providing highly specialized facilities with individual attention to every patients. Whole staff is polite and cooperative. Will recommend to anyone in need. Success rates are good too.
Dr Vineet Sharma
My sister had treatment and I'm really happy with the facilities, Very nice experience best facility easy process as per comparison to other.
Sandeep Tiwari
Very good hospital Very good Dr.sonalika
Monika Chauhan