Dr. Aswati Nair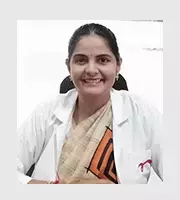 Dr. Aswati Nair
Fertility Specialist in Rajouri Garden
MD (OBG), FNB - Reproductive Medicine
Dr. Aswati Nair did her MBBS from Topiwala National Medical College and B.Y.L. Nair Charitable Hospital, Mumbai (1999-2005) and was the recipient of J.R.D. Tata merit scholarship in all the 3 professional years. She did her MD in Obstetrics and Gynaecology from S.S. Medical College, Madhya Pradesh (2006-2009).
She has over 14+ years of experience in treating couples with Infertility. Her profound interest in infertility made her pursue FNB Reproductive Medicine wherein she was one of the toppers in the entrance examination conducted by the National Board of Examinations. She has a vast experience in the field of male infertility and is proficient in most techniques of surgical sperm retrieval. She has also successfully completed the training course in laparoscopy conducted by the surgical disciplines at AIIMS, New Delhi.
She has made numerous presentations at various national and international conferences and received the best paper award at ISAR, Kerala chapter for her original research work on the use of embryo glue in patients with recurrent implantation failures.
She has a special interest and expertise in treating women with endometriosis, recurrent IVF failures and recurrent pregnancy losses and male infertility cases. She is dedicated, compassionate, and up-to-date with her knowledge of reproductive medicine, and has several successful cases to her credit. She aims to work out protocols for the development of low-cost IVF so as to make it more accessible to the masses.
She is a lifetime member of Indian Society of Assisted Reproduction (ISAR) and the Indian Fertility Society.
Patient Testimonials
I recently had treatment in Nova IVF. The services that I receive from Nova is excellent. Dr. Aswati Nair and the staff are friendly and ensure that I am properly informed about my health and care. I would have no qualms in recommending them to family and friends. Dear Dr Aswati Nair Mam, I very much appreciate everything you have done for me! You list, you speak with such a gentle voice, you act with skill and wisdom. You put me at ease and I am very blessed to have you as my doctor. Thank you very much for everything.
Swati Wadhwa
If you are struggling with any type of infertility issues or lost hope and landed into the darkness, Dr Aswati Nair at NOVA is the best person to pull you out of that black hole. Her immense faith and politeness will make you believe in yourself. She will understand you according to your needs and stands foot front to keep you calm in the journey. Her speech and humbles along with her specialization makes her one of the excellent doctor I have ever met. Also, thanks to all the supporting staff of NOVA
Nisha Verma
We don't know from where we should start and how should we express our Gratitude towards Dr Aswati Nair. According to me 'FAITH' is the word which always helps everyone to sail through. Likewise we too kept our faith on Dr Aswati Nair. She is very knowledgeable and soft spoken with positive aura around. She explains very well, even small things in detail. Our faith on her and her true guidance helped us to sail through. :) We are that much thankful to Dr Aswati Nair which can't be expressed in words. Thanks a ton Dr Aswati and Nova IVF.?? Always stay calm and positive. it's often the last key in the bunch that opens the lock... Good bless all...!!
Sumit Batra
Dr Aswati Nair has been a blessing to us. She is gem of a person. Her constant support and guidance have always made us feel positive. Thank you so much.
Nonika Arora
Dr.Aswati nair mam is like god for me.I got pregnant in first attempt of my ivf.She has been very supportive throughout the journey.She is always available to answer your calls.Nova ivf made my dream come true.I was waiting for this to happen since last 7 years.Thans to Nova ivf,Dr aswati mam and entire team for making this happen.
Saloni Jain
Dr Aswati Nair is a angel sent by God, people who are facing infertility issue should consult Dr and trust her blindly bcoz she understand ur problem calmly give u adequate time and guide .Nova ivf rajouri branch staff is also very supportive.
Priya Dua
i would like to thank Dr. Aswati Nair and her team at Nova IVF fertility for making this journey a smooth one for me. Dr. Nair is warm, compassionate and a thorough professional. Before meeting her, we had some reservations about the process but she gave a patient hearing and cleared all my doubts. She was always reachable, and ensured that I remained positive and comfortable through out the procedure. The staff is supportive and the facility is well managed. I strongly recommend Dr. Nair and Nova, Rajouri Garden to anyone looking for an infertility treatment.
Juhi Thatte
Thanks to NOVA IVF Center Special thanks to Dr. Nair and all staff.
Dhiraj Kumar
Really amazing experience with the doctor's and staff of this Nova IVF centre. All staff of this IVF centre are very helpful towards their pt and always happily respond. I and my wife specially thanks to Dr Aswati Mam, just bcuz of her effort and blessings my wife got conceived. Nova IVF centre , Rajouri garden is a trustworthy place to go for IVF treatment. I recommend this institute and meet Dr Aswati Nair Mam those who seeking for IVF treatment. Again thanks alot Dr Aswati mam, may god keep u always energetic so that u can give smile and happiness to needy couples.
Sudhansu Sekhar
When we visited Nova clinic, our case was taken up by Dr. Aswati Nair. She is an extremely supportive, friendly and understanding doctor and always treated us like family. She is always there to hear us out and provide with the best solution. The best thing about her is that she is always positive and also keeps her patient positive as well. The complete team at Nova is extremely supportive and caring.
Monika Jindal
Nova IVF centre has been very good to me. The staff at Nova is very cooperative and the techniques used are modern. Dr. Aswati ma'am treated me and she is very co-operative. It's possible because of Dr. Aswati.
Seema Meena
Here in Nova IVF fertility Rajouri Gardens, I have met the most amazing doctor and the staff. I will always be grateful to Dr. Aswati Nair for giving a new meaning to my life.
Thank you Neetu, Dr. Rashmita and other clinical staff of Nova IVF they all are very helpful and caring.
Mrs. Monika
Nova staff is good. I am so happy with Dr. Aswati Nair's treatment and the laboratory is very clean. I can't explain my happiness in words. In short, I am really thankfull to Dr. Aswati & the staff.
Sonia
Dr. Aswati Nair is a very nice person & the Nova team is also very nice. Thanks to the team for such a nice journey. Really nice experience of my life. Thank you so much all of you.
Kamini
The staff of Nova is too good & Dr. Aswati Nair is also so good. The hospital is very neat & clean, we are very happy to come here and happy to get positive news from nova.
Shubhangi Patil
I am very happy to know that I am positive, thanks to Dr. Aswati Nair. She told me everything about the procedure and procedure was very smooth thanks to her. I am very thankful to all the staff members of Nova Rajouri Garden.
Jyoti
All nursing staff is very good, supportive and co-operative. Dr. Aswati Nair is so good and helpful. She is very co-operative with us through the IVF treatment. Specially thanks to Nova IVF centre & Dr. Aswati Nair.
Meriza Fatima
Very good experience at Nova. Dr. Aswati Nair is very humble and takes care at a personal level. The whole staff is very co-operative. The first cycle results were negative, but Dr. Aswati supported me emotionally. She is a boon for us. She possesses very good knowledge of her subject and she is very supportive.
Mamtha Devi
The overall experience was very good. There was constant support from the staff, everything was systematic and organized. Special thanks to Dr. Aswati Nair for her guidance and support through the center process and making it successful. Highly obliged for the services offered by the centre.
Preeti Mishra
The experience was quite good. Dr. Aswati nair is a very good and knowledgeable doctor. She listened to our problem carefully and gave us the correct treatment. Staff is also very supportive.
Promila Nautiyal
Before coming to Nova we tried multiple other fertility clinics in Delhi but with every clinic we only experienced disappointment and fear. But after coming to Nova IVF, Rajouri Gardens, Delhi gave us sense of hope. All the doctors especially Dr. Aswati Nair gave us the comfort and confidence we required. The staff was very helpful and co-operative. THANK YOU ALL :)
We got all the information at every step of the procedure. The doctors and staff explained very well at every step of the procedure .Which we haven't experienced in other clinics.
Mrs. Pooja singh
My experience at Nova IVF Fertility, Rajouri Garden was awesome. Dr. Aswati Nair, her team and the whole staff created an environment which is professional, warm and extremely supportive. This support has helped with the treatment and my initial fear of medicine and meeting doctor totally vanished. IVF process was filled with encouragement this is the energy which gave me this happiness, joy and hope.
Shruti
It was amazing to be here, such positive vibes. Everyone is here so positive and caring. Thank you so much Dr. Aswati and everyone for being angels in my life.
Jyoti Yadav
My experience with Nova was outstanding and was without any stress and awkwardness. I was treated by Dr. Aswati Nair. She is an outstanding doctor and I must recommend her to everyone with infertility issues.
Ramandeep
My experience with Nova IVF fertility Rajouri Gardens, Delhi is very nice and after coming here I felt very positive. All the staff and doctors are very good. Dr. Aswati Nair is very nice and supportive with her patients.
Overall my experience was good. Nova IVF fertility is good and before nova I have experience of AIIMS but Nova IVF Fertility is also very nice.
Patient at NIF, West Delhi
My experience was very good at Nova. I am very glad after coming to Nova. Staff is really good & positive. Thank you so much Dr. Aswati Nair and the whole team of Nova IVF Fertility clinic, West Delhi.
Mrs. Poonam Mishra
I had a great experience at Nova IVF and Dr. Aswati Nair is very good doctor. She is very friendly. We have visited so many hospital, but Nova is different from others. I am very glad after coming to Nova IVF fertility, Rajouri Gardens Delhi got positive result here big thanks to Dr. Aswati Nair & whole team.
Mrs. Ritu
Words will not be enough to thank Dr. Aswati Nair & her team. I had a wonderful experience at Nova IVF Fertility Delhi. Also would want to thank Nitu (op/ip) for everything she did. I have never been to any other fertility center and Nova IVF Rajouri Garden was my first visit to any centre.
Mrs. Neha Kabdal
The experience was very good. Dr. Aswati mam is so amazing. As she was involved with us from the first day it and we were so confident under the guidance and treatment. She not only did the treatment but helped us in each and every emotional situation. We feel so lucky to get our treatment done here.
I found Nova IVF, Rajouri garden different from all others centers with the visibility in each and every process including the financial charges. Staffs are so helpful and friendly.
Mrs. Namrata kumara
Beyond our imagination, we have got full support from each and every staff of the Nova IVF hospital, Rajouri garden. Our doctor Aswati Nair, a wonder leader with her superb direction and full support from Dr. Rashmita, Nitu, Neha, Saloni, Kamini, Sonal, lab manager embryologist Anisha, along with all the nursing staff, we won almost the lost battle. We thank and wish all the staff and units of the hospital to flourish very high.
 Though we had taken consultation with many fertility doctors before, but as soon as we met Dr. Aswati Nair and Dr. Rashmita Sahu, we immediately decided to go for further treatment here only. We just want to say that we are lucky enough to get a doctor like Aswati Nair at Nova center. Thank you.
Mrs. Rohini
I thank Dr. Aswati from the bottom of my heart and the whole Nova Team who has changed my life completely. I cant express my happiness. Dr. Aswati Nair has played a big role in this. I am very thankful to everybody. I would pray that the same happiness comes to your home.
Lalita
First of all we are highly grateful to Dr. Aswati Nair and Nova IVF Fertility. Definitely our experience at Nova IVF fertility was very good. Dr. Aswati Nair and all center staff employees gave very warm welcome in every visit. Thank you Nova IVF Fertility centre Rajouri Garden, Delhi.
Mrs. Sharmila Mishra
We are married for 5 years and we were trying from last 4 years. Then we came to Nova IVF fertility centre Rajouri Garden and we got positive results all thanks to Dr. Aswati Nair & whole team of Nova Hospital. Here every staff of Nova IVF Fertility is very co-operative & supportive throughout the procedure. Dr. Aswati Nair is a very good doctor, thank you so very much for giving life time happiness.
Mrs. Ambika
I am very happy to come here for my treatment. Words will not enough for Dr. Aswati Nair. Thank you so much for you love and support throughout the procedure. Thanks all the team members & staff of Nova IVF fertility centre Rajouri Garden.
Mrs. Kriti Bajaj
Extremely good and positive environment at Nova IVF Fertility, Delhi. Dr. Aswati Nair was very good and supportive throughout the journey. Treatment procedure and the way she handles the patients, is very satisfying.
Staff co-ordination is very good, co-operative and friendly in nature.
We will definitely recommend our friend and relative to Nova IVF Fertility. Thank you Nova & family. Big thanks to Dr. Aswati Nair and the Nova team.
Patient at NIF, Rajouri Garden
My experience is magical to have a baby in my arms. The feeling I cannot express in words. Nova IVF fertility is India's best fertility chain as I got my baby in the first attempt. In India, Nova IVF fertility center provides the world class fertility care & treatment.
I feel like my world has changed after coming to Nova IVF. I got positive vibes here from Dr. Aswati Nair on day one, she is a wonderful doctor. They have given us biggest joy of being parents. And we are really happy to share the moment. Thank you so very much Nova IVF fertility, Dr. Aswati, clinical Staff and nurses.
Nova IVF fertility hospital is a really positive. I will definitely recommend to my friends & relative for Nova fertility centre Rajouri Garden.
Mr. Shashi Yadav
I want to say thanks to Dr. Aswati as well as all staff of Nova IVF fertility, Rajouri Gardens. Dr. Aswati is very supportive and experienced doctor. She takes care of the patient in personal level. All staff is really supportive at Nova IVF Fertility, Delhi.
Mrs. Pratima
I have very good experience in Nova IVF fertility, Delhi Rajouri Garden. Dr. Aswati is very supportive and experienced doctor. She take care of their patient on personal level. All staff is really supportive. Nova hospital is hygienic and clean. Thank you Dr. Aswati and Nova IVF for giving such a wonderful gift to me.
Mr. Kumud Upadhayay
I had lost all hopes of becoming mother but only after coming to Nova IVF Fertility, Delhi Rajouri Gardens that I realized that it's possible to enjoy motherhood. Dr. Aswati Nair's support and hardwork had made my dream possible. All the staff members are very supportive.
Once again thank you all so much for making my dream come true.
Mrs. Ankita Singh