Dr. Aswati Nair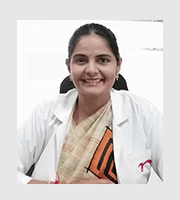 Dr. Aswati Nair
MD (OBG), FNB - Reproductive Medicine (2 years post-doctoral fellowship of National Board)
Dr. Aswati Nair did her MBBS from Topiwala National Medical College and B.Y.L. Nair Charitable Hospital, Mumbai (1999-2005) and was the recipient of J.R.D. Tata merit scholarship in all the 3 professional years. She did her MD in Obstetrics and Gynaecology from S.S. Medical College, Madhya Pradesh (2006-2009).
She has a wide experience in the fields of Obstetrics, Gynaecology and Infertility. Her profound interest in infertility made her pursue FNB Reproductive Medicine wherein she was one of the toppers in the entrance examination conducted by the National Board of Examinations. She has a vast experience in the field of male infertility, and is proficient in most techniques of surgical sperm retrieval. She has also successfully completed the training course in laparoscopy conducted by the surgical disciplines at AIIMS, New Delhi.
She has made numerous presentations at various national and international conferences and received the best paper award at ISAR, Kerala chapter for her original research work on the use of embryo glue in patients with recurrent implantation failures.
She has a special interest and expertise in treating women with endometriosis, recurrent IVF failures and recurrent pregnancy losses and male infertility cases. She is dedicated, compassionate and up to date with her knowledge in reproductive medicine, and has several successful cases to her credit. She aims to work out protocols for development of low cost IVF so as to make it more accessible to the masses.
She is a life time member of Indian Society of Assisted Reproduction (ISAR) and the Indian Fertility Society.
Patient Testimonials
It was amazing to be here, such positive vibes. Everyone is here so positive and caring. Thank you so much Dr. Aswati and everyone for being angels in my life.
Jyoti Yadav
My experience at Nova IVF Fertility, Rajouri Garden was awesome. Dr. Aswati Nair, her team and the whole staff created an environment which is professional, warm and extremely supportive. This support has helped with the treatment and my initial fear of medicine and meeting doctor totally vanished. IVF process was filled with encouragement this is the energy which gave me this happiness, joy and hope.
Shruti
I thank Dr. Aswati from the bottom of my heart and the whole Nova Team who has changed my life completely. I cant express my happiness. Dr. Aswati Nair has played a big role in this. I am very thankful to everybody. I would pray that the same happiness comes to your home.
Lalita
Nova staff is good. I am so happy with Dr. Aswati Nair's treatment and the laboratory is very clean. I can't explain my happiness in words. In short, I am really thankfull to Dr. Aswati & the staff.
Sonia
Nova IVF centre has been very good to me. The staff at Nova is very cooperative and the techniques used are modern. Dr. Aswati ma'am treated me and she is very co-operative. It's possible because of Dr. Aswati.
Seema Meena
My experience with Nova was outstanding and was without any stress and awkwardness. I was treated by Dr. Aswati Nair. She is an outstanding doctor and I must recommend her to everyone with infertility issues.
Ramandeep