Dr. Ratul Dutta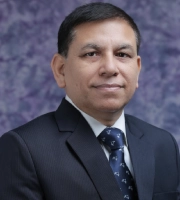 Dr. Ratul Dutta
MBBS, MD (OBG), Training in Assisted Reproductive Technology at Institute of Reproductive Medicine at Kolkata, Training in In Vitro Fertilization, Institute of Research of Reproductive Health, Kolkata
Dr. Ratul Dutta is a fertility consultant with 21+ years of experience in Obstetrics and Gynaecology (since 1992) and 17+ years of experience in fertility and reproductive medicine. Dr. Dutta has set-up fertility clinics across Assam and has been the director of a leading fertility clinic and IVF center in Guwahati. He performs fertility enhancing surgeries and is also engaged in research work in different aspects of fertility management. Dr. Ratul Dutta is also an academician and has presented papers and delivered lectures in innumerable seminars, workshops, and conferences. He visited prominent ART centers like Stanford University Medical Center, USA University College Hospital, London and IVI Clinic, Madrid, Spain. His areas of interest includes PCOS, Recurrent Pregnancy Loss, Fertility Enhancing Surgeries, Male Infertility and Advanced Maternal Age.
Publication:
MTFHR (C677t) Polymorphism and PR (PROGINS) Mutation as Genetic Factors for Preterm Delivery, Foetal Death and Low Birth Weight.
Delineation of the Chromosomal and Molecular Endocrinological alteration leading to recurrent Pregnancy loss in Northeast Indian patients in association with Cotton University.
Alteration in Vitamin D Receptor and resulting differential modulation of key Downstream Cellular Inflammatory and Immunological Effectors in recurrent pregnancy loss cases from Assam.
MBBS from Gauhati Medical College, Assam
MD Obstetrics and Gynaecology from Gauhati Medical College, Assam
Training in Assisted Reproductive Technology at Institute of Reproductive Medicine at Kolkata
Training in In Vitro Fertilization, Institute of Research of Reproductive Health, Kolkata
Member in Federation of Obstetrics and Gynaecological Societies of India
Member in Indian Society for Assisted Reproduction