Dr. Ruchi Jain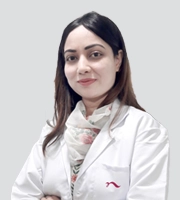 Dr. Ruchi Jain
IVF Specialist in Howrah
MBBS, MS (OBG), FNB in reproductive medicine
Dr. Ruchi Jain is a Fertility specialist at Nova IVF Fertility, Howrah. She has over 4+ years of experience in OBG and infertility management. She is trained to manage infertility related cases and perform fertility surgeries and procedures for IVF treatment which includes controlled ovarian stimulation, trans - vaginal oocyte retrieval and embryo transfer. Her areas of interests are advanced maternal age in women with low egg count, PCOS and fibroids associated infertility and male infertility.
Publications
Published Research Paper/Thesis: Comparison of intramuscular methergin, rectal misoprostol and low dose intravenous oxytocin for active management of third stage of labor.
MBBS from Thanjavur Medical College, Tamil Nadu.
MS (Obstetrics and Gynaecology) froma Sardar Patel Medical College & Hospital, Rajasthan.
Training in FNB in Reproductive Medicine from Bangalore Baptist Hospital, Bangalore.
Distinction in Pathology, Microbiology and Pharmacology, Community Medicine and ENT and General Surgery in MBBS.
Baptist Clinical Meet- Role of PGT-A and ERA in IVF – Clinical cases on 14.11.2020 (won 1st prize).
Poster titled "Master the Menopause" at Gurukul Teaching Program S.P. Medical College Bikaner on 23.07.17 (Won 3rd prize).
Member of Federation of Obstetric and Gynaecological Societies of India (FOGSI)