Dr. Saroja Koppala
Dr. Saroja Koppala
Infertility Specialist in Kukatpally
M.B.B.S (Prize medalist), DFFP(UK), MRCOG((UK), FRCOG(UK), British Fertility Society Certification (Aberdeen, UK)
Dr. Saroja Koppala is a Fertility Consultant at Nova IVF Fertility, Hyderabad. She is an obstetrician and Gynecologist with 15+ years of experience. She has vast experience in the field of infertility management and has many successful IVF pregnancies to her name. endometriosis.
She excels at handling cases that involve low ovarian reserve, recurrent miscarriages, recurrent implantation failures and adenomyosis.
MBBS from Kurnool Medical College, Kurnool
MS (OBG) from Sri Venkateshwaraa Medical College Hospital and Research Centre, Puducherry
DFFP and MRCOG from Royal College of Obstetricians and Gynaecologists, United Kingdom
Training at Aberdeen Fertility Center, United Kingdom
Member, Indian Society for Assisted Reproduction (ISAR)
Member, Indian Medical Association (IMA)
Member, Royal College of Obstetricians and Gynaecologists
Patient Testimonials
Visited NOVA IVF centre for maternity related issues, we have consulted Dr Saroja maam, after few weeks itself we got positive result, I strongly suggest people who wants to fulfill their parenthood wish without doubt you can visit
Srikanth Yerigera
We are very happy to come to nova. It's been 12 years we got married and but don't have kids. After Dr Saroja mam's treatment my wife is pregnant now. Very thankful to doctor and also good staff supported us throught our journey to fulfill our dream.
Raagilla Bharath
After so much of struggling , came to NOVA IVF with hope and faith. Saroja madam helped and treated so well in every stage .Staff also so supportive and infrastructure is good. Saroja madam will listen to us and understand patient emotions and gives the rightful treatment. We are very happy that got positive result.
Chandra Sekhar
Thank you very much Dr.Saroja Koppala madam. We are overwhelmed with the positive result we encountered within the early days of treatment. Dr.Saroja madam had taken the utmost care and dealt the entire treatment with honesty. Even though Nova is an IVF center, IVF is considered to be the last option. Considering the patent's age, marital life and other parameters, Dr.Saroja madam suggests the best treatment. For us, it went with couple of normal cycles and then to IUI, where IVF was set to be last option. We are happy that we heard the good news in the very first cycle of IUI treatment. Dr.Saroja madam has always been encouraging through out the journey and always inculcated a positive feeling within us. She is a doctor who is filled with tremendous talent, integrity, patience and utmost honesty towards her profession. Now, my entire family appreciates the good news and the person standing behind this success journey i.e., Dr.Saroja madam who had been supporting us with utmost care and motivation. Our wholehearted thanks to Saroja madam ! Also, most importantly, the Nova staff has been very supportive and kind enough during the treatment process. Thank you very much for your assistance and prompt response all the time ! Thank you Nova !!
Sai Kumar
Happiest moment of my life! Thank you so much Dr. Sarooja mam, I would say you are Best., Cleared our doubts and you gave us that confidence that everything is fine!We are so happy and we owe our life to nova ivf hospital for giving us such a wonderful Life Time happiness. I want to specially thank Dr sarooja garu for making this happen.and I would like to thank u asha garu and suma garu... I am so happy with the whole hospital team??Thank you once again..
Srivarma Srikanth
Very very happy with Dr. Saroja mam treatment.. Thank you very much mam for getting consive of first visit only.. Hats off to your entire team.. Very good coordination with helping all staff people...prasnna kumar From receptionist to helping doctors.. Every one have same good knowledge and explained very well for process... Thanks alot every one.. Hopes this time we will get good baby soon.
Krishna Avala
 Saroja doctors treats they patients as a family member and understands our case and listen to our problem.i almost visited 10 hospital but no one treated me as mam treated my case thank u mam
Bippin Jonas
We are very much happy with Dr Saroja Madams treatment and all the staff over there,I will surely recommend patients to Nova Kukatpally centre.
Govind B
We had a wonderful experience with Dr Saroja, She helped us with everything and with Her efforts and The help of all the staff and specially the reception Mr prasana Kumar it Was really a great experience and Now we got positive today which is the best news so far. Thanks to the Whole team of nova And we wouldnt recommend anywhere else to any one who is trying for ivF.
Ahmed Abdi
We very happy with the treatment of Dr saroja madam.management is very good.staff are very cooperative.they received us very well.i strongly recommend dr saroja madam and nova ivf kukatpally branch for fertility treatments.
Sagar Kummari
Thank you so much Dr Saroja maam and Nova. You have supported us to get our dream. Dr Saroja Maam, we always went out with positive thought after consulting you. We have visited many doctors but have not seen a cool person like you. You will be remembered forever Maam. Thanks a ton.
God bless you and your family with good health and happiness. Team of Nova is very supportive and polite and made us feel comfortable. The information about treatment was very clear. Thank you team Nova.
Patient at NIF, Hyderabad
Article Reviewed & Case Studies
by Dr. Saroja Koppala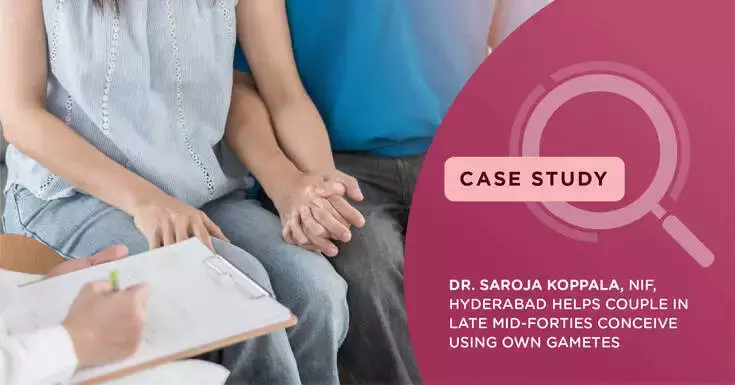 Dr. Saroja Koppala, NIF, Hyderabad helps couple in late Mid-Forties Conceive using own Gametes
Nova IVF Fertility Hyderabad helps couple in late mid-forties conceive using own...
Know More >