Dr. Jyoti Tripathi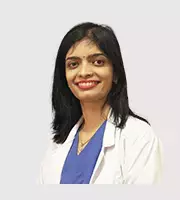 Dr. Jyoti Tripathi
IVF Specialist in indore
DNB(OBGY), Fellowship in Infertility & Endoscopy
Dr. Jyoti Tripathi is a Fertility Consultant at Nova IVF Fertility, Indore. She has been active in the field of Reproductive Medicine for 15+ years and has been specialising in Infertility Management for 10+ years.
Her focus areas include cases involving advanced age, recurrent implantation failure, recurrent miscarriages, poor ovarian reserve and thin endometrium. She believes in helping couples with poor sperm parameters and poor ovarian reserve to conceive with their own gametes wherever possible. She has completed 1500+ IVF cycles during her decade-long stint as a fertility expert.
Publications
Comparison of Pap Smear and Colposcopy In Screening Cervical Lesions (Thesis For DNB)
MBBS from Rural Medical College, LONI (2004)
DNB (OBG) from Bhandari Hospital and Research Centre, Indore (2010)
Fellowship in Infertility and Laparoscopy from Nadkarni Hospital, Surat (2012)
Member, Federation of Obstetric and Gynaecological Societies of India (FOGSI)
Member, Indian Society for Assisted Reproduction (ISAR)
Member, Indian Fertility Society (IFS)
Patient Testimonials
A smooth journey from the very first day. A warm positive smile always welcomes you and bids you goodbye for the day. Good positivity brought about the same within us as well. A special thanks to Dr Jyothi Tripathi and Nova Team members.
Deepali Bahety
This is a very nice place. All the staff are very good. All of them supported us. We first came to Nova. We like it here and hence did not have to visit any other place.
Monika Bhargav
We felt very happy by coming to Nova IVF. The staff here are very good. Dr Jyoti treated us as family. We were referred to Nova first and we did not want to go anywhere else after visiting here.
Manju Kharat
We felt very good after coming to Nova IVF and most importantly the doctor and nursing staff were very cooperative. We first came to Nova and got success in the first attempt. We will always be grateful to Dr Jyoti. Thank you.
Shnipal Singh Lodhi
The journey here was very nice! I had lost hope or probably this was the last attempt. I had decided not to try any further for pregnancy after this attempt. But, to our utter surprise, we succeeded here at Nova IVF. We came to Nova for the first time and succeeded in the first attempt itself. That is why, I say, Nova is a good centre.
Saroj Tak