Dr. Kalyani Shrimali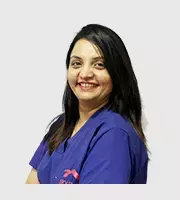 Dr. Kalyani Shrimali
Infertility Specialist in indore
MBBS, DNB, MNAMS, FICOG Diploma in Reproductive Medicine (Germany) Masters in Reproductive Medicine (UK) Fellowship in Advanced Infertility & ART(India)
Dr. Kalyani Shrimali is a Fertility Consultant at Nova IVF Fertility, Indore. She began her stint as an IVF specialist in 2009 and has 11+ years of experience in helping couples realise their dream of parenthood.
Till date, Dr. Kalyani has performed more than 3000 Oocyte Retrievals and Embryo Transfers and can independently perform hysteroscopic guided procedures and laparoscopies. Her major areas of interest are Multiple IVF failures and Poor Ovarian Reserve and she is adept at managing recurrent pregnancy loss and recurrent implantation failure cases.
Publications
Thesis :
Study of Menstrual Abnormalities in Perimenopausal age group as thesis project during DNB program
Papers Presented :
Paper presentation on Active Management of Third Stage of Labor at 26th All Indian ISOPARB–AFG Congress in 2010 at Mumbai
Paper Titled "Three-year experience with an Indian In-vitro Fertilization Gestational Surrogacy Program at Rotunda, Mumbai" at the 19th Annual Meeting of Middle eastern Fertility Society held at Dubai UAE in October 2012
Paper Titled "Immediate ambulation versus 30 minutes bed rest after Embryo Transfer" at the 19th Annual Meeting of Middle eastern Fertility Society held at Dubai UAE in October 2012
Elective Cryopreservation –Newer Efficient Approach to Prevent OHSS in High Risk patients
Conversion of High Response IUI to IVF is An Effective Alternative To Cycle Cancellation – ASPIRE 2017 30 March – 2 April 2017, at The Kuala Lumpur Convention Centre, Malaysia
Textbook Chapters :
Pre-embryo Transfer Cervical Flushing – Review Article in IVF Lite International Journal May 2014
Regulation of Assisted Reproductive Technologies Including IUI Programs - Intrauterine Insemination Edited by Dr Gautam Allahbadia; Third edition 2014
Clinical significance of antral follicle count and anti-Mullerian hormone predicting the stimulation outcome- Manual of ovulation induction and ovulation stimulation protocols edited by Dr. Gautam N Allahbadia; Third edition 2016
Protocols for Poor Responders – Handbook of Ovarian Stimulation – Infertility Management series edited by Dr Juan A Garcia -Velasco 2018
Stimulation protocols for Intrauterine Insemination - Handbook of Ovarian Stimulation –Infertility Management series edited by Dr Juan A Garcia -Velasco 2018
MBBS from Bharti Vidyapeeth Medical College, Pune (2003)
DNB (OBG) from K. J. Somaiya Medical College, Mumbai (2009)
Fellowship in Reproductive Medicine Rotunda - The Center for Human Reproduction, Mumbai (2012)
Diploma in Reproductive Medicine: Certified for Laparoscopic Tubal Ligation from the International School of Medicine – Keil University, Germany (2014)
Diploma in Minimal Access Surgeries: Trained under Dr. Hafeez Rehman Sunrise Hospital, Kochi (2015)
Certified for Laparoscopic Tubal Ligation from the Family Planning Association of India (2015)
Masters Training in Reproductive Medicine: Minimal Access Surgery – Hysteroscopy Workshop at Homerton University, NUHS, London (2017)
ISAR-MEYER youth ICON Award at the Annual ISAR Conference, 2023.
3rd prize award winner for presentation at ISOPARB-AFG 2010 in Mumbai
Recipient of MOGS Gulabchand Travelling Fellowship 2013-2014
Recipient of FOGSI Vasantaben Travelling fellowship 2016-17
FOGSI certified Laprascopic Surgeon
Family Planning Association certified Laprascopic Tubal Ligation
Member, European Society of Human Reproduction & Endocrinology (ESHRE)
Member, Indore Obstetrics & Gynaecology
Member, American Society of Reproductive Medicine (ASRM)
Life Member, Indian Association of Gynaecology Endoscopy (IAGE)
Life Member, Indian Society od Assisted Reproduction (ISAR)
Life Member, Federation of Obstetrics & Gynaecological Society of India (FOGSI)
Life Member, Mumbai Obstetrics & Gynecological Society (MOGS)
Patient Testimonials
Well experienced and friendly staff. Our dream of having a baby came true with Dr Kalyani ma'am and her team. She identified the problem and rectified it. This then helped us to conceive. Throughout my journey with Nova she was with me and gave me lot of strength. My experience with Nova was unique. Especially the treatment procedure. All the staff are quite friendly, supportive and knowledgeable. We are happy that we came to Nova. Hospital staff very supportive and proactive. Thanks to all team member!
Nitika Varun Jain
Good experience at Nova. Very nice doctors and staff. First experience at Nova was nice. Love this place.
Mahak Garg
Experience was good. We both are very happy after positive result. The Nova team is very good and helpful throughout our journey here.
Mrs R Godhke
The counselling was good. All the staff members are cooperative, patient and well trained. The process of treatment is very good. Nova IVF is far better than other fertility centres.
Ahhilasha Daljeet Singh Waliq
I am very happy and thankful to all the staff at Nova IVF. Thank you very much.
Sonia Rattan
Excellent staff and very good care.
Rajni Jakalley
All the staff members had positive behaviour. Dr Kalyani is excellent and help us a lot. The doctor and staff have good knowledge.
Kavita Kale
"We liked the people, place and Doctors of Nova. We had full faith in treatment. Our thinking was positive from the beginning. At every step Dr Kalyani had given us Positive hope. Full facilities are available under one roof at Nova. Doctor's behavior was very nice. We can enter and see the lab ourselves and quality was experienced personally. All our family members visited Nova and liked it very much."
Patient Name: Mrs Neha Hada
"Patient like me it is not easy to cope up with, as I am too way to scared with the name of injections and Doctor. But Dr. Kalyani and the whole staff made it possible. At Nova you have the best staff and team of Doctors, I have ever came across. Thank you Nova ( Indore ) for making it possible."
Patient at Nova IVF, Indore
"My first impression was very nice. All staff is Polite and Cooperative. They provided proper knowledge about the treatment. Over all ambiance was good. Full time support from Staff and doctors was provided. Patient as well as attenders are well taken care off.
I visited one more center other than Nova there they were not clear about the charges. Here full transparency about the treatment and pricing is maintained. "
Mrs. Aditi
We were roaming around before coming to Nova IVF Indore, with previous failures at another centre we were looking for the best in the city, then we came to Nova IVF Indore. Here we came to know about latest & advanced technologies which we even didn't heard before. We have gone through ERA cycle and because of ERA our result has come positive Thank you Nova IVF Indore for providing such advanced treatment for fertility in the city. We are definitely going to spread the positivity of Nova to our friends and Family also
Patient at NIF, Indore
Nova IVF Indore center is delivering science -pregnancy-happiness to every couple who is looking for the treatment I was one of them, I took treatment here as this center is equipped with all the facilities. Best IVF Centre in the state. We have experienced a very pleasant journey in Nova IVF Indore, Our result has come positive and because of continuous support of doctors & Staff. We have achieved this milestone of our life.
We have been through other centers also but the satisfaction & comfort level we have experienced in Nova is unmatched. Nova IVF Indore is the best out of any other center in the country.
Patient at NIF, Indore
The Journey of our life has got a Kick when we came at Nova IVF Indore Centre, we were so delighted to have the best expertise team and world class facilities & technology available under one roof which is Nova Indore, thanks to all staff and Doctors without them nothing would have happened. I got success, I am very happy.
Patient at NIF, Indore
We have visited Nova IVF with the confidence driven to us by our family doctor and we were not disappointed. With such a great positive atmosphere in Nova IVF Indore centre, our dreams were fulfilled with the continuous support of Dr. Kalyani Shrimali and team Nova IVF. Today we are running with a healthy pregnancy & positivity in our life. Thank you All.
Mrs. Lakshmi Rathore
Experience was great and the way staff & the doctor supported with positive attitude gave us the relaxed environment. Environment created here with the patient by the doctor and the way Dr. Kalyani use to consult the patient made us feel so relaxed that we got positive result.
"As compare to other centers the staff is very friendly and helped us all the time with the best possible manner."
Patient at Nova IVF, Indore