Dr. Preeti Mahawar
Dr. Preeti Mahawar
IVF Specialist in Uttam Kumar Sarani
MBBS, DGO, DNB, Diploma in ART and Reproductive Medicine from Kiel, Germany
Dr. Preeti Mahawar is a Fertility Consultant at Nova IVF Fertility East, Uttam Kumar Sarani, Kolkata. She has been following her passion for Reproductive Medicine for more than 7 years and has helped many couples get closer to parenthood by spreading awareness about infertility management.
She is specially inclined to treating cases that involve decreased ovarian reserve, PCOS and male factor infertility.
Publications
Presented paper titled "Retrospective analysis of minimal stimulation in poor responder" at the Annual Conference of ISAR BENGAL (2016)
MBBS degree from Calcutta National Medical College, Kolkata (1998)
DGO from Calcutta National Medical college, Kolkata (2003)
DNB in Gynaecology and Obstetrics from B.R. Singh Railway Hospital, Kolkata (2005)
FOGSI-certified Gyane endoscopic Training course from ILS Hospital
ART diploma from ISRME (Training in Basic and Advanced Assisted Reproductive Techniques)
Member, National Academy of Medical Sciences (NAMS)
Member, Bengal Obstetric and Gynaecological Society (BOGS)
Member, Indian Society of Perinatology and Reproductive Biology (ISOPARB)
Life Member, Indian Medical Association (IMA)
Member, Indian Fertility Society (IFS)
Member, Federation of Obstetric and Gynecological Societies of India (FOGSI)
Member, Indian Society for Assisted Reproduction (ISAR)
Patient Testimonials
Our journey with Nova IVF center was very satisfying. We were treated under Dr. Preeti Mahawar who is the sweetest doctor we ever came across .She is true to her profession and deals with a personalised touch. We were trying for baby since 7 years until we came to know about Dr. Preeti. Finally, by the grace of Allah we got positive results after 4 months of continuous medication under the guidance of our Doctor. We are extremely thankful to Dr. Preeti and her team. Highly recommended.
Sidra
Dr preeti mahawar is very helpful she is suggest and supporting me thanks to Dr preeti madem thanks to ambrologist thanks to staff thanks to nova.
Irfan
The clinic is quite equipped with modern method infertility treatment. Dr. Preeti Mahawar, an ART therapy fertility specialist is doing an extraordinary treatment and brings smile to those who are undergoing treatment for a smiley baby. The staffs and helping personnel are quite patient and patient party friendly. The method of whole process is superb. From me it's a thumbs up. Good Luck.
Niladri Roy
We came here regarding ivf consultant and satisfied with DR. Preeti mahawar, she suggested good things to us.....really we are happy now.
Utpal Singh
Amra Nova Ivf and Dr. Preeti Mahawar k dekhai.onar kache chikitsa kore amra upokrito hychi. (Original) Amra Nova ivf e Dr. Preeti Mahawar k dekhai.onar kache chikitsa kore amra upokrito hychi.
Mohan Ghosh
I am Tanveer Ahmed, and two years after marriage we wanted to have a child but my wife could not conceive. Our gynecologist referred us to Nova IVF Fertility to Dr. Preeti Mahawar. We were under her treatment and within four months my wife got pregnant. Today we are proud parents and we thank Allah and Dr. Preeti for fulfilling our dream of becoming parents.
Tanveer Ahmed
My wife was facing irregular period and unable to conceive due to this problem. Despite treatment in several institutes the problem did not get resolved. We got the reference of Dr. Preeti Mahawar from one of our friends and approached her for the treatment. We were quite scared and trembled when we met her for the first time because we had lost all hopes. Dr. Preeti understood the problem and she started medicines and with God's grace within 6 months my wife conceived.I consider myself to be very fortunate that I met her for the treatment as she is very helpful, supportive and caring towards her patients.
Mr. Neeraj
We have been trying for 10 years and for 5 years was under the treatment of a renowned Fertility Consultant but we did not succeed in becoming parents. I had ovum and ureter problem. But we always had a positive mindset. Having done our treatment in NOVA IIVF Fertility we were very satisfied. Doctors and other clinical staff were very good. We got twin babies who are healthy and lively. I have recommended two of my friends suffering from infertility to this centre. Thank you!!
Mrs. Preetikana
Article Reviewed & Case Studies
by Dr. Preeti Mahawar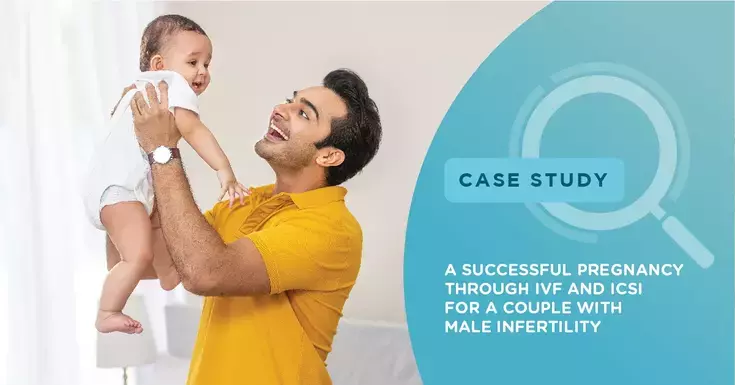 A successful pregnancy through IVF and ICSI for a couple with male infertility
Mrs. Amrita, 27, and Mr. Udit got married four years ago and began their journey...
Know More >