Dr. Saeeda Wasim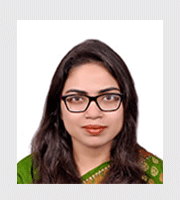 Dr. Saeeda Wasim
MS (OBG), FNB (Reproductive Medicine)
Dr. Saeeda Wasim is a Fertility Consultant at Nova IVF Fertility, Lucknow. She has an overall experience of 11+ years in Obstetrics and Gynaecology and Infertility Management and has helped thousands of couples realise their dream of parenthood via IVF.
Apart from excelling at handling a wide range of infertility cases, she is trained to perform fertility enhancing laparoscopy and hysteroscopy surgeries. Her areas of focus include PCOS, endometriosis and male factor infertility. Her research is currently focused on management of recurrent implantation failure.
Publications
Right Serous Cystadenomawith Left Brenner Tumor in a Post-Menopausal Female: A Rare Case of Bilateral Ovarian Tumor. S Wasim, S Ahmad: Research & Reviews: Journal of Medical and Health Sciences, Vol 3, Issue 4, 2014

Comparative study of Ormeloxifene and Medroxyprogesterone acetate in AUB. Z Godha, MohsinZ, SHakim, S Wasim. The Journal of Obstetrics & Gynaecologyof India, (september-october 2016) 66(S1) S395-S397

Levels of serum Zinc and Manganese among Post-Menopausal patients with Thyroid dysfunction. S Ahmad, S Wasim, International Journal of Bioassays 5.2 (2016): 4821-4824

Progesterone Supplementation in PCOS Women Undergoing Clomiphene Citrate Stimulated IUI may improve Pregnancy. S Sharma, BSG Rani, S Bathwal, S Wasim, P Mandve, B Chakravarty. Ann. Int. Med. Den. Res. 2017; 3(4): OG01- OG05. DOI: 10.21276/aimdr.2017.3.4.OG1

Cytomegalovirus Infection in Pregnancy- A Review, S Wasim, Era's Journal of Medical Research, Vol4 No:2,2017, DOI:10.24041/ejmr2017.47
Chapters in books:
Contributed a chapter on stem cell therapy in reproductive medicine in book 'Practical Guide in Assisted Reproductive Technology', Jaypee publications 2018, Edited by Dr Geeta Ganguly Mukherjee, Dr Gautam Khastagir & Dr Siddhartha Chatterjee.
MBBS

from GSVM Medical College, Kanpur (2009)

MS (OBG)

from Jawaharlal Nehru Medical College, A.M.U, Aligarh (3-yr post graduate course from Jan 2009 to Jan 2012, course recognized by Medical Council of India)

FNB Training

in fellowship of National Board in Reproductive Medicine, Institute of Reproductive Medicine, Kolkata
WON, Dr. Asha Baxi Award in Junior category for best paper presentation at national ISAR 2018 conference held at Kolkata, India.

WON, ASRM (American society of reproductive medicine) Corporate member council in training travel award for best paper presentation at ASRM 2017, held at San Antonio, Texas, USA.

WON, THIRD PRIZE for paper presentation at BOGSCON (The Bengal obstetrics and Gynaecological society) 2016 held at Kolkata, India.
Member, Indian Society for Assisted Reproduction (ISAR)

Member, American Society for Reproductive Medicine (ASRM)

Member, European Society of Human Reproduction and Embryology (ESHRE)