Dr. Rupali Tambe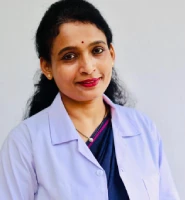 Dr. Rupali Tambe
IVF Specialist In Pune
MBBS, DGO, DNB, Fellowship from the Institute of Human Reproduction
Dr Rupali Tambe completed her MBBS from BJ Medical College, Pune and post-graduation, DGO in Obstetrics and Gynaecology from Armed Forces Medical College, Pune. She went to pursue her DNB from Tata Motors Hospital, Jamshedpur. She later super-specialised in reproductive medicine from the Institute of Human Reproduction, Guwahati. Dr. Rupali Tambe has 11 years of extensive expertise working in the fields of obstetrics, gynaecology, and infertility.
After her fellowship Dr. Rupali has dedicated her practise to infertility and has helped many couples enjoy the parenthood journey. in an effort to help her patients experience the joy of parenting. In her capacity as a consultant, Dr. Rupali has successfully handled couples who have had recurrent IVF failures as well as complex cases of infertility, such as low AMH, endometriosis, recurrent implantation failure, male infertility etc. She has been an advocate of gamete freezing for those looking to conceive later either due to clinical conditions or if they have not found the right partner.
Her areas of interest include reproductive medicine, recurrent IVF failure, endometriosis, recurrent implantation failure.
MBBS from BJ Medical College, Pune
DGO from Armed Forces Medical College, Pune
DNB from Tata Motors Hospital, Jamshedpur
Fellowship from the Institute of Human Reproduction, Guwahati