Dr. Shaweez Faizi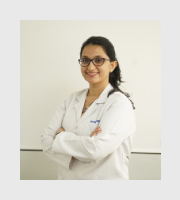 Dr. Shaweez Faizi
IVF Specialist in Mangalore
MBBS, DGO, MS (OBG), FRM, Endoscopy Training (Mumbai)
After obtaining a masters' degree in obstetrics and gynecology from the prestigious Kasturba Medical College Manipal, Dr. Shaweez Faizi has had a specialized fellowship training in the field of reproductive medicine. During the fellowship program, exposure to a wide spectrum of cases from different parts of the globe has enriched the knowledge and expertise required to handle various presentations of an infertile couple.
Her special interests are in the management of difficult infertility cases such as poor responders, patients with low ovarian reserve, male partners with extremely low or nil sperm counts.
Her surgical expertise includes TESA (Testicular sperm aspiration)/ PESA (percutaneous epididymal sperm aspiration) in indicated cases of male infertility. Competent in imaging skills pertaining to IUI, IVF, early pregnancy and obstetric ultrasounds, performing endoscopic procedures related to infertility.
Dr. Shaweez has over a decade of experience in Obstetrics & Gynaecology and as a fertility specialist. She strongly believes that the work up and treatment of a couple with infertility demands thorough knowledge of the subject, empathy, dedication of ample time for counselling, transparency in treatment protocol at every step.
MBBS, Manipal University, Karnataka
DGO, Manipal University, Karnataka
MS (OBG), Manipal University
Fellowship in Reproductive Medicine, Kerala
Endoscopy Training, Mumbai
Shaweez Faizi, Muralidhar V Pai. Role of Mid trimester Localization of the Placenta in predicting Pregnancy Outcome.IJIFM.2014 5:87-91
Nazia Shaikh, Shaweez Faizi, Lavanya Rai. Respiratory Morbidity in Late- Preterm Births: A Prospective Observational Study at a Tertiary Care Hospital. The Journal of Obstetrics and Gynecology of India. 2016: 66(S1): S301–S306
Chapter- Simi, F. Shaweez, Sankalp Singh. Endometrial markers of receptivity. Practical guide in Assisted Reproductive Technology 2018. Jaypee Brothers medical publishers Ltd.
Chapter- ART in Endometriosis. Faizi S, Kumar P. Decision making in infertility 2019 Jaypee Brothers medical publishers Ltd.
Patient Testimonials
Since our first visit the Nova staff has been very helpful and cordial. We were explained the entire procedure and steps of IVF in detail by Dr Shaweez.  It has been a blessing in disguise. Thank you.
Rita Khosla
Dr Shaweez has been like a god to us. She is so patient, calm unlike other drs we have visited inpast. She fulfilled  our dreams and we are pregnant. Thanks to team Nova also for being so supportive all this time.
Tanvi Tatlani
The hospital facility is good. Dr Shaweez is very expereinced and explained us the procedure of IVF in detail. Thanks to the entire staff for making our dream come true.
Neha Ahuja
I met Dr Shaweez regarding infertility issues. She listened to my medical history patiently and has advised some tests. I felt reassured and will certainly come back to her for follow up. The ambience is also very pleasant. Staff is helpful
Ridhi
Dr Shaweez is best IVF specialist in Mangalore town. She answers all your doubts and clarify and guides us throughout the journey.
Manjunatha Puthran
When I started my treatment I was very much scared about how it is going to be, but later I realized that you guys are amazing. The way that you support mentally is just amazing. My special thanks to Doctors at NOVA IVF Fertility. Thank you all for everything.I have never been to any other fertility hospital. But I can tell you one thing that everything is best in NOVA IVF. All staffs are very sweet and positive. Thank you so much.
Mrs. Nirupama
My experience is very good from the beginning to the completion of the treatment. All sisters and doctors are very good, they always take care of their patient. I am very happy that I found this Nova IVF Fertility. Thank you.
Mrs. Khan
I had been to many famous fertility clinics in town, but I was very disappointed with the doctors. They never saw me except the first day & the hospital waiting time for scan and consultation was very long. Being very disappointed I stopped visiting fertility clinics for few years till the time one of my friend suggested Nova IVF Fertility. Nova is one of the best places I have visited for infertility treatment so far. Doctor at NOVA IVF advised me at every step of IVF, guided me through every stage & today I am a mother of a beautiful baby girl.
Mrs. Preethi
When we done our IVF treatment for the first time, the result was positive but after five months it gets miscarriage. Then we have done IVF treatment second time, that time we had our bad luck and we didn't get success. Then we got to know about NOVA IVF again we decided to go for IVF third time and finally we got success. We are very thankful to NOVA IVF the whole team of Nova IVF center. NOVA IVF is very good as comparing others.
P. S.
It's been very nice experience with Nova IVF. Doctor had gave all details about procedure and made it easy to understand also they cure their patients very nice. If all report are ok then only doctors proceed for next step. All staff is good and they had given all good suggestion also they told everything like how we can get benefit, what should we do and what we should not do. And with the help of all that I got my positive result in 6 months.
Ms. KR
Our experience in other hospitals has been very bad, but in NOVA IVF we had a very good experience. Everyone here is open minded & professional and we didn't face any problem regarding appointments
Mrs. Phonsiri