Dr. Shaweez Faizi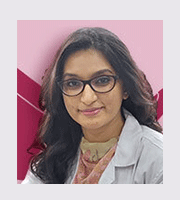 Dr. Shaweez Faizi
MBBS, DGO, MS (OBG), FRM, Endoscopy Training (Mumbai)
After obtaining a masters' degree in obstetrics and gynecology from the prestigious Kasturba Medical College Manipal, Dr. Shaweez Faizi has had a specialized fellowship training in the field of reproductive medicine. During the fellowship program, exposure to a wide spectrum of cases from different parts of the globe has enriched the knowledge and expertise required to handle various presentations of an infertile couple.
Her special interests are in the management of difficult infertility cases such as poor responders, patients with low ovarian reserve, male partners with extremely low or nil sperm counts.
Her surgical expertise includes TESA (Testicular sperm aspiration)/ PESA (percutaneous epididymal sperm aspiration) in indicated cases of male infertility. Competent in imaging skills pertaining to IUI, IVF, early pregnancy and obstetric ultrasounds, performing endoscopic procedures related to infertility.
Dr. Shaweez has over a decade of experience in Obstetrics & Gynaecology and as a fertility specialist. She strongly believes that the work up and treatment of a couple with infertility demands thorough knowledge of the subject, empathy, dedication of ample time for counselling, transparency in treatment protocol at every step.
MBBS, Manipal University, Karnataka
DGO, Manipal University, Karnataka
MS (OBG), Manipal University
Fellowship in Reproductive Medicine, Kerala
Endoscopy Training, Mumbai
Shaweez Faizi, Muralidhar V Pai. Role of Mid trimester Localization of the Placenta in predicting Pregnancy Outcome.IJIFM.2014 5:87-91
Nazia Shaikh, Shaweez Faizi, Lavanya Rai. Respiratory Morbidity in Late- Preterm Births: A Prospective Observational Study at a Tertiary Care Hospital. The Journal of Obstetrics and Gynecology of India. 2016: 66(S1): S301–S306
Chapter- Simi, F. Shaweez, Sankalp Singh. Endometrial markers of receptivity. Practical guide in Assisted Reproductive Technology 2018. Jaypee Brothers medical publishers Ltd.
Chapter- ART in Endometriosis. Faizi S, Kumar P. Decision making in infertility 2019 Jaypee Brothers medical publishers Ltd.