Dr. Sneha Sathe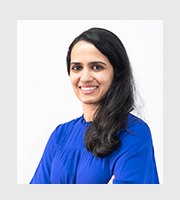 Dr. Sneha Sathe
MS, MRM (UK), ART training (Singapore)
Dr Sneha Sathe is a Fertility Consultant at Nova IVF Fertility, Chembur, Mumbai. She is a practicing Fertility Specialist with 17+ years of experience as an Obstetrician and Gynaecology and Infertility. She has several successful IUI, IVF/ICSI and donor egg cycles to her credit.
Dr. Sneha has extensive experience in handling difficult cases of PCOS, endometriosis, recurrent implantation failure and recurrent pregnancy loss. Her areas of specialty include PCOS, diminished ovarian reserve, mild IVF, fertility preservation and egg freezing. She strongly believes in ethical and evidence-based treatment for her patients.
MBBS from K. J. Somaiya Medical College and Research Centre, Mumbai
MS (OBG) from Kasturba Medical College, Mangalore
MS Reproductive Medicine from Homerton University Hospital Foundation Trust, UK
ART course for Clinicians from the National University Health System, Singapore
FOGSI Dr Shanti Yadav award in Infertility (2019)

ISAR Dr Asha Baxi Award for 2nd prize for scientific paper (2019)

MOGS: Dr Shantabai Gulabchand Travelling Fellowship award (2016-17)

FOGSI Dr Prabhavati Dixit Scholarship for Overseas Study (2017)

Sir Ratan Tata Scholarship for meritorious performance in 1st, 2nd and 3rd year in MBBS
Member, Mumbai Obstetric and Gynaecological Society (MOGS)

Member, Navi Mumbai Obstetric and Gynaecological Society (NMOGS)

Member, Indian Society for Assisted Reproduction (ISAR)

Member, Association of Medical Consultants (AMC)
Patient Testimonials
"It was a wonderful journey through out right from start of the treatment till the pregnancy. All the doctors and staff at Nova IVF fertility, Chembur Mumbai are very helpful and supportive."
Patient at NIF, Chembur Mumbai
"The hospital is good. It feels like home. You can tell the doctors anything you feel, they are very nice also nurses. They speak nicely."
"From the beginning all treatments and all checkup are done very well with minute details. Hence we liked the place. "
Mrs. S. S
After coming to Nova hospital I am felt better, health wise. The doctor did good treatment here and now I have a positive result. Me and my husband both are very happy we refer Nova to all couples experiencing infertility.
We are very happy with the Nova doctors and the team.
Mrs. Maheshwari
Our experience in other hospitals has been very bad, but in NOVA IVF we had a very good experience. Everyone here is open minded & professional and we didn't face any problem regarding appointments
Mrs. Phonsiri
We had a good experience during our treatment at Nova. The doctors and other staff are good and gave appropriate advice and treated us very well. Dr. Richa's treatment was remarkable and she explains about medicines very well, even over a call when we needed. We have got positive results from our treatment in Nova. We are grateful towards the entire and Dr. Richa.
Mrs. J. P.
"It was very nice to come in Nova IVF Fertility, Chembur. We thank Dr. Sneha for all the treatment. Counsellors Varsha and Sharvari made us understand about the treatment very well. I was not ready to do the treatment but they counseled us very well. We took the treatment and got positive result. Thank You NOVA."
Mrs. Sarita