Dr. Indumathi Joy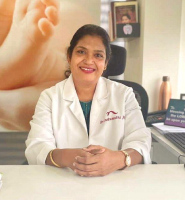 Dr. Indumathi Joy
IVF Specialist In Puducherry
DGO, DNB (OBG), Fellowship in Reproductive Medicine (FRM)
Dr. Indumati Joy has over 13+ years of experience in treating couples with fertility. She is well experienced in IVF procedures including oocyte retrieval and embryo transfers. She has experience in treating male fertility – Testicular biopsy, TESA and PESA for indicated severe male factor infertility patients. Dr Indumati also performs endoscopy – Diagnostic and Operative Laparoscopy, Hysteroscopy and Fertility enhancing surgeries.
Publications
Published a review article on "Gestational Diabetics –Maternal and Fetal outcome " in the journal of obstetrics and gynaecology in May 2010.
Presented a paper on "Androgen Insensitivity Syndrome" at GESI- Gynaec Endocrinological Society of India at the third Annual congress at Pune on 4th of May 2013.
Presented a paper on " Proximal tubal occlusion in hydrosalpinx and the IVF outcome" in the KISAR chapter of the ISAR in 2013 in Mysore.
Presented a paper in ISAR in 2014 in Ahmedabad and a Poster in the RCOG congress 2014 held at Hyderabad.
The topic being" The outcome of the individualized GnRH Antagonist protocol with the fixed Antagonist protocol in IVF/ICSI/ET cycles. The above paper was published in the ISAR journal.
Published a case report on "Vulval lieomyoma" in Indian Journal of clininal Practices in September 2015.
Published case report on " successful pregnancy outcome following Cryo Preservation of embryos in a patient with ovarian cancer" in 2015in IFFS.
Published a case report on "Pregnancy out come in a multi gravid with SLE and peripartum Cardiomyopathy". In 2015 RCOG conference.
Presented a paper on " Diagnostic Dilemmas in SLE patients during post partum period in RCOG conference in 2016.
Presented a paper on "A rare case of uterine varices encounted during caesarean section in RCOG conference 2016.
Co presented an oral presentation on dual trigger in IVF /ICSI cycles in ISAR 2016 in Indore.
Presented a paper on recurrent implantation fsilure and panel discussion on fertility enhancing surgeries in ISAR 2018 held in Mumbai.
Presented on optimization of IUI in the Erode chapter of TAPISAR in September 2019.
CO Author & Guide for the following scientific presentations
Morphology of oocyte & ICSI outcome retrospective study in tertiary care ART centre in 2015 in ISAR conference.
Comparison of Day 2 versus Day 3 embryo transfer in frozen embryo transfer cycles In IFFS in 2016.
The attitude of staff nurses towards the infertility couples attending the tertiary IVF centre – IFFS conference in 2016.
Obesity & Semen parameters IFFS conference 2016.
Role of antrogen modulators in poor responders in IVF /ICSI cycles ISAR 2016.
Role of monitoring Serum progesterone values in the mid luteal phase in frozen replacement cycles IFFS conference.
High Serum estrodiol values on the day of ovulation trigger & its impact on ICSI outcome – A prospective study accepted in ISAR 2017.
Atosiban – Oxytocin receptor Antagonist- Its role in patients undergoing frozen embryo replacement with previous IVF failure accepted in (ISAR 2017).
Comparison of subcutaneous vs intra muscular progesterone injections in luteal support in fresh & frozen embryo transfer cycles.
Individualizing the IVF stimulation protocols based on the Poseidon criteria.
Intrauterine HCG injections on the day of oocyte retrieval increases the pregnancy rate in poor responders- A prospective study.
Does AMH have a predictive role among the oocyte donors in IVF cycles.
Prevalence of calcium Deficiency and its impact on fertility among men visiting a tertiary fertility centre.
MBBS from Kilpauk Medical College, Chennai
DGO from Stanley Medical College, Chennai
DNB from Sundaram Medical Foundation, Chennai
FRM -Fellowship in Reproductive Medicine from The Tamilnadu Dr MGR Medical University, Chennai
ISAR - Indian Society of Assissted Reproduction
TAPISAR - Tamil Nadu and Pondicherry Chapter of ISAR
FOGSI - Federation of OBGYN Society of India
IFS - Indian Fertility Society
IAGE - Indian Association of Gynaec Endoscopists
PCOS - Society of India
Book Your Appointment
Patient Testimonials
Dr. Indumathi Joy to describe her, She is well experienced, highly knowledgeable and compassionate doctor. She made me very comfortable and thanks for the encouragement in my journey to pregnancy. I very much appreciate everything she has done for me. Thanks again to my Doctor and the Entire Team and Staffs at NOVA.
Razena Shruthi
Very happy with Dr.Indumathi and also the Staff went well. Doctor clarified all my doubts patiently and the staff here are very friendly and professional. Hospital ambience and infrastructure is awesome. Overall experience is very good and looking forward for the same in the future.
Kalaivani S
When I started my treatment I was very much scared about how it is going to be, but later I realized that you guys are amazing. The way that you support mentally is just amazing. My special thanks to Doctors at NOVA IVF Fertility. Thank you all for everything.I have never been to any other fertility hospital. But I can tell you one thing that everything is best in NOVA IVF. All staffs are very sweet and positive. Thank you so much.
Mrs. Nirupama
My experience is very good from the beginning to the completion of the treatment. All sisters and doctors are very good, they always take care of their patient. I am very happy that I found this Nova IVF Fertility. Thank you.
Mrs. Khan
I had been to many famous fertility clinics in town, but I was very disappointed with the doctors. They never saw me except the first day & the hospital waiting time for scan and consultation was very long. Being very disappointed I stopped visiting fertility clinics for few years till the time one of my friend suggested Nova IVF Fertility. Nova is one of the best places I have visited for infertility treatment so far. Doctor at NOVA IVF advised me at every step of IVF, guided me through every stage & today I am a mother of a beautiful baby girl.
Mrs. Preethi
When we done our IVF treatment for the first time, the result was positive but after five months it gets miscarriage. Then we have done IVF treatment second time, that time we had our bad luck and we didn't get success. Then we got to know about NOVA IVF again we decided to go for IVF third time and finally we got success. We are very thankful to NOVA IVF the whole team of Nova IVF center. NOVA IVF is very good as comparing others.
P. S.
It's been very nice experience with Nova IVF. Doctor had gave all details about procedure and made it easy to understand also they cure their patients very nice. If all report are ok then only doctors proceed for next step. All staff is good and they had given all good suggestion also they told everything like how we can get benefit, what should we do and what we should not do. And with the help of all that I got my positive result in 6 months.
Ms. KR
Our experience in other hospitals has been very bad, but in NOVA IVF we had a very good experience. Everyone here is open minded & professional and we didn't face any problem regarding appointments
Mrs. Phonsiri
Approachable and well caring Doctors. Friendly staffs. Very nice experience so far.
Saravanan M
Thank you for being the dedicated thoughtful and compassionate doctor that you are Dr. indumathi joy and well kinded staffs.
Sathya