Dr. Anuradha Tibrewal Chaudhary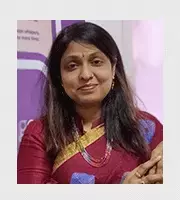 Dr. Anuradha Tibrewal Chaudhary
IVF Specialist in Raipur
MBBS, MD (OBGYN), FRM,FICOG,FAMS Fertility Specialist
Dr. Anuradha is a Fertility Consultant at Nova IVF Fertility, Raipur. She has an extensive experience of 14 years in the field of Obstetrics and Gynaecology. She is trained in Endoscopic Surgery, Urogynaecology, Ultrasonography from various prestigious institutes across India. Dr. Anuradha is passionate about reproductive medicine and she successfully completed over 2000 cycles.
MBBS, VSSM College Burla, Sambalpur University, Orissa, India.
MD (OBG), SCB Medical College Cuttack, Utkal University, Orissa, India.
Fellowship in Reproductive Medicine from Surat, India.
Diploma in Assisted Reproductive Technology, Bourn Hall Fertility Clinic, Dubai.
Certified course in Assisted Reproductive Technology, NUH, Singapore.
Uterine fibroids of more than 18 weeks size associated with DVT Ahmed in pelvis and pulmonary embolism - 4 case report in JOGI, 2014, 64(supplement), 5.70.
A rare case report of Pheochromocytoma complicating pregnancy – Journal of Indian Obstetrics and Gynaecology, Jan-Mar 2019, Vol 9, No 1.
Postpartum acute kidney injury in tertiary care centre: Single centre experience from central India: Accepted for publication in Saudi journal of kidney disease and transplantation.
Goodpasteur syndrome with P-ANCA vasculitis in pregnancy - Published in Journal of Indian Obstetrics and Gynaecology, Apr-Jun, Volume 10, No.2.
Postpartum AKI with Convulsion, Think beyond PPH - Under publication in Journal of Indian Obstetrics and Gynaecology.
Human Chorionic Gonadotropin. Handbook of Drugs in Infertility (69-81), JAYPEE Publishers
OHSS and its Management. Practical Guide In Assisted Reproductive Technology (183-187), The Health Sciences publisher.
Life member of Indian Medical Association
Life member of FOGSI,
Life member of Indian Fertility Society
Life member of Association of Obstetricians & Gynaecologists of Odisha
Life member of European Society of Human Reproduction and Embryology
Life member of American Society for Reproductive Medicine
Life member of ASPIRE
Patient Testimonials
Very helpful , co- operative doctors and staff. Anuradha mam explains everything very nicely, patiently.
 
Richa Agarwal
Anuradha mam explain very welland arcana Bharti was so coperative. All the satff is cooperative and good facility. 
Chinu
Behaviour of the doctor's and staffs are very good. Excellent service and positive treatment. Anytime docs can be contacted, especially  Dr Anuradha. Hoping for the best in future. Highly recommended.
 
Pratham Dwivedi
Very good services by d docs as well as staff...drs r so cooperative n supporting..anuradha mam is gem...n in staff miss archana bharti n others r also very polite n copervative...even accounts departmnt staff is also very coperative as we had to hv some refund from d center they helped us n we got it back in few days.. half of our problems n mental pressure r sorted if we get such drs n staff..
 
Meen rth
Very nice facility and expert doctor and staff is vary helpful I am vary happy with nova if center raipur particular thanks to my best doctor anuradha mam and thanks to all staff 
member.
Durgesh Gupta