Dr. Esha Sharma
Dr. Esha Sharma
IVF Specialist in Siliguri
MS, DNB (OBG)
Dr. Esha Sharma is a Fertility Consultant at Nova IVF Fertility East, Siliguri. One of the most sought-after doctors in Eastern India, she has a wealth of 15+ years of experience as a gynaecologist and IVF expert.
She specializes in Infertility assessment, Gynecological problems care and treatment, Intracytoplasmic sperm injection (ICSI), Intrauterine Insemination (IUI), In Vitro Fertilization (IVF), Sperm Freezing, Egg Donor, Hysteroscopy, Reproductive Medicine Normal and Cesarean delivery procedures.
She has a success rate of 42% in IUI and 76% in IVF.
Publications
Papers Presented
Presented case study titled "A case control study of Gene Environmental Interaction in Fetal Growth Restriction with special reference to Organochlorine Pesticides" for Best Research paper Awardee in Annual conference of Association of Obstetricians & Gynecologists of Delhi (AOGD) in Nov 2010
Papers Published
Esha Sharma, Md. Mustafa, Rahul Pathak, Kiran Guleria, Rafat S. Ahmeda, N.B. Vaid, B.D. Banerjee. A case control study of gene environmental interaction in fetal growth restriction with special reference to organochlorine pesticides. European Journal of Obstetrics & Gynecology and Reproductive Biology 161 (2012) 163–169.
Textbook Chapters
Obesity in Obstetric Intensive Care Patient. Narendra Malhotra, Esha Sharma, Jaideep Malhotra, and Neharika Malhotra Bora.: Principles of Critical Care in Obstetrics. Vol II (Springer 2016) Page:317-322.
Spine and Joint Disorders in pregnancy. Kiran Guleria, Esha Sharma. A practical Guide to Third trimester of Pregnancy and Puerperium (Jaypee)
Jeffcoate's Principles of Gynaecology. Chapter 8: Spontaneous Abortions (Including Recurrent Loss) pg. 143-156
Minimal Access Surgery and Endoscopy for Gynecologist (FIGO Sep 2019). Modern hysteroscopy and Hysteroscopic surgery.pg 93-102
MBBS, Moti Lal Nehru Medical College, Allahabad
MS (OBG), The University College of Medical Science & Guru Teg Bahadur Hospital, Shadara, Delhi (2011)
DNB in Obstetrics and Gynaecology (2012)
Training in Advanced Hysteroscopy and Laparoscopy from Paul's Hospital, Kochi
FOGSI Training in Advance Ultrasound in Obstetrics and Gynecology from Rainbow Hospital, Agra (2015)
Fellowship in Reproductive Medicine from the Indian College of Obstetrician and Gynaecologist (2015)
Certificate Course in Hysteroscopy from Center of Excellence for Minimal Access Surgery Training, Mumbai (2017)
Member, Indian Fertility Society (IFS)
Member, National Association for Reproductive and Child Health Care of India (NARCHI)
Member, Federation of Obstetric and Gynecological Societies of India (FOGSI)
Member, Indian Society for Assisted Reproduction (ISAR)
Member, Siliguri Obstetrician and Gynecologist Society (SOGS)
Member, Endometriosis Society of India (ESI)
Patient Testimonials
I am happy that i choose to come here Dr. Esha has helped me a lot. Thanks to the entire team on nova.
 
Rajkawaljit
I was very happy with our consultation with Dr. Esha. She was very patient with our queries and made us feel comfortable through the process. She was always available on calls removing our anxieties and doubts.
 
Msha
Very happy we choose this center for our treatment Dr. Esha has helped during our entire journey hope for the best. Lastly thanks to all the staff member. Would definitely recommend others
 
Arvind Roy
Dr. Yamini Agrawal is a awesome doctor.... We are very thankfull to her and the Nova team.... God bless her a lot....??
Srabani Das
Thanks to Nova Siliguri team we are very much satisfied with our treatment. Especially would like to thanks Dr. Esha Sharma for her guidance..she has been always there for us throughout our journey of parenthood, staff here are also very friendly to talk to always ready to answer our query. Once again thank you Dr. Esha Mam very much.
Sumit
I am Krishnakanth Shah and my wife Sunita Shah, a married couple, tried to become parents since past nine years, but we were not successful, which made us depressed and demotivated. We came to know about Dr. Esha Sharma of Nova IVF Fertility, Siliguri Centre and we consulted her, which was followed by our treatment. Dr. Esha's behavior and support is worth appreciation. She was very positive minded and always encouraged us. At the first attempt the treatment was successful and we got twin babies. We will remain ever grateful to Esha madam and the organization for the service. Thank you!
Krishnakanth Shah and Sunita Shah
After a long wait for 6 years after our marriage I could fulfill the dream of becoming a mother holding Dr. Esha's hand. Prior to this we went to several doctors and institutes but never succeeded in our treatment. We followed the instructions of Dr. Esha and completed our treatment. I have a baby girl of 11 months and for this I immensely thank Esha madam and the organization as a whole.
Nova IVF Patient
Article Reviewed & Case Studies
by Dr. Esha Sharma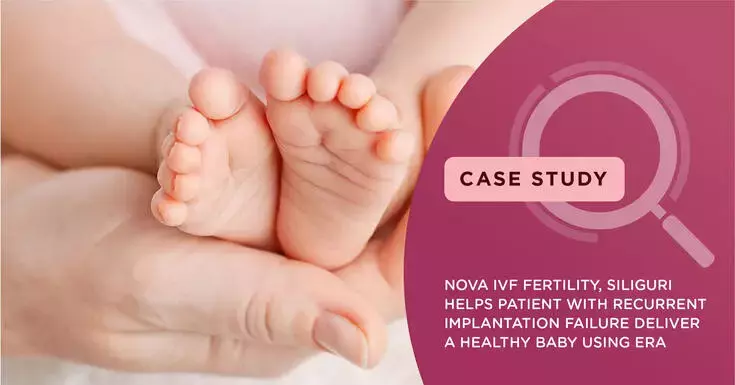 Nova IVF Fertility, Siliguri, West Bengal, helps patient with Recurrent Implantation Failure deliver a healthy baby using Advanced Fertility Treatment – ERA
A doctor couple visited our Nova IVF Fertility, Siliguri, West Bengal with a his...
Know More >