Dr. Yamini Agarwal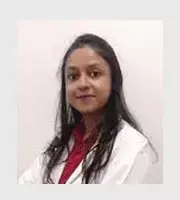 Dr. Yamini Agarwal
IVF Doctor in Siliguri
MBBS, MS (OBG)
Dr. Yamini Agarwal is a Fertility Consultant at Nova IVF Fertility East, Siliguri. She has an experience of 8 years in Reproductive Medicine and is passionate about exploring new ways of detecting and managing infertility efficiently.
She is keen on exploring niche areas of Reproductive Medicine like using the multi-pronged approach in treating PCOS, poor ovarian responders, recurrent implantation failure, recurrent pregnancy loss, fertility preservation and male infertility.
Publications/Research Interest
Non- puerperal uterine inversion with an ovarian tumour—A rare case Int Journal of Pharm, Biomed research 2011,2(2),74-75.
Anterior abdominal wall Leimyoma without antecedent pelvic surgery mimicking an ovarian tumour, Journal of Clin Biomed Sciences 2011, 1(2),74-76.
Intravenous Leiomyomatosis, Nigerian Journal of surgery July 2012, 18(2),105-106.
MBBS, Sree Siddhartha Medical College, Tumkur (2007)
MS(OBG) from Sri Devraj URS Medical College, Kolar (2012)
Fellowship in Reproductive Medicine, ICOG from Srijan Fertility Centre, Patna
Member, Indian Fertility Society (IFS)
Member, Federation of Obstetric and Gynecological Societies of India (FOGSI)
Member, Indian Society for Assisted Reproduction (ISAR)
Patient Testimonials
My expereince has been great with Nova. I was very dissapointed  fro the past 5 years due to infertility. But when I came to Nova its like my dream come true. Dr Yamini is very experienced and good at heart. The hospital facility is good too. Thank you for everything.
Mohit
We are very much thankful to d.r yamini agarwal because of her we have a babies.. she makes our dreams come true..i am very happy that i choose d.r yamini agarwal has helped me a lot...thankful to the entire team of genome center...doctor's are very nice supporting the services provide are very satisfying ...
 
Rewant Subba
I have done treatment with Dr Yamini Agarwal Mam. And she suggested a treatment and as soon i am going to became a father of twins baby. Before i was trying before 7 yrs with many doctors. But no result found. I had visited many clinic in siliguri and chennai in indian fertility centre but no result found. I would like to many many thanks to Yamini Mam
Ajit Sahrma
Dr. Yamini Agrawal is a awesome doctor.... We are very thankfull to her and the Nova team.... God bless her a lot....??
Khusbu Agarwal
I am very happy for my sister's successful IVf treatment ? Dr. Yamini Agrawal is a Awesome Doctor..We are so thankful to Dr. Yamini Agrawal and the staffs there. They are very professional and caring. They take time to explain everything and always ready to answer any question. We are very thankfull to her and the Nova team...?
Joydev Roy