Dr. Yamini Agarwal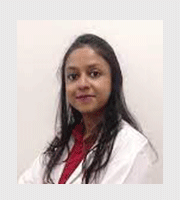 Dr. Yamini Agarwal
MBBS, MS (OBG)
Dr. Yamini Agarwal is a Fertility Consultant at Nova IVF Fertility East, Siliguri. She has an experience of 8 years in Reproductive Medicine and is passionate about exploring new ways of detecting and managing infertility efficiently.
She is keen on exploring niche areas of Reproductive Medicine like using the multi-pronged approach in treating PCOS, poor ovarian responders, recurrent implantation failure, recurrent pregnancy loss, fertility preservation and male infertility.
Publications/Research Interest
Non- puerperal uterine inversion with an ovarian tumour—A rare case Int Journal of Pharm, Biomed research 2011,2(2),74-75.
Anterior abdominal wall Leimyoma without antecedent pelvic surgery mimicking an ovarian tumour, Journal of Clin Biomed Sciences 2011, 1(2),74-76.
Intravenous Leiomyomatosis, Nigerian Journal of surgery July 2012, 18(2),105-106.
MBBS, Sree Siddhartha Medical College, Tumkur (2007)
MS(OBG) from Sri Devraj URS Medical College, Kolar (2012)
Fellowship in Reproductive Medicine, ICOG from Srijan Fertility Centre, Patna
Member, Indian Fertility Society (IFS)
Member, Federation of Obstetric and Gynecological Societies of India (FOGSI)
Member, Indian Society for Assisted Reproduction (ISAR)