Dr. Mona Shroff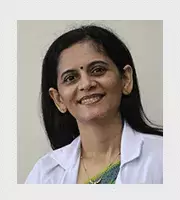 Dr. Mona Shroff
Infertility Specialist in Surat
MD (OBG)
Dr. Mona Shroff is an IVF and Fertility Specialist at Nova IVF Fertility, Surat. She has been specialising in Reproductive Medicine for over 16 years and has helped thousands of couples conceive successfully via Assisted Reproductive Technology (ART).
She excels at treating couples of advanced age or those who have faced recurrent implantation failures and miscarriages with the latest ART methods.
Publications
Posters and Papers:
Septic abortion: FOGSI National conference, Bhuvaneshwar, 2003
VBAC: West Zone conference on labor & delivery, 2005
Poster on Harmful & ineffective practices in labor: West zone conference on labor & delivery, 2005
Oocyte Vitrification: Sibling study comparing outcomes of Fresh vs Frozen oocytes, SAFOG, Dhaka, Bangladesh 2019
Co-Author: Case series of Ovarian Torsion after ART, Won second prize in ISAR, Mumbai 2019
Paper published: Successful live birth in a couple with poor ovarian reserve and severe teratozoospermia (acephalic spermatozoa syndrome) with ICSI and MACS (Magnetic Activated Cell Sorting), Acta Scientific Women's Health, Vol 2, Issue 2, Feb, 2020
Chapters in books:
Invitro Maturation, Nova IVI Textbook of Infertility and ART

Regional books on Patient awareness (Latest Mavjat Ni Majha: 2020 Feb)

Recurrent Pregnancy Loss: With Dr Pankaj Desai (In print)
MBBS from Baroda Medical College, MS University, (1999)
MD(OBG) from Baroda Medical College and SSG Hospital (2003)
Training from Ian Donald Diploma in Obstetric & Gynaec Ultrasound (2003)
Master Trainer of Emergency Obstetric Care Project (JOHN HOPKINS) under FOGSI, ICOG, Govt Of India initiative since 2004
Master trainer for "Clinical Training Skills" Workshops under JHEPIEGO-FOGSI-GOI program: Trained & assessed over 60 professors all over India for EmOC teaching & training skills
UNICEF certification in Essential Newborn Care & resuscitation.
Member, Federation of Obstetric & Gynecological Societies of India (FOGSI)

Life Member, Indian Society of Assisted Reproduction (ISAR)

Life Member, Indian Menopause Society (IMS)

Life Member, Indian Medical Association (IMA)

Life Member, Surat Medical Consultants Association

Secretary, Surat Obstetric & Gynecological Society 2009-10

Librarian, SOGS 2010-2011
Patient Testimonials
Nova ivf is the best ivf centre in surat. Mona mam is the best best doctor i have ever met,she is very caring to her patients and also very much talented. Her counsilling is very good. My experience is very nice and i surely recommend to all those ladies who is suffering from infertility problems must surely visit to mona mam..all the assistant doctors and the whole staff of nova are very humble and kind. After Meeting mona mam i felt very comfortable and confident for my treatment.. Mona mam you are the best..? i thank you from the bottom of my heart for the warmth with which you treated me..you are an exordinary doctor.....
Sneha Mahida
Thank you so much for special care. Had very nice experience with each staff member and special thanks to Mona madam
Palak
Thank you so much for special care. Had very nice experience with each staff member and special thanks to Mona madam
Palak
Good staff... All are so co-operative they always have smile face... Dr. Mona Shroff is very good doctor she explain each and every thing I think this is best IVF Center in Surat…
Jiten Patel
Great experience with Nova IVF center ..very supportive and kind staff ..they care with bottom of the heart and dr.Mona shroff is a excellent..she is also caring and explain all things very politely and positively. she is also very kind and intelligent..fantastic really .thanks mona madam
Megha Pathak
Nova IVF center is the best ivf center in surat. Dr.mona mam is very caring and stop is most supportive. Over all the best IVF center, mona mam is too good.
Ruchi Mishra
Good tritment mona mem
Variya Arun
Nova ivf is the best ivf centre in surat. All staff are very kind & helpful.. Mona mam is the best doctor. She is very caring. Her counsilling is very good. My experience is very nice. Thanks a lot from bottom of my heart.
B Patel
I am feeling very happy. After so much wait for years NOVA has fulfilled my dream. For that I am thankful to doctors, staff, and complete team. Am happy with every members of staff and they have given me very good support. After coming in nova I felt that my dream will come true. And I will suggest everyone who ever ask me to come to Nova.
I have been to many hospitals (Gynec) before but the support and guidance I received at nova that no one had given me before. From the time I came here I got trust and the way doctors were explaining that gives me trust and now I am free of worries.
Patient at Surat