Dr. Sandeep Mane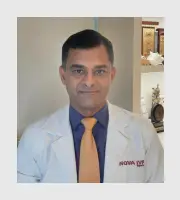 Dr. Sandeep Mane
Infertility Specialist in Thane
FRCOG (UK), CCST (UK), MD, FCPS, DGO, DICOG
Dr. Sandeep Mane is a renowned fertility specialist and is trained in the UK. He is a UK certified laparoscopic and hysteroscopic surgeon. He obtained advanced fertility skills before he became a consultant in fertility medicine. Dr. Sandeep Mane was in-charge of the surgical skill training in the UK and has trained at the Royal College, UK. For better doctor patient relation Dr. Sandeep Mane started " Susanwaad Abhiyaan" in association with JJ Hospital, Mumbai and has trained over 2000 doctors. He believes in giving back to the society and hence has organised free fertility screening camps across Maharashtra. He has also been offering workshops in clinical embryology, IUI, basic surgical skills and Intermediate laparoscopy and Hysteroscopy work.
Royal College (London) certified Laparoscopic Surgeon, UK
Royal College (London) certified Hysteroscopic Surgeon, UK
Special Skills in Advanced Fertility treatment
Ex – Convener, Surgical Skills Training, RCOG, London
Thane Legacy Award, 2017
ICON of Thane Award, 2012 & 2017
First Laparoscopic Cervical stitch in India, 2011
Best of the Best IVF Center, India, 2011
Best Professional of the year Award Nomination, UK, 2010
BBC World news Coverage, 2010 & 2014
Patient Testimonials
We heartly thanks to Doctor Sandeep Mane sir and all Origin staff for their positive support and treatment. All team is very positive and cooperative. Treatment is very best which I ever found form others. Once again thank you all of you.
Rajendra Khairmode
Dr. Sandeep Mane is very calm and patient in hearing out and clarifying any questions. All the support staff, technicians, nurses, helpers took great care at every step.
Vinod Pandey
the hospital is very good.i had baby after 10 years .All thanks to sir.Everything under one roof.superb facility and team.Thanks again.
Sandhya Pai
this is only place to complete our dream...It was excellent & memorable experience. Dr.Sandeep Mane is great doctor. He gave us very good guidance in our treatment. The staff is very co-operative & helpful. Thank you so much Dr
Vaiju Lad
I come for treatment from Canada with my wife Dr Mane and all time members so nice we say Thank you .
Mekonnen Hayelom
It was very fantastic experience Dr.Sandeep mane sir really took his time to explain overall condition with us as wella treatment options. They made us feel comfortable and energetic regarding his positive approach..patients have new hopes and positive vibes. Highly appreciated for communication and follow up with staff we don't have words regarding service of nurses .Highly recommend.
Ashwini Kadam
We are highly satisfied with the treatment we received in here...especially kind words of Dr Sandeep Mane and their staff,they really understand the stress their patients might be facing.
Smita Pille
Well experienced doctors and staffs. They all had same kind, caring and clear approach. Most of the staffs are working for more than a decade here and all are equipped with good knowledge.
Sriram Subramaniyam
Thanks to Dr. Sandeep Mane and the entire team of origin for their support.First time I heard about Dr. Mane and his treatment from my friend. Overall good experience in terms of hospitality and the procedure. The doctor is very senior and experienced. Gives a good advice. The staff is also very good and helpful. The best IVF fertility center in Thane. Regards, Sangam More
Sangam More
Dr. Sandeep mane is very genuine and humble person. He have lot of positive aura. He is gifted with God's Hand. The best fertility treatment is delivered.
Supriya Nagap