Dr. Priyadharshini Mohanasundaram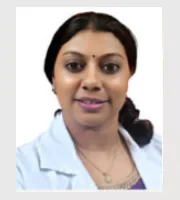 Dr. Priyadharshini Mohanasundaram
IVF Doctor in Tiruchirappalli
MBBS, MD (OBG), MRCOG (UK), MICOG, Fellowship in Reproductive Medicine, Assisted Conception (BFS Certified)
Dr. Priyadarshini has 13+ years of experience in OBG and as Fertility Specialist. She performs hysterectomy, mini laparotomies, hysteroscopies and laparoscopies (diagnostic and operative) and she learnt and practised doing Obstetrics and Gynaecology related Ultrasonography during her Pre-Fellowship and Fellowship programme. She has had the privilege of working with reputed doctors from one of the best centres for Reproductive Medicine in NHS,UK and the centre incorporates most advanced, evidence based approach in managing couples with infertility.
During her Fellowship in Reproductive Medicine in Chennai she has performed several procedures like Intrauterine inseminations (IUI's), Dummy embryo transfers, diagnostic and operative hysteroscopies, diagnostic Laparoscopies, Oocyte retrieval, hysterosalpingogram (HSG), Sonosalphingographies (HyCoSy), and sperm retrieval techniques like MESA,PESA,TESA and Testicular biopsies. She was involved with doing several ultrasound scans related to Reproductive medicine, baseline scan, monitoring ovulation induction cycles, monitoring of ART cycles and follow up scans till early pregnancy. She was also trained in the embryology lab, to learn and do several procedures such as semen analysis, freezing procedures, particularly vitrification, and had an opportunity to perform ICSI (2 cases) as well.
Dr. Priyadarshini actively participates in panel discussions and workshops in various conferences and meetings thereafter and continually updated myself with several CME's. Her Special Interests include
Fertility Preservation, Thin Endometrium, Recurrent Implantation Failures and Embryology.
Publications:
Her first research project was a subfertility based dissertation
1) "Body Mass Index and Fertility outcome" Prospective Study conducted at Manipal Assisted Reproductive centre (MARC), Kasturbha Hospital, Manipal, for the award of Postgraduate degree, Doctor of Medicine – Obstetrics and Gynaecology (MD-OBG) during the period of August 2007- May 2009.
2) Comparison of different regimens of Luteal support in ART Cycles I started this research project as a pilot study, in Institute of Reproductive Medicine, at Madras Medical Mission, a tertiary care centre for Assisted Reproduction and Women' s health which led to intensive research on various forms of luteal support in ART cycles and 8 helped me present several papers and presentations on luteal support in ART cycles in National and International Conferences
3) Dydrogesterone as Luteal Support in ART Cycles – This study was done as a Prospective study on using Dydrogesterone as luteal support. This study helped me present this as an E- poster in the RCOG World congress, 2013 and also the BEST SCIENTIFIC PAPER AWARD at the YUVA FOGSI conference held in India.
4) GnRh Agonist as Luteal support in Antagonist treated ART Cycles - This was a Prospective Randomized trial conducted in patients with antagonist treated ART cycles. This research project also was selected for the paper presentation at the RCOG World Congress 2016 in Birmingham
Pilot Study Paper Presentation
"Comparison of different regimens of Luteal Support in ART cycles"- The 16th world Congress on Controversies in Obstetrics, Gynaecology and Infertility (COGI), held in Singapore between 19th - 22nd July
GnRH Agonist as Luteal Support in Antagonist treated ART cycle a Prospective Randomized Controlled Trial At the RCOG World Congress 2016, 20th to 22nd June, Birmingham UK
Poster Presentations
1. "Comparison of different regimens of Luteal Support in ART cycles" - At 5th International IVI Congress, "Reproductive Medicine and Beyond", Seville, Spain held between April 4th - April 6th 2013.
2. E-Poster Presentation - "Dydrogesterone is not inferior to natural progesterone for luteal support in ART cycles" - at RCOG World congress 2013 held between 24- 26th June at Liverpool, United Kingdom
3. Caesarean Scar Ectopic – A rare serious complication following ART (Case Reports) - Won the Best Poster award at the 20th National conference of Indian society of Assisted Reproduction (ISAR) - 10th to 12th April 2015, Chennai, India
Abstract Publications
1) BJOG - British Journal of Obstetrics and Gynaecology EP2.62 - Dydrogesterone is not inferior to natural progesterone for luteal support in ART (IVF/ICSI) cycles. Priyadharshini M; Sathya B; Varma T Institute of Reproductive Medicine and Women's Health, Chennai, India
2) BJOG – An International Journal Of Obstetrics and Gynaecology One of Top Scoring Abstracts in Fertility and Reproductive Medicine (FC 14) FC14.002 – GnRH agonist as Luteal Support in Antagonist treated ART cycles: a prospective randomised controlled trial Mohanasundaram, P; Balasubramanyam S; Varma T
MBBS- Thanjavur Medical College, Tanjore, India
MD Obstetrics and Gynaecology - Kasturba Medical College, Manipal, Karnataka, India
Post Graduate Diploma in Health Sciences in Ultrasonography - Annamalai University, Chidambaram, India
Fellowship in Reproductive Medicine - Madras Medical Mission, Chennai, India
Member of the Royal College of Obstetrics & Gynaecology - MRCOG (UK)
MICOG - Certified for Assisted Conception from British Fertility Society, UK
Prizes and Grants
"Dydrogesterone is not inferior to natural progesterone for luteal support in ART cycles – Best scientific Paper award at the YUVA FOGSI (South Zone),Aug 16th to 18th, 2013 Tiruchirappalli, India - Best Presentation of a Paper award for Individual Session at the YUVA FOGSI (South Zone), Trichy, India
Caesarean Scar Ectopic – A rare serious complication following ART (Case Reports) - Won the Best Poster award at the 20th National conference of Indian society of Assisted Reproduction (ISAR) - 10th to 12th April 2015, Chennai, India
QUIZ on Reproductive Medicine : Won second Prize at the Random quiz on Reproductive Medicine at the YUVA FOGSI (South Zone), Tiruchirappalli, India
Member of the Royal College and Obstetricians and Gynaecologists, London
Member of the Indian College of Obstetrics and Gynaecology
Life Member of the Indian Medical Council
Member of the FOGSI - Federation of Obstetrics and Gynaecology Society of India
Member of the Trichy Obstetrics and Gynaecology Society (TRIOGS)
Member of the British Fertility Society
Member of the Indian Society of Assisted Reproduction(ISAR)
Member of the Indian Fertility Society