Dr. Meenakshi Priya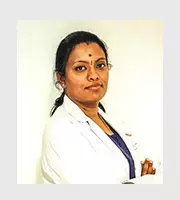 Dr. Meenakshi Priya
Infertility Specialist in Tirupur
MS (OBG), DNB, MNAMS, FRM, Dip Reproductive Medicine (Germany)
Dr. Meenakshi Priya is a Fertility Consultant at Nova IVF Fertility, Tirupur. She has 7+years of experience as an Obstetrician and Gynaecologist and is specialised in Reproductive Medicine.
Her areas of interest include oncofertility, recurrent IVF failure and enabling women with poor ovarian reserve to conceive using their own eggs when possible.
Publications
Effectiveness of Laser assisted hatching in Frozen Embryo Transfer- International Federation of Fertility Societies, Delhi (2016)

Prostatic Massage: A Non-Invasive, less expensive alternative method for Sperm Retrieval in patients with an Ejaculation- ACE, Cochin, Kerala (2015)

E- journal: Partial Androgen Insensitivity Syndrome (2013)

A Curious Case of Heterotopic Pregnancy -YUVA FOGSI (South Zone), Trichy, Tamil Nadu (2013)

A Case of Transitional Papillary CA of Cervix -ISCCP, National Conference-PSG, Coimbatore, Tamil Nadu (2012)
MBBS

from

PSG Institute of Medical Sciences, Coimbatore, Tamil Nadu (2004)

MS

(

OBG

)

from

PSG Institute of Medical Sciences, Coimbatore, Tamil Nadu (2014)

DNB (

OBG

)

National Board of Education

(2015)

Fellowship

in Reproductive Medicine from CIMAR, Cochin, Kerala (2015)

Diploma

in Reproductive Medicine, University of Kiel, Germany (2016)
Member, National Academy of Medical Science (MNAMS)

Member, Indian Society of Assisted Reproduction (ISAR)

Member, Indian Fertility Society (IFS)

Member, Federation of Obstetric & Gynaecological Societies of India (FOGSI)

Member, National Association of Reproduction and Child Health

Member, Association of Clinical Embryologist (ACE)

Member, International Society for Mild Approaches in Assisted Reproduction

Life Member, Indian Medical Association (IMA)
Patient Testimonials
Meenakshi Priya mam has always been our source of positive energy. Thank you for giving us the most earned wish.. please keep up your enthusiastic work mam.
 
Divya Priya
It's was wonderful treatment and supporting whole team and thanks a lot for Dr. Meenakshi Priya mam and Sangavi- Counsellor.....!!!!?we are really very happy after visiting Nova- Coimbatore. Got confirmed pregnancy. Thank you so much for your all teams member's and treated very nicely and supported us lot. Normally conceived.
Mramesh Bbau
Dr.meenakshi priya madam is incridible.Not only she has taken great care of my health, but also she is lovely to speak with at every appointment.its rare to find a Docter combine with such personality.From nova I received a outstanding medical care. Thanks for Nova and its staffs...Thank u.....
Arunsurya
Hi i am saranya ganeshamoorthy.very very thanks meenakshi priya medam .my life is very successful.i am two baby mother ,very very important in my life.meenakshi priya medam .very excelent doctor again to meenakshi priya medam in nova ivf fertility centre .coimbatore .only positive moment all treatment.,i am very very happy my life..meenakshi priya medam .thanks medam
Saranya Ganeshamoorthy
Hi,i am kanimozhi bubesh..from cbe, My experience with nova was excellent, We r very thank full to Dr meenachi priya mam &dr.janani mam..and tha whole staffs, We revived a good care and support from them..... Now i conceived in the first trial..&we eagarly waiting for our dream come true Thank you team nova..
Bubesh Jagan
It is a dream come true for me. I was referenced to Dr Meenakshi Priya through my OBGYN. The care I received from Nova staffs were friendly and they always greet you with a smile making sure you are filled with positivity. What can I say about Dr Meenakshi Priya she explained us our problem with such cool and calmness that we didn't have any second thoughts on our treatment...thanks to Nova we are able to hold our little bundle of joy today ?
remya ismail
100 percent keep hope and proceed the treatment ...definitely will get happiness...based on my own experience...?.Friendly and openly they will discuss about fertility issues and guide u ...no hidden treatment. They will keep you cool and stress free...Special mention and thanks to Dr.Meenakshipriya and her team...No words...and thanks to all Nova staffs...OPD team(you guys are god creation ..caring and kindly approach makes me always relax and cool)..One kind request to people who are visiting Nova and plan to undergo treatment pls be patience there...dont urge ..we are going to find our happiness in Nova..so be positive and patience..
Jeevitha Rajee
I got treatment from meenakshi priya mam...she is so supportive and kind....I am so happy and satisfied....
Deepika U
I ve had a very good experience with Nova. Thanks to Meenakshi mam and all the nurses and staffs who helped me throughout the process. All are very kind and so caring.
Sarika Sivakumar
my heartfelf thanks to meenakshi priya mam and team for bringing happiness in my life by giving positive pregenancy.she is so kind and supportive. l would like to thank all the nurses and staffs who were kind enough in supporting me at each and every step.
Dharma
Our heartfelt thanks to Nova. We came to Nova asking a child. Because of the entire team's love and compassion, my dream for wanting a child has become true now. I have no words to explain my gratitude for Dr. Meenakshi Priya.  We are very happy and have no words to explain it.
Lot of thanks!
Mrs Kanchana
Its wonderful and heavenly moments in my life. This what each and every women expects in their life. So, I would like to share their joys and experience with each and every member of NOVA. I am very thankful to each and very member of NOVA. Still I'm speechless. For each and every step Dr. Meenakshi and Dr. Rajeswari was with us. I can't forget this moment. I am out of words. Again and again I am thankful to each and every staffs at Nova. I would recall this moment forever in my life. Out of happiness, I am not able to recover everyone's name, sorry for that. Believing in God made it happen and lot of thanks.
Patient of Dr Meenakshi Priya
My great thanks to Dr. Meenakshi Priya mam, After lots of struggle we got a place NOVA in which we forgot our worries, pain,etc., Each and everyone in this center are supporting and show great care on us. My baby is lucky to grow in this centre. We both are happy and very very thankful to all the staffs in the center. I will never forget this lifelong. I am waiting for my little and tiny "GOD'S GIFT" to come soon. My heartful thanks to Renu mam, Jeevitha mam, Mercy, Anitha and Yuvarani.
THANK YOU ONCE AGAIN.
Mrs Santhya
I would like to mention the quality of treatment that I got from NOVA, and it is really very excellent. The warmth and friendliness of the staff members are very good here. After a lot of struggle I conceived a baby through this centre. Now I would like to give my thanks to Dr. Meenakshi  Priya for the treatment and care towards us. If I get a chance definitely I will recommend the service of the centre to other people. Once again my heartfelt thanks to Raji mam, Renu mam, each and every staff working in this centre.
Mrs Reena Mary
This moment is the most precious moment in my life. I am very happy to share my joy and happiness in this moment. After my 13 years of struggle with this infertility war today (16.12.2016-Friday), finally we have won the battle. Nova IVF I can say ot as my second mother house. I am feeling proud and privileged to be one among the Nova family. The other name for NOVA in my personal dictionary is POSITIVITY. Yes! Full of Positive People surrounded us will give us and motivate us and make us feel much better in getting results.
I had 3 to 4 months contact with Nova people, but I felt years and years of friendship with them.
POSITIVITY+SPIRITUALITY+SCIENTIFIC TECHNOLOGY MADE EVERYTHING SUCCESS. Through success happiness spreads automatically in and around. Right from the treatment till the cost everything was crystal clear and the explanation given by the doctors and staff were really good and motivating.
Dr. Meenakshi priya, Dr. Renu, Clinical Counselor Jeevitha, Patient coordinators Dharshini, malar, Font office staff, operation theater staffs, medical pharmacy staffs and all the nurse, I thank you all for making his moment in my life come true. The smiling faces of each and every staff in Nova has made be feel ease and happy. On behalf on my family I salute Nova IVF for giving me such a marvellous success.
LOVE YOU NOVA!!!
Mr. Sathya Ramesh
Thank you for giving me positive results and thank you NOVA FERTILITY for making my IVF treatment a success one. Once again I thank Dr. Meenakshi Priya, Dr. Rajeswari mam and Clinical Counselor Jeevitha mam for being very supportive.
Thank You Nova.
Mrs.Poornima
I thank for your contribution in our life. In short it's magical. Nova is showing a new era in our life. I am so blessed to have a hospital like NOVA. First of all, we are happy and heartfelt thanks to NOVA IVF FERTILITY. With your love, care and advice you helped us rid off all the fears. Our heartiest thanks to Dr. Meenakshi Priya who created a new generation in our family. We also thank Dr. Renu and all other staffs. We promise you to give our entire cooperation in building Nova IVF's future and progress. Lot of thanks!
Mrs. Lakshmipriya
I feel very happy to write about NOVA IVF. Nova has given me the boon of my life and I am very thankful for that. My doctor, Dr. Meenakshi Priya with outmost care resolved and clarified all the doubts I had during my treatment. Dr. Renu pleasingly handled my queries. All the employees at Nova will take care of all the patients with warmth and I owe for that. Once again I am thankful for Nova for giving me a boon of my life.
Mrs. S. Parimala
I was longing for a child for past three years. I was taking treatment at KMCH for many years, but it was of no use. After coming to Nova, I got pregnant in exactly 2 months. We are very happy and thankful to Nova. We are very thankful to Dr. Meenakshi Priya, Dr. Manonmani and all Nova staffs. 
Mrs Karthiga Saravanan
We dedicate our wishes and love to our beloved Nova IVF Fertility, Dr. Meenakshi Priya and for the staffs who took care us with love and affection. Our heartfelt wishes for NOVA to grow higher and higher and spread happiness.
Mrs Dhanalakshmi