Dr. Y. Swapna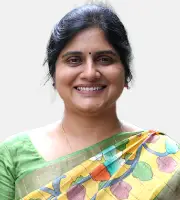 Dr. Y. Swapna
IVF Specialist in Vijayawada
MRCOG(UK), CCT, Post CCT Fellowship in Assisted Conception, Sheffield, UK
Dr. Y. Swapna is a Fertility Consultant at Nova IVF Fertility, Vijayawada. She has been active as a Medical practitioner for over 12+ years in the United Kingdom and 8 years in India and has been working in the field of Reproductive Medicine for more than 10 years. She has performed over 2000 IVF cycles in India and over 900 cycles in the United Kingdom.
Dr. Swapna's is one of the few fertility specialists in India who is certified and trained in the United Kingdom in treating Male Fertility issues that includes Azoospermia or severe oligospermia. Dr. Swapna performs the following surgical procedures in men with fertility issues which includes Surgical sperm retrieval through PESA (Percutaneous epididymal sperm Aspiration) and TESA (testicular sperm Aspiration), She also does female fertility enhancing surgeries which include Hysteroscopy with polypectomy, adhesiolysis, septal resection. Laparoscopic procedures performed by her includes Laparoscopy with chromotubation/dye test, Laparoscopic ovarian drilling, Laparoscopic salpingectomy, Laparoscopic ovarian cystectomy and Laparoscopic removal of endometrioma as well as treatment of endometriotic spots.
She also treats female infertility including poor ovarian reserve and advanced maternal age, PCOS, repeated treatment failures, recurrent miscarriages, poor endometrial development, fertility preservation (in cancer patients) and pre-implantation genetic testing.
Having treated 1000's of couples she has the expertise to treat simple to complex infertility issues in both men and women.
Publications
Presentation at RCOG World Congress on Progesterone level on the day of Hcg trigger and pregnancy outcome
Poster presentation at British fertility Society, January 2014
Recurrent miscarriage – presented at deanery teaching.
Reduced fetal movements – July 2014
IVF outcome in poor responders on GnRH antagonist protocol. – 2013
Laparoscopic complications – July 2012
Chapters in books
Co-authored a chapter on "Overview of Management of male infertility" in a Book on Subfertility, Reproductive Endocrinology and Assisted Reproduction" by Cambridge University press, June 2019
MBBS from Rajiv Gandhi University of Health Sciences, Bengaluru (2003)
MRCOG from Royal College of Obstetricians and Gynecologists, UK (2011)
CCT in Obstetrics and Gynecology Northern Deanery, UK (2015)
Post CCT Fellowship in Assisted Conception – Assisted Conception unit,Sheffiield, UK (2015&2016)
British Fertility Society Certification in Assisted Conception, Male Infertility, IUI and Embryo Transfer and Pelvic Ultrasound Scanning
Member, Federation of Obstetric and Gynaecological Societies of India (FOGSI), Vijayawada
Member, Indian Society for Assisted Reproduction (ISAR)
Member, Royal College of Obstetricians & Gynaecologists (RCOG)
Member, European Society of Human Reproduction and Embryology (ESHRE)
Member, British Fertility Society (BFS)
Patient Testimonials
I  get the chance to say Dr.Swapna mam is the best gynecologist I have seen in my life . All the staff are so concern and given good hospitality.
Keerthi
I, Shaik Mehtab Begum(VJD-3950) has been conceived and delivered baby girl ? on 08.08.2021 after 5 years of Marriage. We specially Thankful to Dr.Swapna Yesireddy Madam and Nova team. Even in the tough time of COVID-19 lockdown with utmost caring and supportive treated us well from feb'2020. Motherhood is the happiest moment in women's life which has fulfilled my dream by Dr.Swapna Yesireddy madam. Thank you madam after failing IVF 1st cycle encouraged and motivated for 2nd cycle with faith and hope. Thank you so much once again Dr. Swapna Yesireddy Madam and Nova IVF team. This review might help many couples who are facing issues. I would recommend 100% result oriented @NOVA IVF Fertility Center
Rabiya Khan
Thanks Dr.swapna mam for best treatment and proper guidance and Nova staff for supporting us and made us mother and father..
 
Anil 
After 16years of marriage I got pregnant thanks to DR. Swapna man for the treatment and cearing and for the proper gaudince and nova staff.. .
Uma
m grateful for the extraordinary care I received from Dr. SWAPNA garu & her team at Nova. Swapna madam have good patience level, she gives her best time to listen our problems and clear our doubts.In our every meet, she received me with her beautiful smile, it clears my tension and fear. She is very caring, responsible person and treat us with beautiful heart. Finally I received a good treatment to reach my dream by a best and beautiful doctor ??.I love madam. Nova have a wonderful staff, they are so active,friendly nature & responsible persons. One day sister is waiting upto 8p.m.in hospital to give trigger injection at right time for me.Thank u sister ?. Another day I'm terrified by spotting problem. They give medicine, not only that ,they call back next day for asking my health condition??. They also respond my phone calls even holidays.And I said slp thanks to swetha sree garu for more caring . Once again thanks to each and every one.., you will always hold a spl place in my heart❤❤. God bless you. I hope my experience encourages you to choose them to achieve your family planning goals .
Parimala
First time I have seen such a great Doctor....Dr Swapna madam. She gave me the best treatment and fulfilled all my dreams. Really Dr Swapna madam is more than a Doctor....she cares very much about patients and understand and so close to the heart of me. I think she is best. All the staff of Nova are very good and good hospitality. Thanks a lot.
Swathi
Very Happy that I am becoming mother after 12 years. Dr.Swapna boosts the confidence first of all. She listens to people with lot of patience. Special thanks to Swapna Madam
Sushma Pallikala
I get the chance to say Dr.Swapna mam is the best gynecologist I have seen in my life . All the staff are so concern and given good hospitality.
Keerthi Muppavarapu
We have such a great Doctor Swapana mamdam.she gave best treatment and made our dreams come true and the staff in the Nove supported us alot.thanks to Dr.swapana madam and nova staff for supporting us.
 
Naresh Kosuru
We have visited several fertility centers from last 3 years but in vain and finally we choose Nova vijayawada with a little hope and it turns out to be magic with Dr. Swapna mam world class treatment and made our dreams come true. She carries lot of patience in clarifying all the doubts and took care of us. Hospital staff, nurses, Narayanarao garu were very supportive. Thank you so much for all the great support and care. We are very happy and satisfied. I definately would recommend Dr.swapna mam and nova for any couples seeking for good treatment.
Hemavi Konakala
Success rate in Nova is very high. We are very much satisfied with the treatment. Especially we are very thankful to Dr Swapna madam who made our dreams into reality. We are impressed with the staff also. Nova is the best infertile centre in Vijayawada.
Arisha p
Thanks to Nova staff and doctor. My sister was now so happy. She got pregnancy with first attempt. Very good and efficient doctor Swapna mam and staff. Thanks to everyone who are working in Nova
Nagamani Galeti
We are very thankful to Nova. Dr Swapna mam was excellent doctor. She supports very well and so much caring and receptionist and sisters also gave good response. Management was good.
Anitha Chowdary
I am blessed through this Hospital NOVA, Thank you Nova for everything and the entire staff for showing their concern at all times. Good communication. Thank you Dr Swapna mam, you made my day.
Raga Malika Govathoti
The facilities are wonderful, staff members are caring & co-operative. Dr Swapana madam, I can only say thank you on behalf of myself and my wife. Last but not the least, Nova is the best in Andhra Pradesh – Vijayawada.
Srikanth Saranu
Thanks to Dr Swapna madam. We were suffering from 2years and we have faced many struggles to conceive. We consulted many doctors, but there was no result. Finally we succeeded at Nova IVF. Thanks to Nova. Great.
Nageswarao Chirla
Na 10 years dream ni full fill chesina Dr. Swapna madam gariki chaalaa thanks and all Nova staff chaalaa support chesaru, chaaalaaa anandamga undi. Thank you Sooo munch
Eswari Ganisetti
We are proud of Nova Fertility Centre, Vijayawada... because this centre provides good treatment, and I also succeeded in my life by becoming a parent. Doctor Swapna mam is a very good person. Total staff are good. Now here is a low cost and good treatment.
Kallol Ghosh
We are very happy with Nova, 1st time IVF Success, Thank u very much to Nova & Dr Swapna Madam, and staff, I am very Happy, Thank u!
VENKATA SATYANARAYANA
I am very happy to share this. I am one of the parent a baby boy gifted from Nova. Dr Swapna garu is a very good and excellent doctor. She took care of me throughout the treatment. She is the best doctor for those who do not have a child. Thank you so much Nova for giving us such a wonderful gift.
Neelu
Article Reviewed & Case Studies
by Dr. Y. Swapna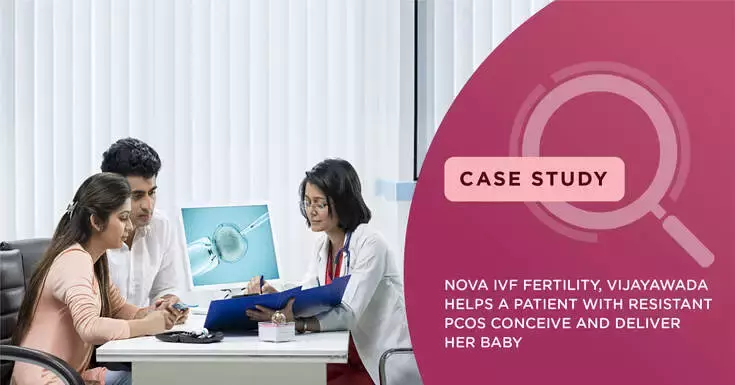 Nova IVF Fertility Vijayawada Helps A Patient With Resistant PCOS Conceive And Deliver Her Baby
This is the story of a couple who approached Dr. Swapna Y. at our Nova IVF Ferti...
Know More >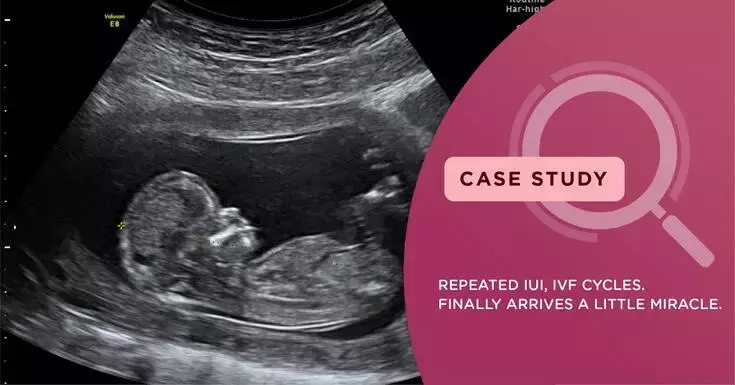 5 IUI Cycles, 5 Miscarriages, 2 Failed IVF Cycles and Finally 1 Little Miracle
The recurrent IVF failure case of 33-yr-old Mrs X was one of the most unfathomab...
Know More >